How to Make Your Own Herbal Bath Tea: Sleepy Time Recipe
Have you ever tried making your own herbal bath tea? Kami McBride shares how to make your own herbal bath tea, why you might want to, and a special sleepy time recipe. Enjoy! ~ Ann
Do you add herbs to your baths? We all know how relaxing a bath can be, but when you add the healing power of calming herbs to the mix, it can take your relaxation to a whole new level!
What is herbal bathing?
Herbal bathing is relaxing, enjoyable, and a valuable self-care tool. Taking time to luxuriate in the bath is a well-known stress-buster. Warm water, making time to just be, and herbs: what a potent combination!
Immersing my entire body into an herbal bath is one of my favorite ways to use herbs therapeutically. My skin absorbs the herbal constituents. I inhale the aromatherapy benefits of the herbs through the steam, while I lie in my bathtub and daydream. I can't imagine my life without it.
Sometimes I just have a hard time shutting it all down at the end of the day. Can you relate?
My mind just goes and goes and won't stop and the next thing I know it is after midnight! Yikes! I need my sleep if I am going to keep my household on track the following day.
I try to notice when I am having one of those non-stop stress days and give myself some time in the bathtub before heading to bed.
Using fabric pouches (I also call them bathtub tea bags) is the easiest and most convenient way to get some healing herbs into your bathtub.
I have a large jar full of them in the bathroom cupboard. Grabbing a bathtub tea bag is part of setting up for the bath around our house. My family members get out their towel, pajamas, and a tub tea bag before settling into their healing routine of the evening bath.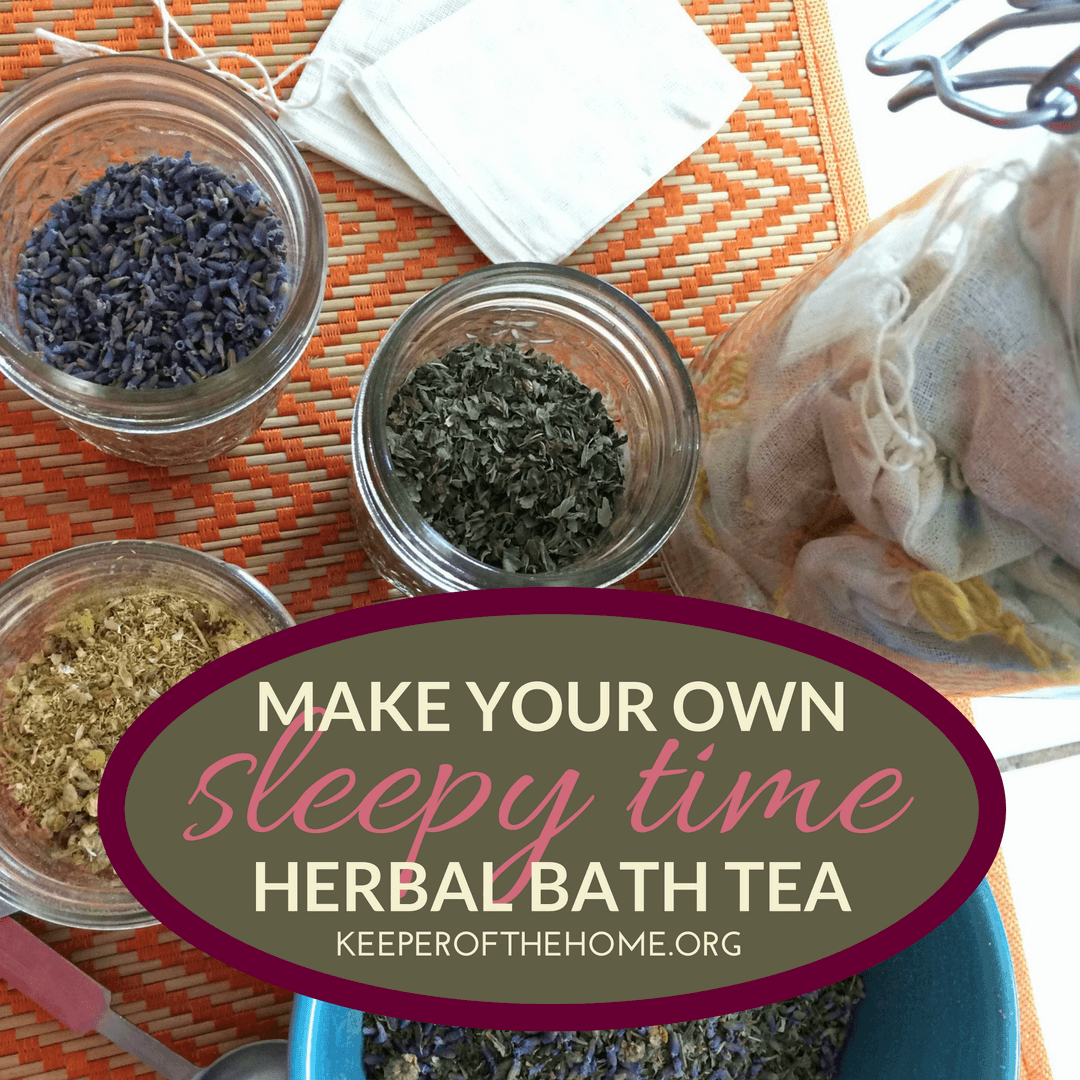 Herbs or essential oils?
I know using essential oils in the bath might seem easier, I mean just pour out a few drops and you are done, right? You might be wondering why then, do I go through all of this to create a therapeutic bath when I could just use an essential oil?
While I drop lavender essential oil in my bath now and then, I that the essential oils dissipate halfway through the bath (or sooner). When you use tub tea bags, the herbal treatment lasts throughout the entire bath.
I also love the color it turns the bath water. You really get the feeling you are being steeped in a big bath full of herbal tea.
There's also a kid friendly safety factor of herbal bath teas. You can leave the bathroom and don't have to worry that there might accidentally be a whole bottle of essential oil poured into the bathtub!
The tub tea bags are also good for exfoliation. One of my little tricks: once I am soaking in the aromatic bath water, I rub my skin with the wet tub tea bag. You can just take the wet tub tea bag filled with the herbs and rub your skin with it.
Getting the herbs next to your skin this way increases their therapeutic action. Not only are you steeping your body in the herbal tea, but now the herbs are touching your skin through the pouch.
It has a gentle exfoliating action that stimulates circulation, gets your blood moving, and with rubbing the herbs onto the skin, you now have two ways that the herbal constituents are entering your body.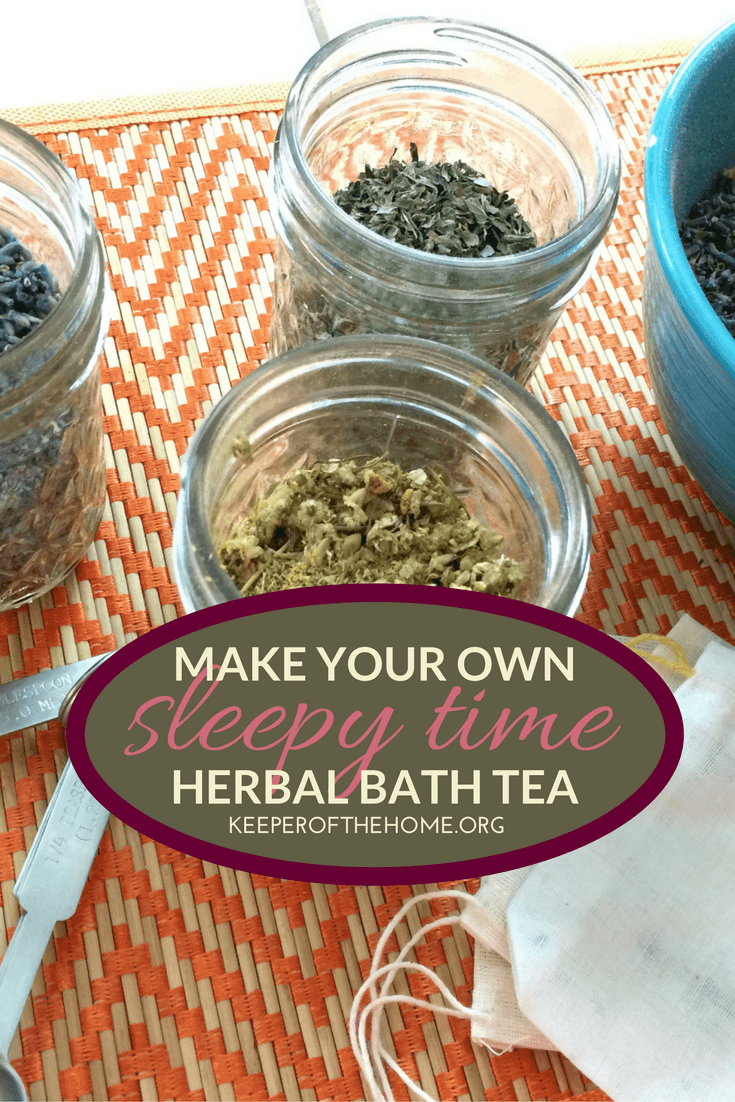 How to Make Your Own Herbal Bath Tea: Sleepy Time Recipe
Ingredients:
1 tablespoon dried lavender flowers
1 tablespoon dried chamomile flowers
1 tablespoon dried peppermint leaf
Directions:
Put three tablespoons of dried herbs into a sock, old piece of T-shirt fabric, cotton muslin pouch, or just about any kind of cloth.
Tie the cloth and make a sachet with the herbs in the cloth.
Hook or loosely tie the little sachet of herbs under the tub spout so the water will pour through it as it goes into your bathtub.
Once your bath is drawn just let the bag of herbs float in the tub.
Squeeze the bath bag several times while you are in the bath and watch the water change color.
Remove the herb pouch when you are finished with your bath.
Rinse the herbs out of the pouch. Wash and dry the pouch and you can reuse it.
Herbal bath tea pouches can be used three times within a week. If the wet pouch sits around longer than that it gets moldy. We use the same pouch for three days in a row.
You can make your own muslin fabric pouch and tie it with string or a rubber band or purchase cotton muslin bags from Mountain Rose Herbs.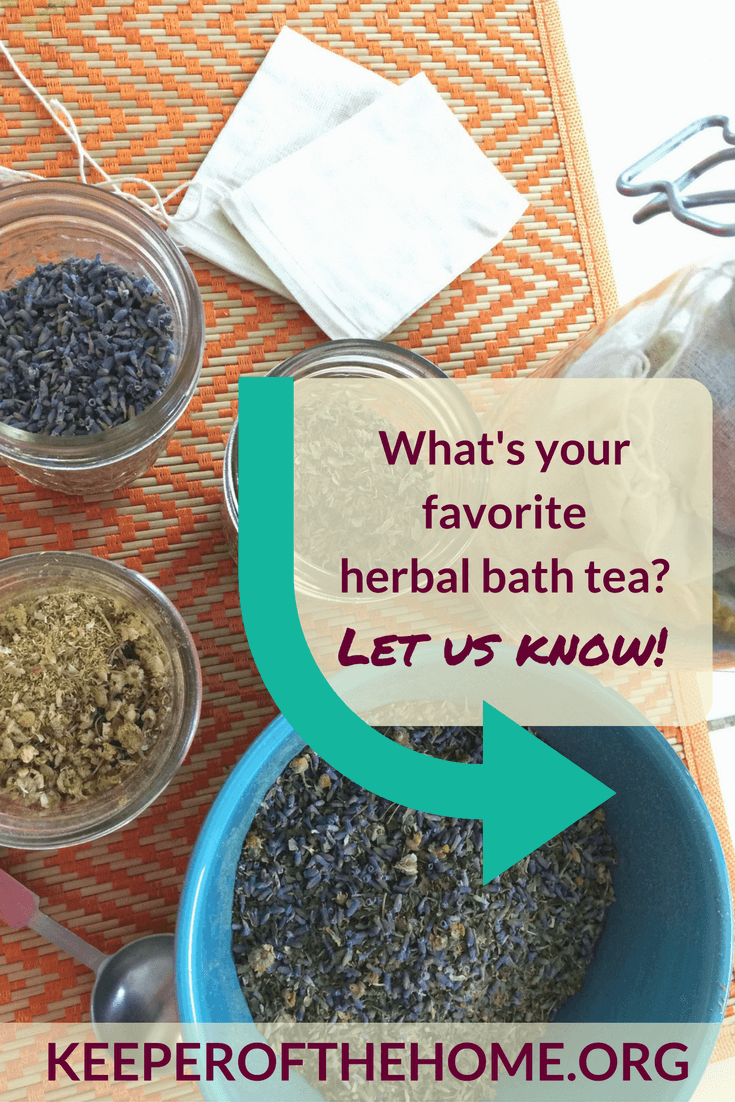 Healing Benefits of Sleepy Time Herbal Bath Tea Ingredients
Chamomile (Matricaria recutita)
Chamomile is a timeless bathing remedy herb. It is calming, relaxing and soothing. It quiets the nervous system and is the healing remedy of choice after a physically or emotionally demanding day. Chamomile is also antispasmodic so it helps reduce muscle cramps and muscle tension.
Lavender (Lavendula spp.)
Lavender is calming to the nervous system and helps to relax the mind. Its antispasmodic activity also helps to relax the muscles. Lavender can relieve tension headaches, muscle strain, stress and general tension. As you sit in your Sleepy Time Bath Tub Tea, breathe in the aroma and let the lavender just wash away the tension of your day!
Peppermint (Mentha piperita)
Peppermint is the ultimate muscle relaxer. It helps relieve tense and sore muscles. Once your muscles let go and relax, your mind follows the lead! I love having peppermint in my bath at the end of the day. It has an amazing ability to clear the mind and built up tension from the day.
Herbal bath tea bags are a wonderful way to share your love of herbal bathing with others. You can make up 25 of them, put them in a nice container with a label and instructions, and give them to your family and friends. I have been giving bath bags away for years and everyone loves them.
I hope you are inspired to take herbal baths and I wish you a good night's sleep!
Kami McBride empowers people to use herbal medicine in their daily lives for home wellness care. You can find her online at LivingAwareness.com.
Disclosure: This post includes affiliate links. Thank you for supporting our work and mission!