10 Ingredients to Make From Scratch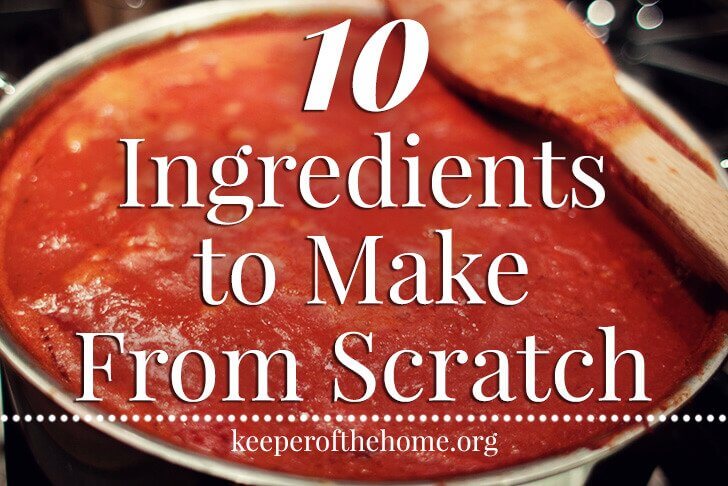 Written by Erin Odom, Contributing Writer
When I first started cooking from scratch, it didn't seem too hard. I gathered my ingredients and followed the recipes. But then one day it hit me: I wasn't buying processed, pre-packaged meals anymore, but I was using processed, pre-packed ingredients to make my "from-scratch" meals. And these ingredients were just as additive-laden as any other store-bought meal. Yikes!
I decided right then and there that, little by little, I'd start learning how to make each ingredient at home. And although it is more time consuming than buying everything at the store, making your own food leaves a huge impact on both your health AND your pocketbook!
Without further ado, here are 10 easy ingredients I've learned to make from scratch. And I guarantee you can do this, too!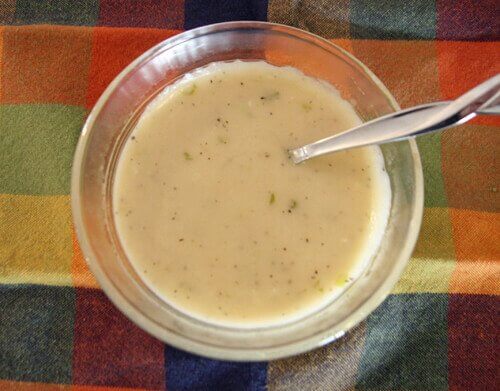 When we first married, my husband and I lived in the Deep Southern state of Mississippi. Creamed soup casseroles ruled the dinner tables, and I baked one almost every night! When I discovered that the canned creamed soups I had been buying were laden with MSG, soy and other additives, I decided they were one of the first things to go.
I started making my own cream of chicken soup, with slight variations for cream of mushroom and cream of celery. I was so glad to start making my creamy lemon pepper chicken again! It's really quite easy to make up any creamed soup your recipe calls for!
When I think of applesauce, I think of pure, apple-y goodness. But most store brands contain high fructose corn syrup as a main ingredient, and the brands that don't are far too pricey for my family's budget. Not only do my girls enjoy eating applesauce by itself, but I use it in many baked goods, like Intentional by Grace's Unbelievable Chocolate Applesauce Bars!
Making it at home won't only better serve your health and budget, but you'll also enjoy the sweet smell of warm apples wafting through your house! There are many methods to make it, but I use my crock pot!
Although I've been making salsa off and on for several years, I have mostly bought it in clear jars at the store. All the chopping of onions and tomatoes and peppers seemed to take too long for my taste when I needed it for a recipe like enchiladas or chicken tortilla soup. Then, recently, I discovered Stacy's pantry salsa from Stacy Makes Cents. Yes, it does use canned tomatoes, but sometimes we have to compromise. This method is quick, easy and oh-so-yummy!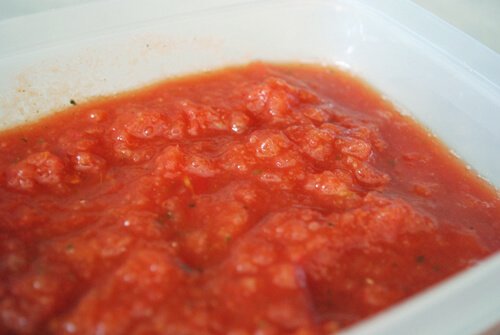 Spice mixes can get very pricey, and they are so easy to make from home! All it usually takes it combining a few single spices, and you're ready to go!
I make my own taco seasoning, pumpkin pie spice and garlic salt (just 3 parts salt to 1 part garlic powder!). When I get really brave, I want to try my hand at homemade lemon pepper! I store my spice mixes in repurposed baby food jars, making it easy for dipping in the different-sized measuring spoons.
OK, I will admit. I don't make pies often. Actually, I only make them around the holidays, and this past Thanksgiving was the first time I tried my hand at a homemade pie crust. (It had scared me for years!) Don't be afraid to try this yourself. Diana from A Little Bit of Spain in Iowa makes it so easy with her tutorial!
This is a really easy one. I make a very simple pasta sauce with just tomatoes, garlic and a few spices in my crock pot. You can really make it as elaborate or basic as you prefer.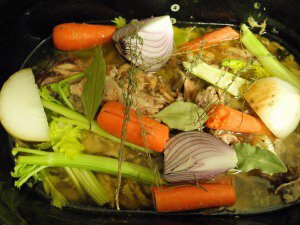 7. Chicken Broth
You will not find a cheaper chicken broth anywhere… than in your own kitchen! I make mine in the crock pot, using bones I've salvaged from cooking whole chickens in the crock pot. After it cooks, I store my broth in glass jars in the freezer, leaving a little space at the top for expansion.
**Stephanie's note: You won't find a healthier chicken broth anywhere, either!
From my hubby's favorite "Almost"-Fried Chicken Tenders to my mom's Cheesy Green Bean Casserole, I use bread crumbs fairly frequently. But, for a time, I stopped making my bread crumb dishes when I discovered the crumbs from the store contained some pretty nasty additives. I couldn't believe how incredibly easy they are to make yourself! I will never, ever go back to bread crumbs from the store!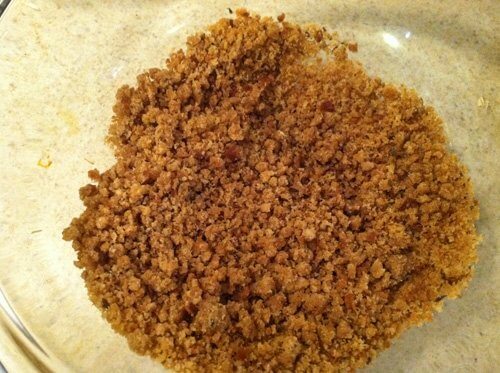 9. Crescent Rolls
When my husband and I first married, one of his favorite desserts was apple dumplings. I used a basic recipe that used refrigerated crescent rolls, apples…and, get this, Mountain Dew!
When it hit me how unhealthy these were, I literally went years without making them.Then, one day, I decided to conquer my fears and try to make homemade crescent rolls–just to be able to make these apple dumplings again!They were a success on my very first try, and I even tweaked the dumpling recipe to make them with orange juice instead of the soft drink!
When I started trading my refined white sugar for healthier sweeteners like honey and sucanat, I realized that I didn't have an alternative for powdered sugar to make cake frostings and other desserts. Stephanie's recipe for homemade powdered sucanat was such a relief! And it can't be any easier. All you have to do is use your blender to grind the sweetener into a fine powder!
This list doesn't even begin to scratch the surface of all kind of ingredients you can make at home. I have a long list of ingredients I still want to try–like homemade vanilla, homemade yogurt and homemade nut butter.
What are some homemade ingredients that you make from scratch?