Homemade Canned Soup Replacement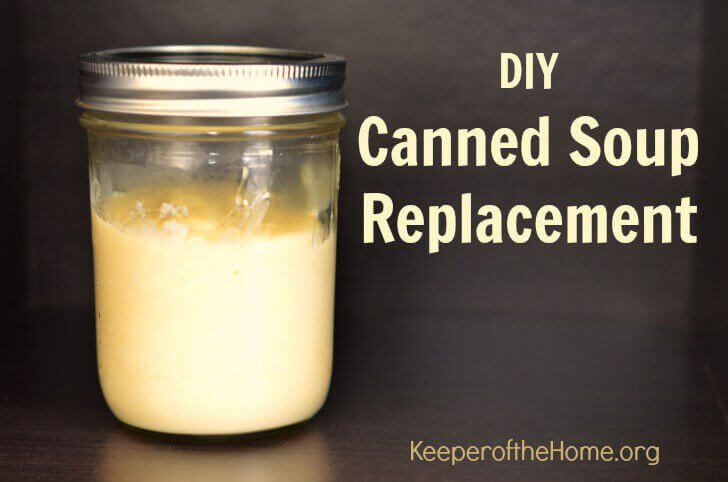 By Stacy Karen, Contributing Writer
When I think back to my newlywed days, and all the canned soup we consumed, I cringe a little.
As a newlywed, I learned to prepare all manner of meals while clutching my Betty Crocker Cookbook. I followed each recipe step by step, not thinking much about any kind of health ramifications. I just wanted to make dinner for my husband.
At that stage of life, I knew very little about real food. But, as time went on and I became more aware of the additives in many processed food products and began to eliminate them from our diet.
Canned soup was one of the first things to go.
Many canned soups contain a myriad of chemicals, GMO's, and a high amount of sodium (Source). None of these are good for our health.
Thankfully, it's not difficult to create a canned soup replacement, which means we can continue to make delicious and comforting soups, casseroles, and Crock-Pot
recipes.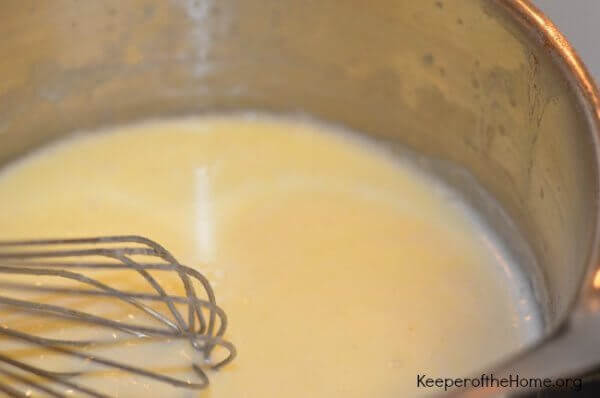 Today I want to share a simple recipe for cream of chicken condensed soup. It can be adapted and changed to work as a replacement for cream of celery or cream of mushroom soup as well.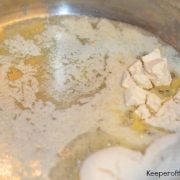 Print Recipe
Cream of Chicken Condensed Soup Replacement
Ingredients
3

tablespoons

butter

3

tablespoons

unbleached

white flour (or whole wheat)

1/2

cup

chicken stock

1/2

cup

milk

Salt and pepper

Optional: 1/2 cup sliced onions or shallots.
Instructions
Place butter in a small saucepan and melt over medium heat. If using onions or shallots, add to the butter and sauté until soft. Once butter has melted (and onions are soft, if using), add the flour.

Continue to cook, stirring rapidly with a whisk, until the mixture is thick and slightly bubbly. Don't let the butter turn brown.

Add the chicken stock and whisk to combine. Add the milk and whisk again.

Bring to a simmer and cook until thickened, stirring often.

Remove from the heat and add salt and pepper to taste. This will keep for a couple days in the fridge, but it's generally best to use the day it's made.
Notes
Adaptions:Cream of celery: Slice a stalk of celery into thin pieces and sauté in the butter before adding flour. Once soft, add flour and proceed as described above.Cream of mushroom: Chop 3-5 mushrooms into small pieces. Sauté mushrooms in butter before adding flour. Once soft, add flour and proceed as described above.Gluten-Free: Use arrowroot flour or white rice flour in place of the wheat flour.
Not only is this homemade version of canned soup healthier, it tastes better too!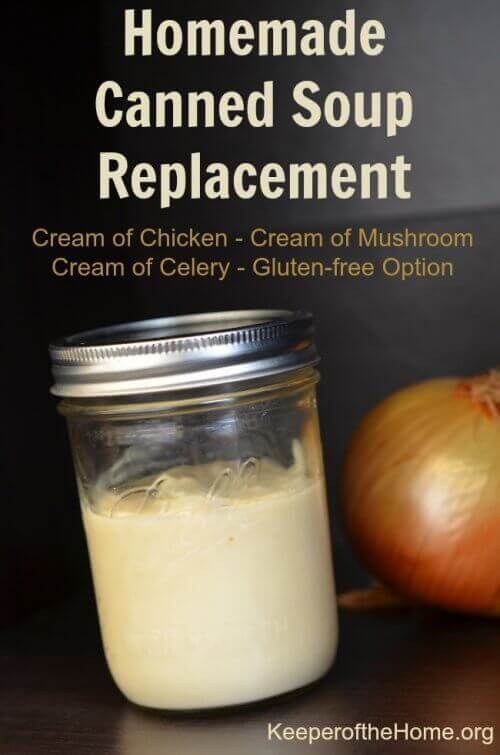 What would you make with this homemade canned soup replacement?
Disclosure: This post contains affiliate links. When you buy through our links, we earn a small commission, which helps to keep this site going so that we can continue to offer free and useful content, so thanks!