Simple Woman's Daybook- December 16
(When I asked for blog topics just recently, Donielle mentioned that she wanted to see more about me, my family and our daily life. Well, today is my 28th birthday, so I thought I'd share a little about myself today- which feels so selfish!- but hope you enjoy!)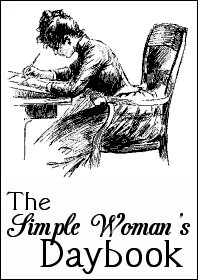 FOR TODAY…
Outside My Window…
The snow-capped mountains of the Pacific Northwest, shrouded mostly in darkness except for a thin glimmer of orangey-red, the promise of a beautiful sunrise.
I am thinking… that 28 really doesn't feel any different than 27.
I am thankful for…
my beautiful family, and the many, many blessings of God on our lives.
From the learning rooms… we're about to finish reading "On the Banks of Plum Creek

" by Laura Ingalls Wilder, which Abbie and I are both loving!
From the kitchen…
I'm dreaming of a raw milk and frozen berry smoothie for breakfast, and the salmon that I plan to bake for dinner tonight.
I am wearing… One of my favorite sweaters, thick chocolate brown and cream stripes, with large brown buttons and a hood, over a cream shirt and jeans.
I am creating… a pile of Christmas cards to be addressed and sent, and the last few Christmas items to go along with them
I am going…
nowhere today (though I wish I could go to see my chiropractor for my back), but tomorrow night my husband has plans for my birthday and I can't wait!
I am reading…
When Sinners Say "I Do"
, by Dave Harvey
I am hoping…
that my husband makes all of his sales targets at work this week, so that he can leave for vacation this Friday truly relaxed
I am hearing…
the low whir of the dehydrator, making bagfuls of dried banana chips for my children to snack on
Around the house…
there's much laundry to be done, Christmas details to finish, a family room to organize.
One of my favorite things…
being up by myself in the early morning hours, while the house is still quiet (except for when my already-awake children burst into laughter from behind their closed bedroom door)
A Few Plans For The Rest Of The Week:
Give the house a good cleaning, use up the rest of the food in the fridge, and pack us up to go spend a week in Seattle with my husband's family for Christmas. Vacation… ahhhh.
Here is picture thought I am sharing…