Why My Husband Rocks (and Union 28 Giveaway)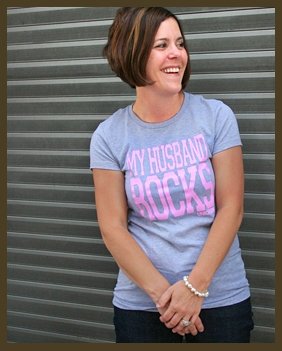 *Giveaway has now ended*
A few years ago, I remember seeing one of my dear friends in the cutest shirt. It said:
"I love skinny guys with glasses" and it had a stick drawing of a skinny guy wearing (what else?) glasses.
What makes this shirt awesome is that her husband just happens to be a skinny, glasses-wearing, computer-programming (but super cool) guy. And every time she wore this shirt, it made me smile to see that she was telling the world how much she loved her hubby.
Fast forward to this summer… our 8th anniversary is drawing closer and I am on We Are That Family, reading about her recent trip to Africa. I notice on the sidebar a little ad that says "My Husband Rocks. T-Shirts and More!". I just had to click.
What I found at Union28 made me smile all over again, at the thought of getting myself a shirt similar to my friend's, telling the world how much I love my sweet husband. T-shirts, long sleeved shirts, and hoodies, all proclaiming how much our spouse rocks or why our marriage is great.
What a beautiful way to celebrate your marriage and that faithful person who loves you day in and day out (even first thing in the morning, with bedhead and bad breath, even when you're selfish, even when you seriously mess up, even when you're just a plain old sinner).
So for our anniversary this year, I instantly knew what I wanted. Although we haven't opened them up officially yet (and yes, Ryan has been warned to stay away from my blog until tomorrow), this is what I got: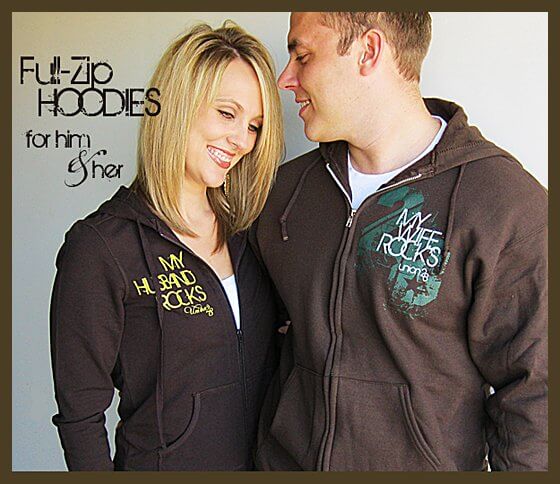 Are they fantastic? Totally cute his and hers sweaters, that aren't too cheesy or flashy, but the message is still clear. They do have at least one maternity shirt, but I preferred the idea of a hoodie because I could wear it both now unzipped and then continue wearing it after baby comes.
My husband really does rock. His heart belongs to Jesus. He works tremendously hard (often long, tiring hours) to provide for his family. He runs his business with integrity and gives to others generously. He adores his kids, and takes them on dates, wrestles with them, feeds them ice cream and other unmentionable treats when I'm not looking (yes, honey, I always know), loves to take us all out on family outings for hikes and picnics, and never fails to smother them in hugs and kisses. He puts up with our frequently messy house, laundry in baskets, the odd burnt or undercooked dinner, doesn't complain about (most) of my healthy experiments, and supports me wholeheartedly.
So happy anniversary, Ryan. 8 wonderful years, and looking forward to 50 or 60 more!
Do you love these marriage-honoring shirts as much as I do? Want to win some for yourself?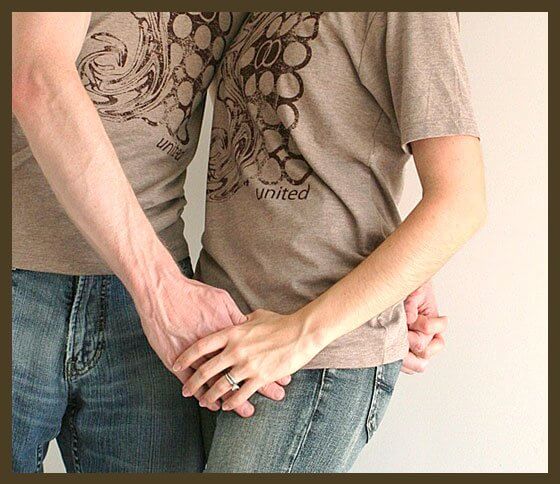 I have a $50 gift certificate for Union28 to giveaway!
Here's how to get entered (remember to leave a separate comment for each entry):
1. Visit the Union28 website and tell me which shirt you would love to win.
2. Subscribe to Keeper of the Home by RSS feed or by email (and be entered to win our monthly email subscriber-only giveaways!).
3. Share about this giveaway through your blog or favorite social media (find us on Facebook and Twitter here).
Giveaway has now ended.
Union28 is also offering 15% off any purchase to any of my readers when you use the coupon code U28keep15. The discount code is good from Monday, September 12th to Monday, October 31st, 2011.
Disclaimer: The hoodies were provided for the purpose of review by Union28. Since getting them, I have also become an affiliate of Union28 because I love their products and what they stand for. When you make a purchase through one of my links (which you are not obligated to do), I get a small kickback which helps to support this site, so thank you.