Since getting home from Arizona, life has been a flurry of food preserving. Here's what I've been up to: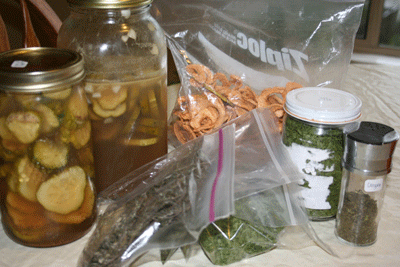 First, there were pickles to make (you can see, they've already been dug into- I tried to buy more pickling cukes, since I only got enough for 4 quarts from my garden, but the market was all out. :(  Then came drying and grinding herbs. A friend and I picked about a million apples (with the help of our hubbies, actually, who did most of the hard work!), and that bag is the remnants of dried apples that haven't yet been devoured by my family! There was originally about a bag and a half.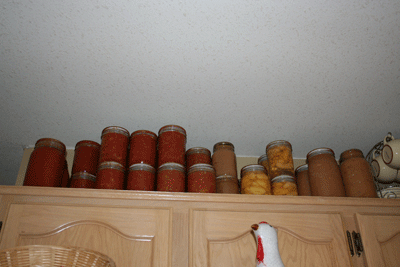 Then of course, there was all the canning. Those rows are mostly 3 jars deep, and from left to right you see tomato sauce, diced tomatoes, applesauce, peaches, and then more applesauce. It doesn't look very impressive in this picture, but can I just say that it was a lot of work? 🙂
As well, I sliced and froze about 10 large bags of peaches, plus a bunch of small bags of diced red peppers, which are now tucked neatly into my newly organized freezer (oh, it looks so pretty now that I can actually find where things are, unlike it did in this picture!).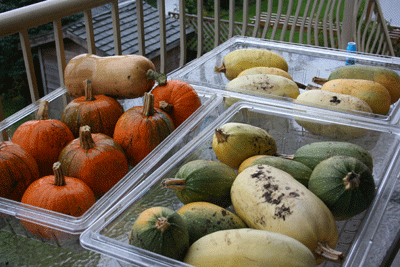 Two days ago, I did a bunch of winter prep work in my garden, and picked these babies. There were two more pumpkins, but we already ate them in some yummy pumpkin pies for Thanksgiving! The green colored ones cross-pollinated with something (a zucchini??? I have no idea!) and turned out smaller than the other spaghetti squash, and no matter how long I left them, they just wouldn't change color. So I guess they're green squash! I'm so curious to taste them!
One thing that concerned me with the pumpkins is that they didn't seem to want to get entirely orange either. Now, I might have been mildly hasty is taking them in, as we haven't had any heavy frosts yet (though we have hit 0 degrees), but the vines were all dying, and it seemed the only places they were green was where they were facing the ground, not the sun. Should I leave them a few weeks longer next year?
My last major canning task is to turn these pumpkins into puree, which I will do in a couple weeks when I borrow my MIL's pressure canner. The other squash will go down in the garage, as will my carrots, turnips and beets when they all finish.
There are some new peas growing, which I assume we'll just eat fresh, as with the lettuce and radishes. There's spinach coming up that I hope to freeze. Then garlic to plant for the spring time, some buckwheat to add as a winter cover crop and that's it! Time to take a break from my garden! I must admit, I'm ready. There's something good about being so productive and busy for a season, and then resting a bit during the winter. I'm looking forward to slowing down!
How about the rest of you? Have you been canning and preserving like mad women during this harvest season? What have you been putting away? Are you winding down with your gardens?