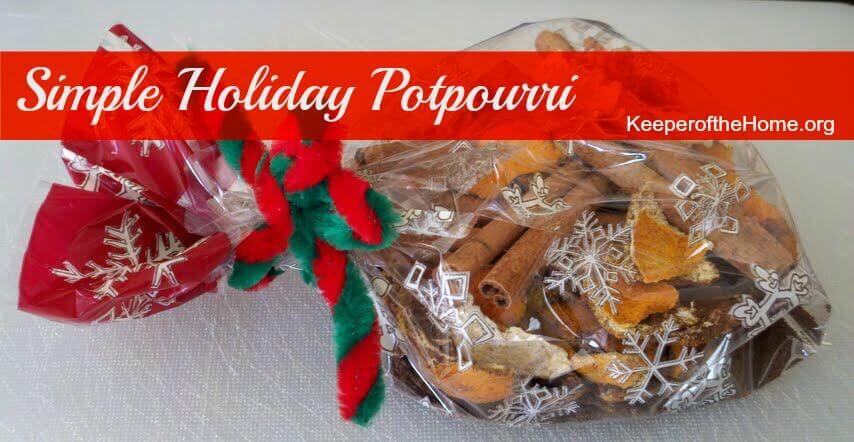 It's so easy to make your own potpourri, and it's such a fun and inexpensive gift.
Make up a small batch of this orange spice holiday potpourri and keep it in your kitchen to simmer any time you want a fresh, festive scent in your home.
Or make a big batch to make several small gifts for anyone on your list. Buy small, holiday treat bags with ties, or you can use pretty sachet bags then fill with potpourri and tie with ribbon or raffia.  Attach a homemade gift tag with simple instructions (simmer 1/4 cup potpourri in 1 cup water) for an added touch.
How to Make Simple Holiday Potpourri

Ingredients (Amounts vary according to how much you need):

dried orange peels –  about one cup
cinnamon sticks  (6-8)
whole cloves  (about 2 tablespoons)
whole allspice  (about 2 tablespoons)

Instructions:

Use leftover orange peels and air-dry overnight by placing on paper towels on counter. (Do not cover.)
Mix ingredients in large bowl.
Store in airtight container.
Simmer one tablespoon plus 1/2 cup water in small pot or potpourri warmer.
Planning for a homemade Christmas? Look forward to more homemade gift tutorials over the next couple of weeks!
What's your favorite homemade gift?