For those who were interested after last week's post on the curriculum I've chosen, here is our daily schedule for home educating this fall: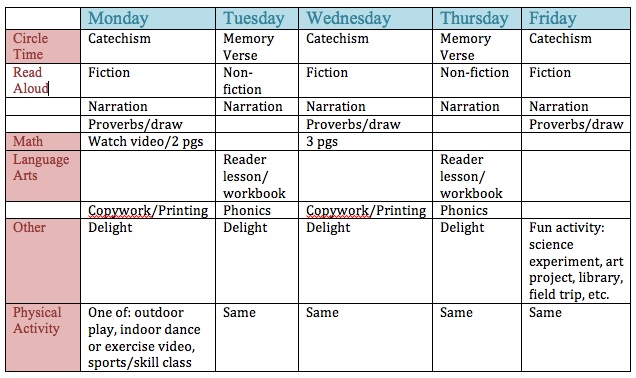 A few notes:
Circle time is when the kids and I sit together and work on activities that don't require tablework, like memorization, read alouds, narration, devotions, etc. Abbie will also read aloud to me during these times.
I've split our read alouds into fiction and non-fiction. This is just to give us some variety. On fiction days we'll read novels, nursery rhymes or poetry, or illustrated children's stories. On non-fiction days we'll read books on any variety of topics that interest us, like insects or clouds or the human body. Though we already have a pretty good library built up (considering how young are kids still are), we will depend a lot on visits to the library for this purpose.
Our math work looks pretty minimal, but it will take us through 1 unit a week, which is currently a really comfortable speed for the level Abbie is at.
By "delight", I simply mean that we will spend this time (approx. a half hour) studying things or doing projects that interest us. This might be researching an interesting topic, finding a brief educational video online, working on a poster or lapbook, or even productive free time (my MIL's term for time when the kids aren't doing "school", per se, but they are working on something creative or worthwhile, like building with lego or making animal sculptures with playdoh).
I wanted to have one day a week that has more time available for projects that will be more time and energy intensive, so I've chosen Fridays. This will be the day that we do more involved science projects, get out a big messy art project, take a field trip, etc. To allow for this time, we won't do any math or language arts bookwork, but only a brief circle time.
So that's what I have planned at the moment. I'm anticipating that learning time will take about 1 1/2 hours per day, give or take.
I'm sure we will not stick to this schedule exactly every day, especially while adapting to baby #3 in the early months, but I like having a framework and it helps me to stay more on task and focused. I think it will also provide some useful structure for the kids, as they get into the routine as well.
For those wondering, the toddler will either participate or simply do activities near us. During circle time, I expect that he'll sit and listen and I'll probably throw in a few younger things (like a short picture book or song) to help keep his attention. I'll also let him look at his own books or toys while he's sitting with us. During our table time, I will give him his bins to play with, or else set him up to color in his high chair. The baby will either be napping or in the sling, most likely. Or nursing. Or just in my arms. Guess we'll see how it all fits together with 3 littles! This will be new territory for me!
How do you like to schedule your home education times? Do you prefer a more structured schedule or do you like to keep it more loose and flexible? Hints for occupying babies and toddlers? 🙂