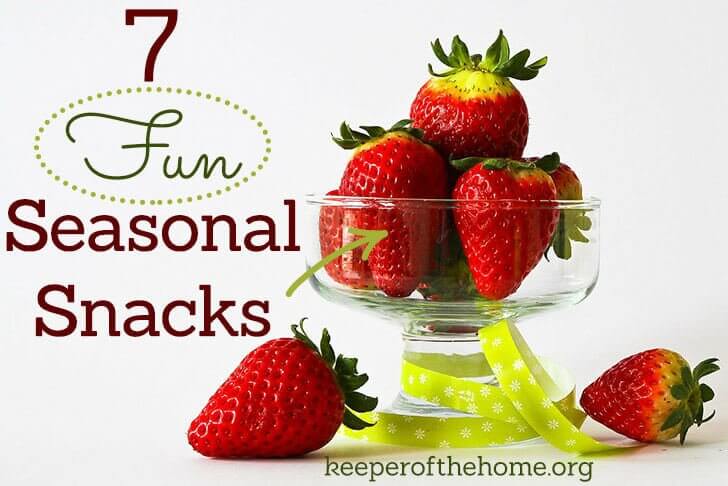 Written by Kate Tietje, Contributing Writer
This is a pretty awesome time of year. At the end of July, almost everything is in season! Yes, strawberries and greens and a few other "early" things are gone, but there is such an abundance of other produce now. And maybe you have some strawberries frozen from when they were in season!
At least in my area, you can find peaches, blueberries, tomatoes, corn, some types of squash, kale, swiss chard, grapes, sweet cherries, garlic, onions, peppers, and lots more! All of these awesome fresh foods lead to some really cool ideas for seasonal snacks. Are you making good use of it? Here are some ideas!
1) Fresh salsa with veggies or chips
You can really make any kind of salsa you want — tomato salsa, fruit salsa, tomatilla salsa, corn salsa, etc. Some kids will eat it on a spoon (one of mine would). Or, you can serve carrot or celery sticks (also in season) to dip in, or try the traditional corn chips. If you have some leftover meat and some lettuce, you could make a quick taco salad, too!
2) Peach popsicles or slushies
Blend fresh peaches with just a touch of honey and lemon and freeze as popsicles, or put it through an ice cream maker for a slushie-like consistency. 6 – 8 large peaches plus 2 – 3 tbsp. honey and the juice of 1/2 a lemon should be about right for most ice cream makers (may need less for popsicles, depending on the size of your mold). If you like, you could throw in blueberries, raspberries, cherries, or any other fruit you enjoy.
3) Frozen grapes
I know, sounds a bit weird…but they're a great cool treat on a hot day. I had a friend who specifically bought expensive organic grapes in April so she could freeze them and have them on hand when she went into labor. Freeze them solid if you'll have them outside or in another warm place; freeze them for just 20 – 30 minutes in order to make them "very cold" but not solid, especially for younger eaters. Other frozen fruit is yummy too — we love blueberries!
4) Kale chips
Have you tried kale chips yet? Fresh kale is rubbed with oil and sometimes spices, and then baked until crispy. These are a great to-go snack, too, because they're not too messy. (Crumbly, though!)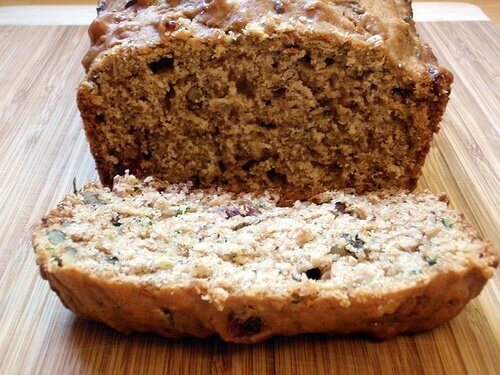 5) Zucchini Bread
Zucchini's in season too and it makes delicious bread. I love it either spicy with cinnamon, or my lemon-poppyseed version. You could even try some grain-free zucchini bread if that's something you need or want. If you prefer, swap out the zucchini for pureed squash!
6) Stuffed Cherry Tomatoes
I've always loved this idea. Sweet, fresh cherry tomatoes stuffed with bits of melted cheese? And they can be prepared in minutes. Just cut them in half, remove the seeds, and add a teaspoon or so of your favorite cheese (try mozzarella and add a bit of fresh basil if you have it). Pop them under the broiler for 3 – 5 minutes until the cheese is melted and lightly browned. Try different cheeses for a great treat.
7) Fresh fruit or veggies
Nothing beats eating these wonderful foods fresh! Serve a fruit platter with whipped cream, or a quick salad with a dash of olive oil and vinegar. Try carrot sticks with homemade dip, or make your own hummus. Delicious!
What are your favorite seasonal snacks?