An Open Letter to the Online Community: Let Kindness Reign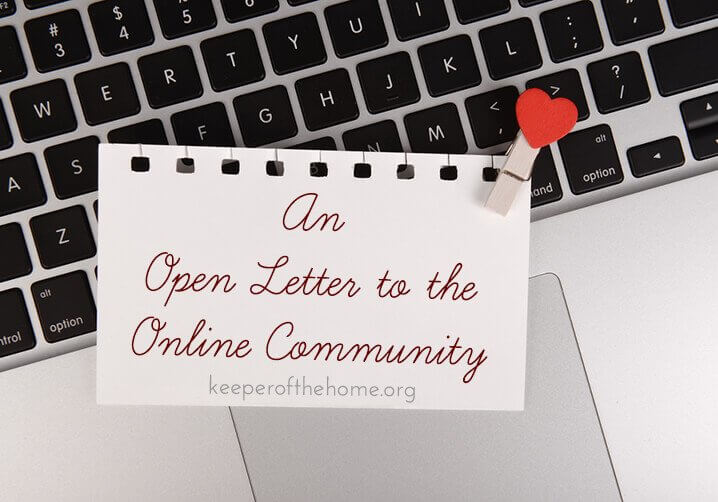 Blogging is about community.
It connects us across the miles. It allows us to share our knowledge, our inspiration, our struggles and yes, our very lives. It is a fabric woven of a diversity of people, and it can be a very beautiful thing.
It can also hurt.
I've been a blogger for over 6 years. At first, it was pure enjoyment, sharing from my life and connecting with readers. Then, gradually, the comments and emails came…
the ones that quietly shamed me
the ones that poured salt in my wounds
the ones that told me I was less than
the ones that heaped on the mommy guilt
the ones that said I had done them wrong, or hadn't done enough for them
the ones that tore me down, clawed away at my self-confidence and made me doubt myself
Over time, as a blogger, and I think as any sort of a public figure, you build up a thicker skin. I know I did. The tenderness and delicate places grew rough callouses, protecting me from the thoughtless words of others.
Most of the time, I can remain in that place. I know when to let something bother me, and when to delete or walk away and let it be without having it gnaw at my soul.
I first wrote these words almost a year ago, when I was feeling hurt and accused. Unsure of whether to share them, I let this post sit and simmer for a good long while, and gradually the hurt went away. These past few weeks, however, I've started to struggle again.
But this time, it's not for myself. It's for the other people I see being slandered and torn down in similar ways. I couldn't remain silent anymore.
There's the one who's been betrayed and judged by friends who couldn't handle her blogging success. Another whose privacy was violated and the information used to publicly humiliate her. And yet another who is simply weary of the sheer meanness of comments being directed her way, for sharing something as benign as what she gave her kids to eat for lunch.
It's not only against bloggers, either.
I see this unkindness in the comments on blogs and Facebook, where one reader goes against another, one mom makes another mom feel small, one woman lashes out at the opinion of another woman, one anonymous smiling Gravatar photo belittles another smiling face with the flick of their keyboard.
It seems to me, and correct me if I'm wrong, but the longer I share this online space, the more I sense this pervasive and ugly thread weaving its way through our tapestry of community.
Anonymity makes us unkind.
When screen to screen, and not face to face, we say and do things we would never do otherwise. We tread harshly on people. We belittle, we mock, we rip, we shred, we push, we judge, we condemn.
Social media has changed the way we interact with the world around us. Our lives are virtually open books (or Facebook walls). In a day and age where we live increasingly isolated and lonely lives, we've chosen to open up ourselves to this online "community" in hopes of finding meaningful connections, friendship, support, encouragement, camaraderie, and care.
We put ourselves out there in a way that is unprecedented. We share "what's on our mind" statuses freely. We tell the world what we "like". We write blogs full of our summer vacation photos, our how-to tips, our bravely told stories, our musings and inner conversations. We create pin boards to show off our style, our dreams, our preferences.
So here's my question… Does putting ourselves out there mean we're open season? Does it make it justifiable to berate the opinions and ideas of others simply because they're out there?
Like vicious, ugly chickens, we peck away at one another until we bleed.
I know that it's common among bloggers to feel worn down by the attacks, the nasty comments, the hurtful judgments. As those who participate in this online space called social media, I'd wager that you've felt picked at in one or way another as well.
Perhaps we think that these screens, these metal computer casings, are somehow protective. That things said in cyberspace don't have an impact in real life. That sticks and stones may break our bones, but Facebook comments will never hurt us.
But they do.
My Macbook and keyboard may be made of steel (you know, or fiberglass and aluminum), but my heart? My mind? Not so.
I am a real person.
The women online, be they bloggers or fellow readers and sharers of this space… they're real people.
The barbs that we launch into one another's skin may come out, but not without tearing a little flesh, or leaving a scar. Our words spoken online matter. They impact people. They hurt.
Friends, may it not be this way among us.
may we speak to one another with honor and respect
may we remember that the person on the other end of the screen is a real person
may we ask ourselves "would I say this to their face?"
may we judge that others are innocent until proven guilty
may we extend the benefit of the doubt
may we season our words with kindness, and sprinkle our emails with grace
Let us be a community in which kindness reigns.