Spoonk Rider Portable Acupressure Mat: Review and Giveaway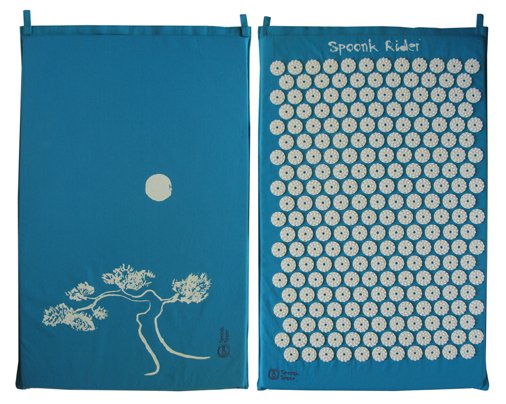 There is a new nighttime battle between my husband and I. No, it isn't a tug-of-war for the comforter or over who gets the fluffiest pillow. We're both clamoring to use our Spoonk Rider mat, for a little bit of bedtime relaxation!
I first ran into the Spoonk Rider portable acupressure mat at an Eco Trade Show in Vancouver early this year. They were available to try for a few minutes in the midst of the busy convention center. I was a bit wary of these spiky mats, which somewhat resemble a porcupine. But my feet were tired from walking, my back a bit achy from carrying a heavy bag, and I thought it was worth a try.
My first thought when I stepped onto it was "ouch!". Those little spikes are surprisingly sharp and the sensation was stronger than I imagined. And yet, after just a few moments of sticking with it and letting myself get used to the feeling of the mat, I began to feel somewhat energized and surprisingly refreshed!
When we connected again with Spoonk Space some time after the convention and they offered that I actually try using a mat regularly for the purpose of review, I had to admit, I was intrigued.
What the Spoonk Rider is all about:
Acupressure is an ancient healing art, originating in India and developed in Japan as shiatsu massage. Traditional Chinese medicine uses acupressure as one of its techniques to stimulate the body's natural healing process. Fingers, thumbs and tools such as an acupressure mat press body points called reflex areas. When reflex areas on the body are pressed, it prompts the body to increase blood circulation and release blocked energy. As a result, acupressure encourages the body to balance itself, easing muscle tension and relieving pain. (From the Spoonk Space website)
Now, while I don't agree about the concept of releasing energy, a traditional Eastern medicine philosophy, I have seen how this acupressure mat can easily and quickly increase circulation and ease muscle tension.
When the 6,210 plastic spikes on the mat are applied to the skin, they stimulate blood flow by stimulating the nerve endings in the body. When blood flow increases, muscles are able to relax, pain subsides, physical stress and anxiety dissipate.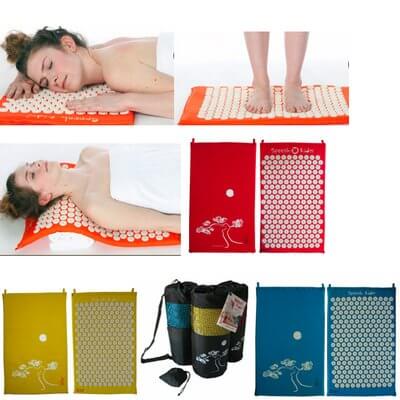 What are the benefits of increased blood circulation?
Oxygen and nutrients are carried throughout the body
Bodily resistance to infection is increased
Metabolism speeds up
Endorphin levels rise (those wonderful brain chemicals that make us feel good)
Stiff, aching and restless muscles are released and tension decreases
Detoxification is increased (the natural process of getting rid of toxins in the body speeds up)
My Experience
I've had my Spoonk mat for about 2 months now, and it couldn't have come at a better time. This summer has been a very busy and stressful time for me, and I have definitely carried a lot of tension in my back and shoulders.
I was in a very bad car accident about 11 years ago, and since that time I have had at least a couple of occasions each year where my back begins to spasm and can only be relieved through visits to the chiropractor and massage therapist. However, this is our first year without any medical benefit coverage and little extra cash, as we are starting up our own business. Visits to my regular therapists were out of the question, unless it became a desperate situation.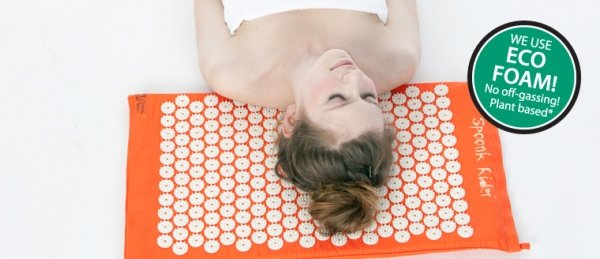 By laying on my Spoon Rider mat most nights (probably 5-6 nights every week), I have been able to keep the back pain and muscle spasms to a minimum. My back has flared up here and there, but by using the mat faithfully, I have been able to avoid having to go and spend big money getting treatments for it. Additionally, I injured my shoulder muscle at the beginning of the summer, and though it still gives me grief some days, I think that my use of the mat has kept it from being unbearable.
My husband has also noted that it helps him to relax before bed, and it does release his tight muscles and reduce back and shoulder pain from working all day at the computer or bending over an instrument.
The mat is a bit pricey at $69 CAN. However, seeing how much it has truly helped me to cope with my back and shoulder issues (without resorting to spending hundreds on other treatments), I can actually now say that I would consider that a worthwhile price. If you find yourself in a similar boat, it may just be worth it to you, too!
A few thoughts on the use of acupressure for Christians:
Though acupressure is sometimes connected with more mystical, Eastern medicine, it can absolutely be used in a purely physical way that brings real relief to muscles and does seem to be very effective. Acupressure points are used more commonly than we think.
Take sea bands for example, those elastic wrist bands that are used to alleviate or reduce nausea from sea sickness or even morning sickness. They push on a point inside the wrist, which seems to be able to reduce sensations of nausea. Another example is rubbing your head when you have a headache. Though we may do it somewhat unthinkingly, there are actually pressure points in the temple that can sometimes bring relief to a headache when we rub or gently massage them. There are numerous examples of this all over the body!
So while I would always suggest that you look prayerfully into the use of various methods of natural healing, I have personally come to the conclusion that acupressure is a legitimate and in fact, God-given, technique for aiding our body in relaxing, healing, etc. Most alternative schools of thought, although they very often mix up dangerous spiritual rituals or belief in their teachings, are actually grounded in some sort of truth or physiologically accurate foundation. As Christians, I believe that we need to use careful discernment to distinguish between the two, and always listen carefully for the Holy Spirit's leading as we choose avenues for physical healing and wellness.
Would you like to win your own Spoonk Rider Portable Acupressure Mat?
I have one Spoonk Rider to give away, at a value of $69!
Here's how to enter to win (please leave a separate comment for each entry):
1) Visit the Spoonk website and then leave a comment telling me why you'd like to win one, and which color you would choose.
2) Subscribe to Keeper of the Home, either by RSS or by email (or let me know if you already do).
3) Share about this giveaway on your blog, or through your favorite social media (you can find Keeper of the Home on both Facebook and Twitter). One extra entry per social media share.
Giveaway ends Tuesday, September 21 at 4:00 PM, PST. Giveaway has now ended.