As I work away on my calculations and post for tomorrow's Frugal Cooking Carnival, I thought I would just quickly post a simple, but very nutritious stew that I made for my 11 mth old baby the other day.
This stew would be appropriate for any baby that has already successfully been introduced to all the foods below, and has started to eat food combinations. My baby had been regularly eating all of the foods included, except for the kale, so I knew that if there was a reaction, that's what it would be. I thought a stew like this was a great opportunity to introduce a leafy green like kale, because all the other great flavors make it more palatable for his wee taste buds.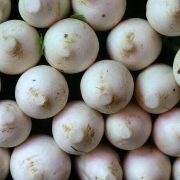 Print Recipe
Simply Super Baby Stew Recipe
Ingredients
1

cup

ground chicken

or other meat

1

sweet potato

1/3

medium turnip

peeled

1

small parsnip

peeled

1/2

kale leaf

chopped

1

Tbsp.

butter
Instructions
Cook ground chicken (you could also use beef, lamb or turkey). Using ground meat (of high quality, of course- mine is all natural, no antibiotics, hormones, etc.) is a more frugal way to make baby food, as it just doesn't make sense to use more expensive cuts of meat when you are going to blend it up anyways.

Chop (into roughly 1 inches pieces): sweet potato, turnip, and parsnip (this could easily be replaced with 2 carrots instead- my son is just sensitive to them, but I bet they would be even nicer). Also chop kale leaf.

Add root vegetables to a covered pot, with about 1 scant cup of filtered water, bring to a boil, and simmer for about 10-15 minutes (until soft enough to pierce with a fork). Add kale in the last couple of minutes.

Transfer all vegetables, with cooking water, and cooked chicken to your blender. Add 1 Tbsp. butter (organic is preferable). Blend as desired (smoother or chunkier, depending on your baby's eating ability).
This will fill 2 ice cube trays and keep in the freezer in a sealed container for up to 3 months.
To reheat (since I don't use a microwave), I simply take a couple of cubes and put them in a glass bowl (oven safe) and pop it in the toaster oven on bake for about 10 minutes or so. The bowl is hot, so I just rest it on a dish towel at the table, and make sure that it is thoroughly mixed to avoid hot pockets (when my son starts feeding himself, I'll have to transfer it to a cool bowl). You could also heat it in a small pot with a lid, over low-med heat, and then you avoid having a hot bowl.
I just introduced this to my baby two nights ago, and he is one happy camper, so it must be good!