How to Identify and Use Winter Squash
While most can identify pumpkin and butternut as varieties of winter squash, many of us don't know much about other types of winter squash or how to prepare them. Today I want to dive into the world of winter squash and open the door to new eating possibilities.
Health Benefits of Winter Squash
Winter squash, especially those with darker flesh (like pumpkin and acorn) contain high amounts of carotene. Carotene has been shown to help protect against cancer, heart disease, and type-2 diabetes. (source)
Varieties of winter squash are also great sources of vitamin C, and B1, folic acid, potassium, and dietary fiber.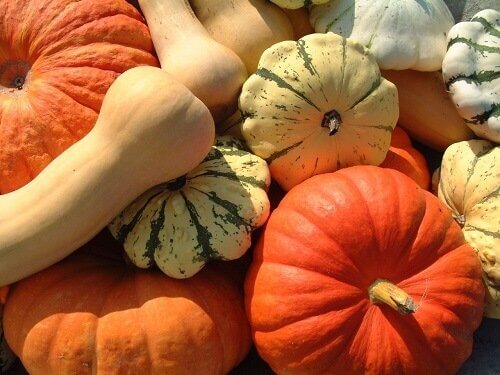 Types of Winter Squash:
The following is a list of the most commonly known (and used) winter squash. A more comprehensive list can be found here.
Acorn Squash
Acorn squash has skin that is dark green, orange, or a mixture of both. Acorn squash is not as sweet as other squash and has an almost nutty flavor.
I enjoy cutting in half, baking them in the oven and eating right out of the skin with butter, salt and pepper.
Acorn squash is also great for baking and stuffing with other ingredients. One half makes a good size serving portion for an adult.
Recipes to try:
Butternut Squash
Shaped like a large pear, butternut squash has cream-colored skin and orange-colored flesh. It has a sweet flavor and is delicious roasted or included in soups and stews.
Recipes to try:
Hubbard Squash
This larger sized squash can be grey or slate-colored, dark green, orange-red, or blue skinned. It has a non-stringy flesh that is less sweet than many other squash varieties and is actually one of the best for eating.
Recipes to try: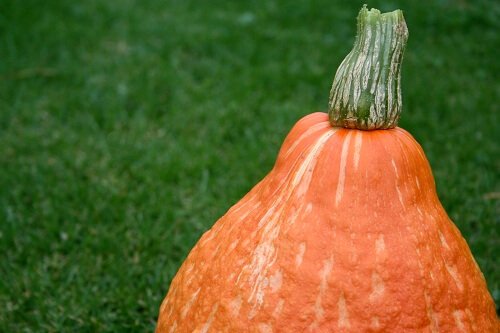 Banana Squash
The shape and skin color of this squash looks much like a very large banana. They are usually sold pre-cut into slabs since a whole banana squash can be two feet long and is a little large for the average home cook! Banana squash has a sweet flavor.
Recipes to try:
Pumpkin
Pumpkins are one of the most well-known winter squash. Usually orange in color, pumpkins come in a variety of sizes. Small sugar-pumpkins are the most flavorful.
Growing up in Australia, we always had roast pumpkin alongside our roast potatoes and baked chicken. Just peel and cut into chunks and add to roasting pan along with the chicken. I was so surprised when moving to the United States that no one seemed to eat pumpkin unless it was sweetened and made into a pie!
Recipes to try:
Spaghetti Squash
Oval in shape and yellow in color, spaghetti squash has a coarse flesh that can be pulled into long, spaghetti-like strands when cooked. Spaghetti squash is an excellent replacement for regular spaghetti if you are cutting down or eliminating grains or carbs.
To cook spaghetti squash: Preheat oven to 400 degrees F. Cut the stem from the squash and then slice squash in half lengthwise. Scoop out the seeds. Place squash halves, flesh-side down, in a baking dish. Bake for approximately 40 minutes or until squash shreds easily with a fork. Cool slightly, shred with forks and serve.
Spaghetti squash is great topped with marinara sauce or tossed with butter and cheese.
Recipes to try:

Selecting and Storing Squash
Choose squash that are firm and heavy for their size. The rind should be hard and dull in color (not glossy). Avoid squash that is soft or has moldy spots.
Store in a cool, dry place.
Squash can be stored from one to six months.
Methods of Preparing Squash
Baked Squash
This is the method I use most frequently (although I sometimes need my husband to cut the squash in half for me!)
Cut squash in half and scrape seeds out. Place in a baking tray, flesh side down.
Bake in a 350 degree oven until soft (usually 40 minutes or longer, depending on size).
Baked Whole Squash
Squash can be very difficult to cut; when this is true, baking whole is a great alternative.
To bake a whole squash, heat oven to 350 degrees and bake for 30 minutes or longer (until it feels soft when pressed).
Remove and cool slightly. Cut in half and remove seeds, then return to oven and continue cooking until done.
Roasted Squash
Preheat oven to 400 degrees F. Peel and seed squash and slice into 2-inch cubes. (It's best to use squash that is easier to peel, such as butternut or banana squash). Toss squash in oil and sprinkle with salt and pepper. Spread on a large baking sheet and roast for 15 minutes. Turn the pieces and roast for a further 15 minutes. Turn once more and continue roasting until squash is to desired softness (about 10 minutes more).
Steamed Squash
Cut squash into large cubes and place into a steamer basket over boiling water. Steam, covered, for 30 to 40 minutes. It's delicious served with butter, salt and pepper. Steamed squash can also be pureed or mashed and used in other dishes.
Squash Puree
Halve the squash and scrape out the seeds. Place both halves on a baking sheet, flesh side down, and bake at 375 degrees F for about 30 minutes, or until soft. Once cool enough to handle, scrape squash from the skin into a bowl. Mash and stir with a wooden spoon until smooth. You can also puree in a food processor or blender.
Store pureed squash in the freezer for use in soups, muffins, pies, and breads.
Does your family enjoy a specific variety of winter squash? What is your favorite way to prepare winter squash?