Simply Celebrating Christmas!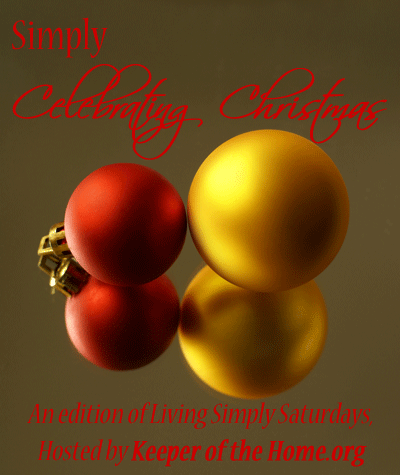 As I sat here, wracking my brain for the right way to introduce a carnival on ways to simplify our Christmas celebrations and keep them focused on what's most important, I stumbled across this post and realized that this is the most important thing to remember, no matter how great our tips and advice and strategies for Christmas bliss may be:
"…So let's humbly concede that we can't carry out even the most ordinary
of Christmas preparations apart from God's help. Let's consult God,
acknowledging him in all our ways, while not forgetting Mr. Bridges's
confident assertion: "He loves to be consulted!"
Bottom line: We can't make the Christmas season run any smoother, become any less stressful, or be any more joyful by ourselves. Just as in every other area of life, we are absolutely, critically, solely dependent on God and His astounding grace as we seek to make our Christmas celebrations worthy of all that He is and has done for us.

I have by no means got the simple Christmas thing down pat (lest you actually thought that I might have!). It is something that my husband and I are making a concerted effort to do, though, as we make our way down this unknown path of establishing Christmas family traditions and learn to effectively communicate the meaning of Christmas to the little eyes watching us. It's a challenge that I am grateful for, because it makes me re-evaluate what we are doing and why.
Here are a few of the things that I am personally doing to live simply this Christmas season:
*Instead of writing Christmas cards, we get photo cards printed out at Costco. It's relatively inexpensive (50 cards for $18), and I simply order online, then go pick them up a day or two later. I put them in envelopes, address them, and I'm done. I love it!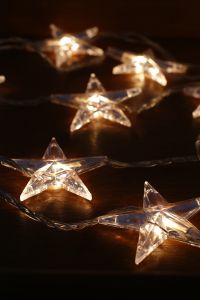 *We don't do outside decorations or lights. Though they're beautiful, they cost money, electricity, storage space and my husband's time to put them up and take them down. I figure I'll let others do it, and then go and enjoy their neighborhoods instead! 🙂
*On my husband's side of the family, there are 8 adults (including us), so we draw names each year and that way we only have to purchase 2 gifts instead of 6. At this point, we don't buy for each other's children, either (they get thoroughly spoiled by grandparents and their own parents). This means less cost and time spent looking for gifts, and also that we can put more thought and effort into the gifts that we do buy
*I try not to plan ahead to do much in December, knowing that the month will fill up quickly enough on it's own. There is no need to add extra obligations to an already full month!
*We start thinking about and purchasing/making gifts in November at the latest, with the goal of being finished by early December. This keeps last minute stress and rushing to a minimum… ahhhh. I'm almost done this year, as I write this post. All that's left are 2 gifts to buy, and a few things to make with my daughter and by myself (but we already have all the supplies, and it will be enjoyable do to together or in the evenings when the kids are in bed)
*I don't do small gifts, baskets, baking, etc. for friends. It's not that I wouldn't love to, or that I don't think it's a lovely, thoughtful gesture, but quite simply we have so many beloved friends and it would stretch our budget and my time to the max. A simple card, a hug and time spent together is usually just as meaningful.
*I go easy on the Christmas decorations. I have one large basket (quite large- it's similar to the size of a hope chest), that I store all my Christmas items in. It all has to fit in there, so I can't get too elaborate! My decorations are not fancy, but I do the best with what I have, trying to make things homey and I can always complete it within a couple of hours (aside from doing the tree with our family).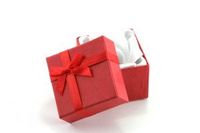 *For our children, we have decided to do 1 gift per child (we kept it at $40 each) and they will each have just a couple of stocking stuffers that I am making myself (a hat/mitten/scarf set I am sewing for my daughter, and some new bibs and maybe a cloth toy for our little guy, and some fruit bars or cookies).
*We try to find a couple of ways to give to others each year. The point is not to make ourselves look or feel good, but mostly to reinforce to our selfish little selves (because if we're honest with ourselves, we all struggle with being selfish, don't we?) that it's not about us and to help us to look beyond ourselves. We usually contribute to Christmas hampers for those in need, sometimes give specifically to a family that we know is in hard times, or donate extra to a ministry or charitable organization.
*One tradition I had as a teen and young adult was to read one book each December, that helped me to focus on Christ and His coming. Now, my focus is more on finding ways to do this with my children, through our Jesse Tree, Christmas activities and crafts, and books we read together.
Now it's your turn… won't you share with us how you and your family simply celebrate Christmas?