Blendtec vs. Vitamix: Which Blender is Better?
If you're going to spend a big chunk of money on a high-quality blender, you want to make sure it's going to do the job;and;do it for years to come.;
For most of us, an expensive purchase like a Vitamix or Blendtec high speed blender is a carefully-made decision, and a purchase for which you're likely to spend time saving up for. Ultimately, the cost is worth it in my opinion.
It was 8 years ago that I first saved up to purchase a Vitamix (at the time, I had never heard of Blendtec). I desperately wanted one, since we make smoothies on a regular basis, not to mention using our blender heavily for all sorts of other kitchen tasks.
I saved up,;little by little, in hopes of buying an older, used model off of eBay or Craigslist. Imagine my shock and delight that Christmas when together with own savings, money for my birthday and Christmas gift, and the astounding donation of a generous woman my husband met at Costco who offered to pay the rest (yes, seriously — I still love that story!), a Vitamix ended up under the tree that year.;
I've used it faithfully and frequently ever since. It's in constant motion in our home.;
It hasn't been without any troubles at all… I've had to replace the tamper twice (I'll confess, it was human error both times), and we also had to replace the canister because the part where the blade;is secured;was breaking (this was still covered by warranty).;
That said, it's been a sturdy workhorse of a blender and that is exactly why I wanted it.;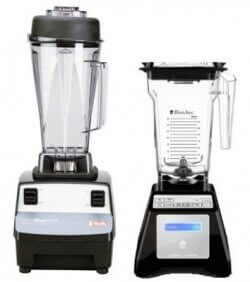 In the last few years, however, another blender caught my attention;-;the Blendtec.
I was drawn to it for the ways in which it was different than the Vitamix, namely the fancy settings panel and the wide base of the container with the two-pronged blade instead of the smaller base with a four-pronged blade.;
But would it actually outperform the Vitamix? Was either one really any better than the other? I was really curious, but not about to fork out more money just to conduct an experiment.;
So when Blendtec offered me a blender to review (esp. as my Vitamix approaches old age and will only last so much longer), I eagerly said yes. I know that in previous posts with mentions of the Vitamix, readers have often wondered as I did, "Which is better? Is one more worth the money than the other?"
Let's find out then, shall we, and see how the Vitamix holds up vs. the Blendtec?;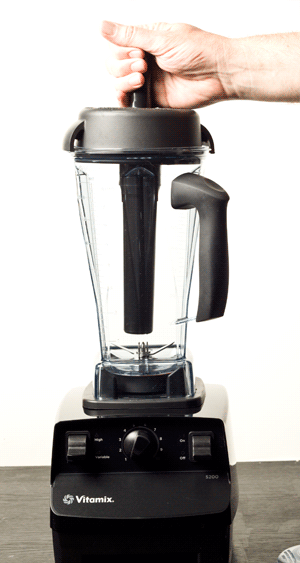 Specs: ;64 oz. container size (2 quarts). Takes 63.4 square inches of counter space.
Cost:;Starts at $579 (for the classic C-series – other models start at $469 and $679 respectively — taken;from;official website. (Or $455 from Amazon)
Warranty:; 5-7 year warranty
What I like about the Vitamix:;
The tamper. This is an ingenious design that works particularly well for making very thick, heavy, stiff foods, like ice cream or nut butter. It allows you to keep the blender going while pushing the food back down towards the blade so that it doesn't get stuck, everything gets mixed, and you don't overheat the;motor.;
If you do overheat the motor, it will shut down until fully cooled off, to protect it from permanent damage (ask me how I know).;
I feel like it's slightly less noisy than the Blendtec (that said, at full speed they're both still really loud).
It can handle a smaller amount of food or liquid to get going than the Blendtec, because of the narrower base. If you put the same small amount in a Blendtec, the blades would just spin around and not accomplish anything. (I'm talking about;a cup of liquid or less)
While not as fun or customized as the Blendtec's computer-like touch screen, I do worry less about the Vitamix's manually-controlled speed gears breaking down on me.;
There is a dry canister that you can buy if you want to grind things like grains, which is an awesome option for someone who wants to do a small amount of grain grinding (though personally, I wouldn't expect it to replace a grain grinder if you want to use it for larger amounts or with any frequency). That said, I found that even the regular canister was perfect for grinding things like raw sugar into powdered sugar or to help me grind up just a small amount of something like quinoa or oat flour on the rare occasion that I wanted it. So long as I wiped the canister out really dry and didn't overload it, it worked like a charm.;
What I dislike about the Vitamix:;
I can't usually walk away from it. Because the speeds are manually controlled (rather than having;a pre-set program), you have to stay nearby to babysit what you're blending and gradually move the speed up or down as needed.;
It's so tall. It has never fit under the cupboards of any of the;5 homes we've lived in since we got it, so I have to store the canister sitting beside the base, taking up more counter space.;
I find it hard to scoop out thicker foods or drinks from around the blades. For instance, if I make guacamole or whipped cream, even if I get in there with a spatula, I still never feel like I get it all out, and I detest wasting food.;
Sometimes it blends almost too well. You do have to watch that you don't blend so long on high speed that you actually start to warm your lovely cold smoothie up (that said, the Blendtec is also capable of this, but because it has pre-set programming, you're less likely to do this by accident).;
The Vitamix lid is a bit tricky to get firmly in place, and then requires a bit of wrangling to remove once you've created a tight seal. But if you don't seal it well, you'll have to hold it on with one hand while you blend unless you like spattering your ceiling with blueberries. It sometimes made me nervous when I was blending something hot, like a soup, because I had to be careful to really seal the lid shut, but then careful not to spill soup on myself in the process of getting the tight lid back off again.;
Note: Since I bought mine a long time ago, Vitamix has come out with some new models. One is a slightly shorter, wider model that is closer in shape to a Blendtec. These models are more expensive than the basic ones, though. They also have a new smaller model with two types of jug attachments, which reminds me somewhat of a fancier Magic Bullet.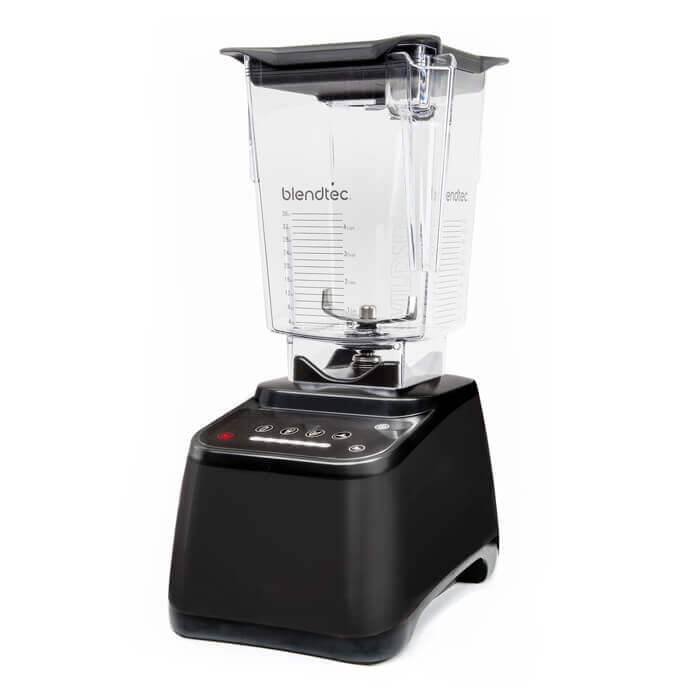 Specs: ;64 oz. container (2 quarts). Takes up 64.75 inches squared.
Cost:;Basic models start at $399 and go up to $649 for the Designer 725. Twister jars are optional, and cost an extra $119 — taken from;official website.;
Note: The Blendtec website always offers certified refurbished models which still come with a warranty, starting as low as $279, which is a really great price!;
Warranty:;8 year
Disclaimer: I've used the Blendtec for several months, usually 2-3 times per day, which is long enough to get a really good feel for a machine. But, I'll admit, maybe not quite long enough to discover all of the annoying little nuances that I've learned about the Vitamix, so I want to say upfront that it's possible that given another year or two, I may find a few more things that I don't like quite as well.;
What I like about the Blendtec:
;It's wider base and two-pronged blade. Food rarely gets stuck in the bottom and when it does, it's easy to scrape out.;
The nifty touch screen. It's quick and easy to use and there's no mussing around with manual speed dials. There are settings for blending, pureering, chopping, etc. (Note: The lower-end models don't have a touch screen but just use buttons instead)
The touch;sliding;control – it lets you customize the exact speed you want and you just slide your finger to speed it up or slow it down ;(again, only on the upper end models)
I really love the pre-programmed settings. For example, the smoothie setting starts slower to grind up big chunks, then gets faster as it goes, to get it really smooth by the end. On a Vitamix, I have to control this process manually myself. With the Blendtec, I touch the button and walk away.;
How it senses things like when it needs more liquid and the screen tells me so. With the Vitamix, I can usually tell this but sometimes I would get the motor too hot before realizing. With these "add more liquid" messages I've never accidentally overheated the Blendtec.;
The look. I feel like it's a nicer looking;machine than the Vitamix. Not that that's how I choose my kitchen appliances, but I'm just saying.;
The height. While I don't keep mine under a counter in this particular house, I used to in an old house and it always drove me crazy that my Vitamix was too tall to fit.;
Though I haven't really learned much about them yet, the upper end models have something called Blend Rewards. The blender actually counts how many times you use it (it shows me the number each time I turn it on), and you can earn codes to be used online to redeem various thing. Sounds fun!;
Ease of washing. It has a wash setting (where you put in hot water and a drop of soap then turn it on) which is nifty, although the Vitamix can do the same thing. But, I find the Blendtec easier to clean when I need to give it a scrub, and the lid pops apart and then back together so quickly, which makes cleaning it a breeze.
The longer warranty.
What I dislike about the Blendtec:
The nifty touch screen. As a general rule, I prefer things that are manual rather than electronic, because I worry about electronic parts breaking. In fact, we did have a problem with our touch screen, but thankfully Blendtec has an awesome warranty and great customer service, so it wasn't really a problem.;
I can't use it for really small amounts. Because the base is so wide, it really takes at least a cup or more (usually more) of liquid or food for the blades to be able to do anything other than spin.
If you want to blend really thick stuff, although you technically still can with the regular jar, it really works better if you get a Twister Jar. These are handy and have a lid that you can twist and use to scrape thick food or drink back off the sides down towards the bottom, to keep it blending (essentially, this does what the tamper does on the Vitamix). But you do have to buy the Twister Jar separately, whereas the standard Vitamix comes with a tamper. You can still blend thicker things in the Blendtec, like ice cream, guacamole, mayonnaise, or nut butter, but you might need to occasionally stop it and use the spatula to scrape down the sides and keep things moving.
Occasionally I feel like it has a harder time with thick stuff than the Vitamix. Now, this may be the result of not having a tamper to just give it a good push or two to get it going smoothly. But once in a while, I have to stop it, add a bit more water or push down the sides to get it really going, especially when I use large frozen things like whole strawberries. That said, once it gets going on something, the end result is always perfectly smooth.

So which one I would choose?;
It's honestly a;very;tough call. I love them both. Each one has it's pros and cons, but they're both genuinely amazing machines.
I can't really diss on the Vitamix, since it has served our family so well for 8 years. It's a great machine. But I will confess to really loving my new Blendtec. I think that if I had to pick, I would say the Blendtec is my fave, just by a little bit.
Since smoothies, iced drinks, soups, etc. are the majority of what I blend, I don't usually miss my tamper (and spoiled me, I have the Twister jar to reach for if I need it). If I blended really thick things more frequently, I might prefer a Vitamix. For me, however, I do a lot of my thick mixing in a food processor (just a cheap Hamilton Beach one) and that seems to be good enough for me.;
Now, who wants to win their own Blendtec?!
The kind folks at Blendtec are offering up one of their top-of-the-line Blendtec Designer 725 Wildside + With Jar PLUS a Twister Jar! It's a $769.90 value!
;
;
Disclosure: This post was not sponsored by either Blendtec or Vitamix, but the giveaway was generously offered by Blendtec, as was my review blender. This post does contain affiliate links.;