Here's a simple and natural bathroom cleaning routine, with a video, using all natural ingredients.

By Stephanie Langford, Founder
Is it weird to admit that I actually enjoy cleaning the bathroom?
I suppose I just find it satisfying to see a clean and shiny bathroom at the end. It sparks a fair bit of joy for me (at least for 10 minutes until my five kids get back in it and it looks good and lived in all over again).
As we all know, conventional bathroom cleaning supplies come with a whole lot of toxic chemicals we'd do better to keep out of this room (and really, out of our house in general).
There are plenty of natural cleaning recipes out there, including here on this blog, but I wanted to show you the simple natural bathroom cleaning method I've come up with just three ingredients. They are all natural, very cheap, and this is a really easy method.
The first is liquid castile soap. 

The second is baking soda.

The third is white vinegar (which I frequently use in a 1:1 ratio with water in an old spray bottle).
*One thing to note is that while I use vinegar as a cleaner, I do not use it mixed together with baking soda and this is why. 
How I clean my bathroom using 3 simple, natural ingredients:
How I clean each part of my bathroom:
Sink
To make a soft scrub mixture directly in your sink (which is a simplified version of this soft scrub recipe), sprinkle a bit of baking soda, add a squirt of castile soap, then begin to mix with a warm, wet cloth.
Counters
Stone (granite) counters – I use just a bit of castile soap on my wet cloth to wipe them down.
Other types of counters (not stone) – You could use the castile soap, OR you could just spray with the vinegar/water mixture.
Sink faucets
I use my vinegar/water spray and give them a wipe with a clean cloth.
Mirror
Using a mircofiber cloth, I spray with vinegar/water, then wipe it dry and clean. My preference is the Norwex cloth meant for mirrors, glass, etc. and I find that it works perfect with only water, no vinegar needed.
Toilet
I give it a good squirt of castile soap, swish it around a little and then let it sit for a few minutes while I clean something else, then I come back to scrub it, and then use a wet cloth with castile soap on it to wipe down the rest of the toilet (seat, back, etc.).
Bathtub
I make the same soft scrub mixture using baking soda with castile soap, mixed directly in the tub with a wet cloth, then I rinse it all clean with the shower spray.
Shower tiles
You can also use this baking soda/castile mix on the tiles, but you don't need to. Simply sprinkle plain baking soda onto a wet cloth and that by itself will do a great job of the tiles/grout. If you need extra cleaning power, add the liquid castile.
Shower faucets 
Same as sink faucets; I spray with vinegar/water and wipe clean.
Floor
Since I use a Swiffer style mop, I spray the ground with the water/vinegar bottle, and then gradually back myself out of the bathroom (note that after I finish the tub/shower, this is usually when I go back to clean the rest of the toilet).
If you use a more traditional mop that needs to be dunked in water, put the stopper in your bathroom sink and add about 1/2 cup of vinegar (note that you'll want to give this sink a scrub after doing this, so don't wash your sink first if using this method). You can also add 5-10 drops of essential oils for scent and extra cleaning power if desired, but it's not necessary (if you do, my favorites for cleaning are lemon, orange, grapefruit, tea tree or lavender). And again, gradually back yourself out of the bathroom, and you'll have to come back in 5-10 minutes to empty out and clean that sink once the floor is dry.
And that's my method!
So quick and simple and inexpensive. I feel perfectly fine letting my kids clean with any of these products, and also using them myself while pregnant or nursing.
Note from Ann: Stephanie, you sound like me with my kitchen!! I love to clean it and even more, I love it clean 🙂 Alas, it only stays clean for minutes with a full house! Thanks for sharing your cleaning methods, you always have a way of making things easier. I will be trying your soft scrub mix this weekend!
What are your tips and tricks for natural bathroom cleaning?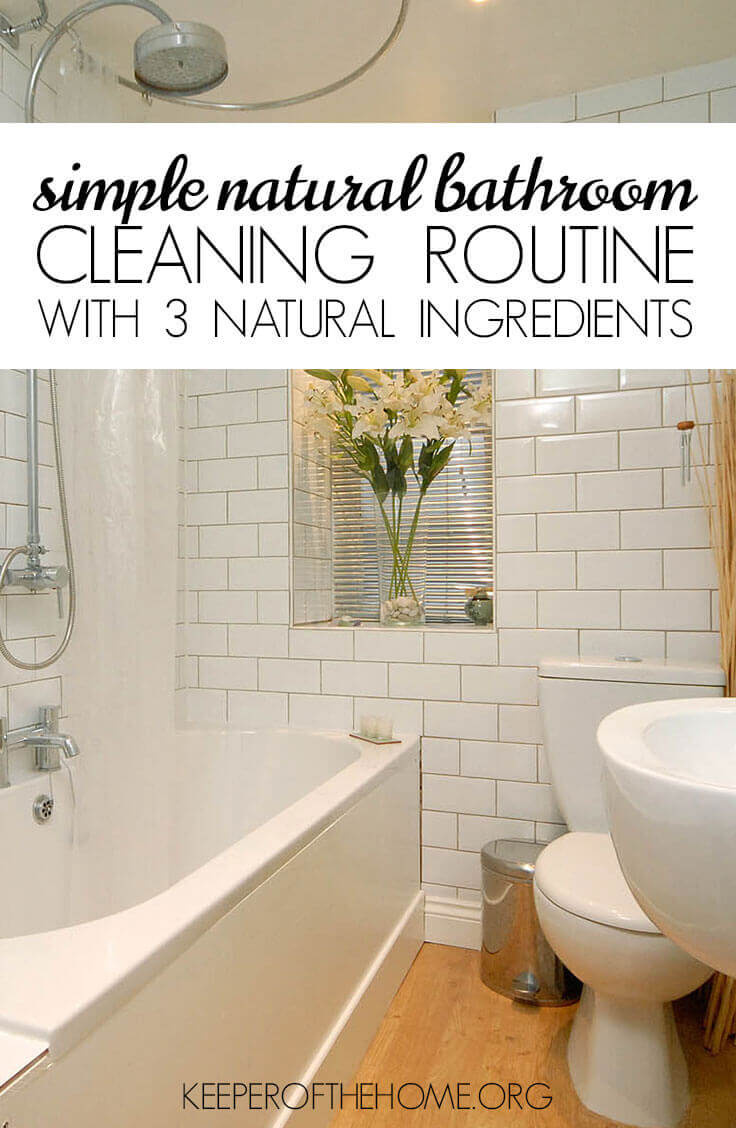 Disclosure: This post contains affiliate links. When you buy through our links, we earn a small commission, which helps to keep this site going so that we can continue to offer free and useful content, so thanks!