How To Use a Shampoo Bar (and why you need to)
Note From Ann: Now that I've learned How To Use a Shampoo Bar (and why you need to) and what the amazing results have been, I have not stopped using it. My hair feels and looks so shiny and thick. I might be obsessed. Oh, and the new scented bars smell amazing. Keep scrolling to learn more (you will want this for yourself, I promise). Enjoy and Cheers to gorgeous and healthy hair.
We're thrilled about this shampoo bar AND that the folks from Skinny & Co. are offering an exclusive offer to Keeper of the Home readers this month (15% Off Facial Oils and Shampoo Bars).
OH, and I'm BEYOND excited announce the lucky winner, Melinda, of FREE $30 worth of goodies, such as:

8.5 oz Coconut Oil Jar

Lip Balm Tube

Wooden Spoon
Giveaway has ended. Thank for entering to win.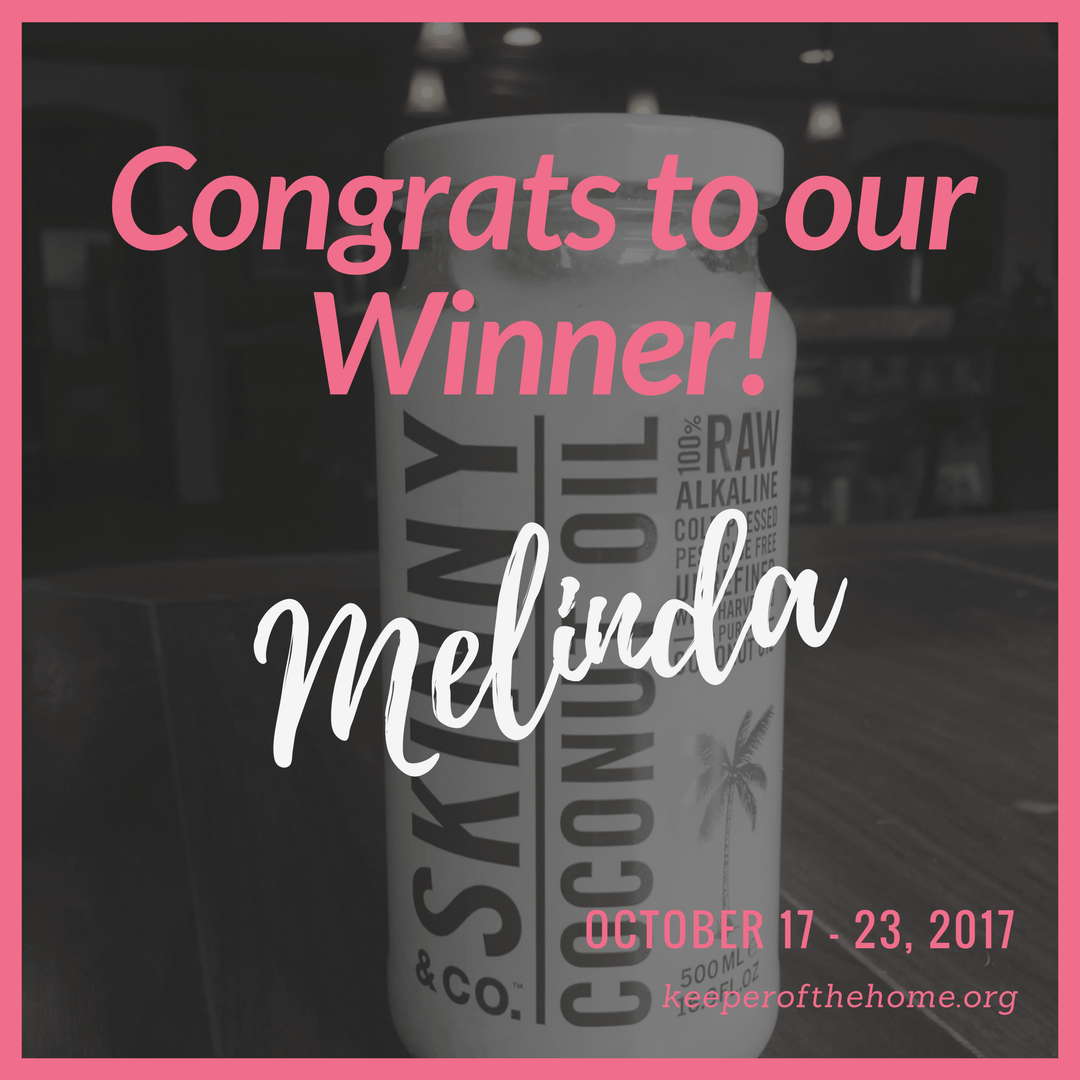 How To Use a Shampoo Bar (and why you need to)
Let's be honest ladies, rather than a sticky messy bar of soap, we want a pretty, no cleanup, easy pump to hold our shampoo. Just squirt and go!
Why would we want a bar that's high maintenance? It sticks to the soap dish or the bottom of the shower if you're me! And then try to clean that up, yuck.
So if its that much trouble why do I exclusively use a shampoo bar?
Because I found this one right in my own backyard…

Let me tell you the story:
A few years back two brothers were traveling the world and fell in love along the way. While spending time working and learning the culture in Vietnam, they were so impressed with the people and the beauty of the rainforest that they decided to stay.
It was then that they were introduced to a new and super innovative way of producing coconut oil without any heat, or nasty chemicals or even solvents.
You see they had been raised in a home (like yours and mine!) that valued a toxin-free lifestyle, so they decided to bring some of this precious oil back home. They were convinced it was like no other and wanted confirmation from family and friends. Getting the confirmation they needed they set out to build a chemical-free coconut oil brand and help change the world along the way, here is Lukes story…
READ LUKES STORY HERE 
When I was first introduced to these shampoo bars I was skeptical, you already know my thoughts on shampoo bars, but they sent me a box of heavenly scented bars to try (that's HEAVENLY not heavily :D) and BOOM, they are scented with none other than my favorite thing in the world, Essential Oils! (they had me there) Check out the different scents HERE My favorite is between Lavender Orange and Rosemary 😉
Here's how to use a shampoo bar;
The Skinny COCO hair guide says…
1. Coconut Oil is a deeply nourishing and restorative hair masque. Skinny Coconut Oil is teeming with Medium Chain Triglyceride's (small fats) that are instantly absorbed into damaged hair and provide long-lasting moisture. We love this guide for creating an effective coconut oil hair masque. Remember that with coconut oil, quality is king. If you use lower quality oils, you risk introducing unknown solvents and oils into your hair, which have unknown effects. We only recommend using the highest quality virgin coconut oil when treating the hair and scalp.
2. Coconut oil is an excellent scalp moisturizer and follicle cleanser. Leaving coconut oil on the scalp for extended periods is shown to penetrate multiple layers of skin while lubricating and cleansing the hair follicles of excess sebum/residue. The goal of a scalp treatment is to leave it balanced, not too oily or too dry. Coconut oil creates that balance by mimicking the body's natural oils, while also removing the toxic buildup that traditional products leave in our hair. Apply small amounts to the roots of the hair and scalp. Here is a great guide on coconut scalp treatment.
3. Coconut oil is a fantastic conditioner. It is as good (if not better) than the traditional products we use today, except Skinny products are all 100% natural and always chemical-free. Use in place of traditional conditioner during showers. Additionally, small amounts can be placed on the hair (post-shower) to provide all-day hydration for severely dehydrated hair. Pro tip: Our Founder/CEO Luke Geddie applies a small amount of our oil to his dry frizzy hair every day. It soaks right in without looking or feeling greasy!"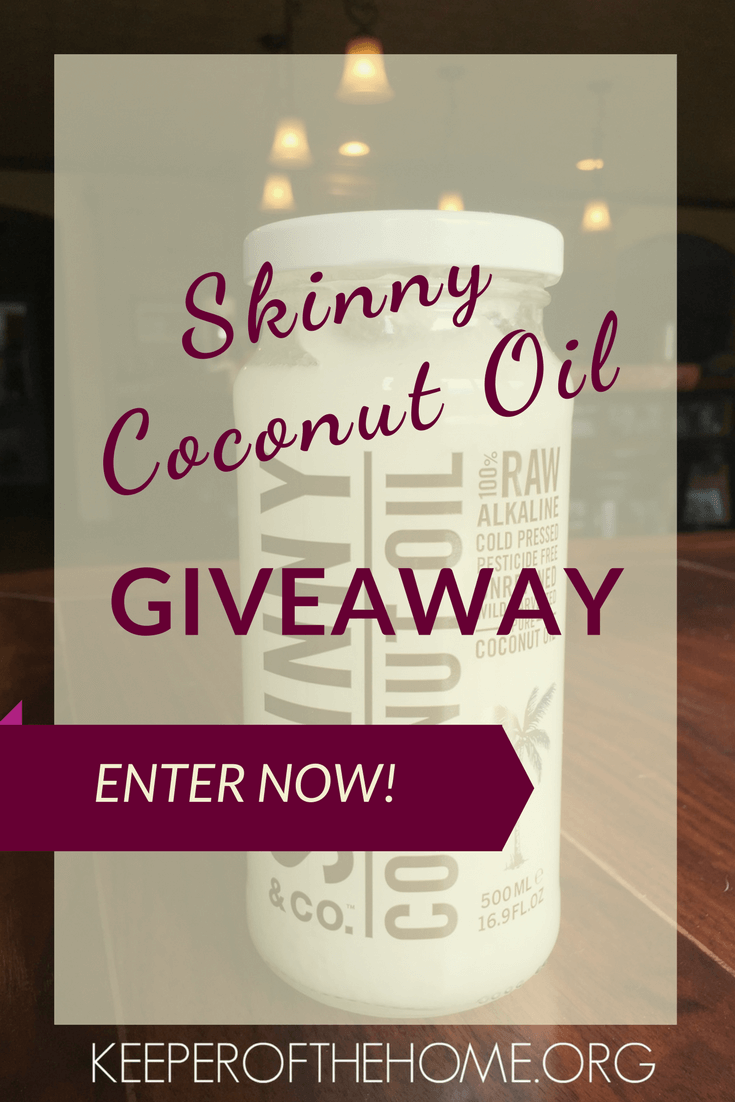 What do I love about Skinny coconut oil?… The AH-mazing suds (que the choir), most bars I've tried just don't give me the suds and I need to spread it around my thick hair!
But even more importantly, Skinny is the only coconut oil on the market that is wild harvested, hand pressed, small batched, never heated, 100% raw, 100% virgin, and 100% without those yucky chemicals and solvents. You can actually smell, feel, taste and see the difference. Really!
(which is why you need to) Enter to Win the Skinny & Co.'s Goodies Giveaway and take advantage of their 15% off Shampoo Bars (& Facial Oils) offer.
What Skinny believes… "At Skinny & Co. we believe that our bodies are better off when we choose a product that is natural. Our business creates natural products that you know are good for you and your family. You will be able to recognize all of our ingredients and feel good about using them."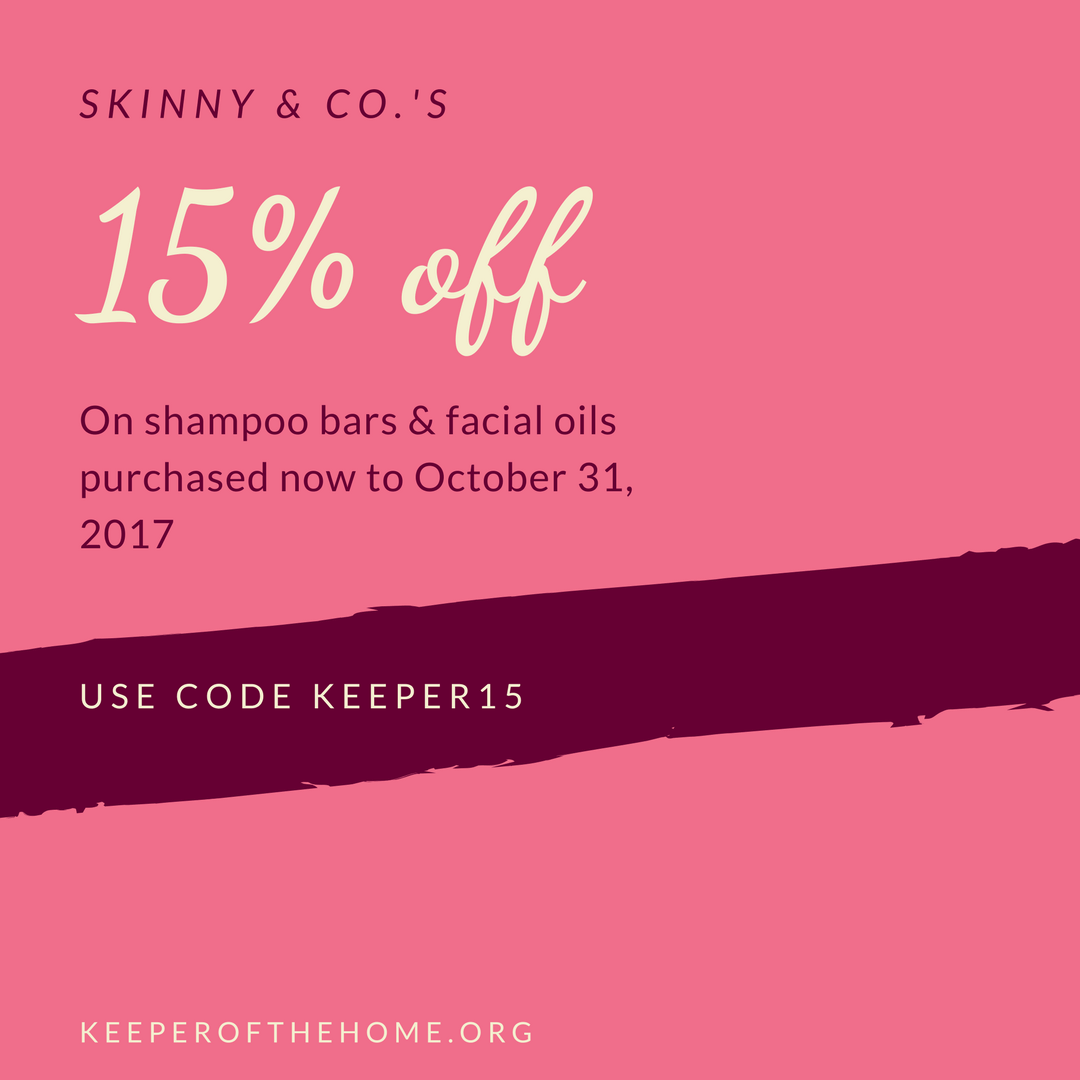 What they say about their Shampoo bars:
At Skinny & Co. our goal is to create products that are efficient, chemical-free, and as good or better than traditional options. So, when we finally nailed our Skinny Shampoo Bar formula, we KNEW we had a home run for multiple reasons.
1 Simple – Our shampoo bars are comprised of a single ingredient, 100% Saponified Coconut Oil (either on its own or blended with a therapeutic-grade essential oil). It could not be simpler.
2 Natural – Completely chemical-free, with nothing to be worried about. Our patented coconut oil goes through a natural "soaping" process, and that's it. Only one step.
3 Effective – Our shampoo bars, to customer's delight, lather up like crazy! Most products rely on harmful sulfates for their "lather" qualities, but our saponified coconut oil does it on its own. It's really impressive!
4 Long lasting – This bar goes a long way! We are seeing women with long hair get 60+ uses out of a bar, and men with short hair in upwards of 90+….'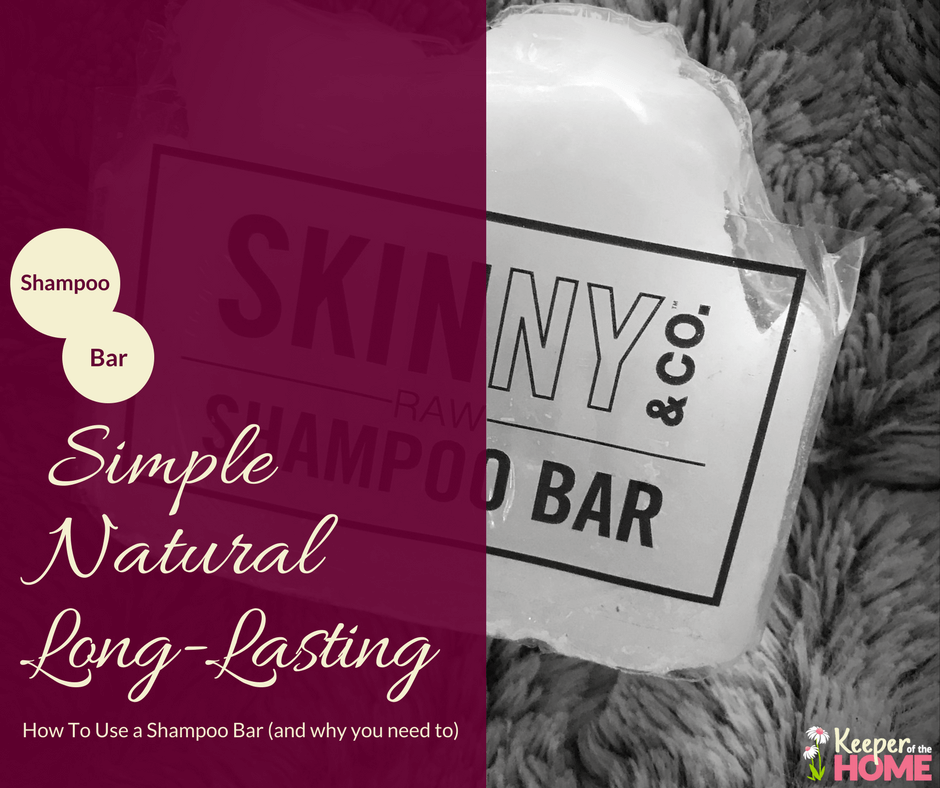 Skinny product use guide…."Coconut oil is extremely versatile. It has hundreds (if not thousands) of applications and uses. At Skinny & Co. nothing makes us more excited than discovering the most effective ways to use our products. Today our focus is on the multiple benefits and uses virgin coconut oil provides for our hair and scalp. Check out these awesome video tutorials and learn more. 
Enter to win some amazing goodies from Skinny & Co.
a Rafflecopter giveaway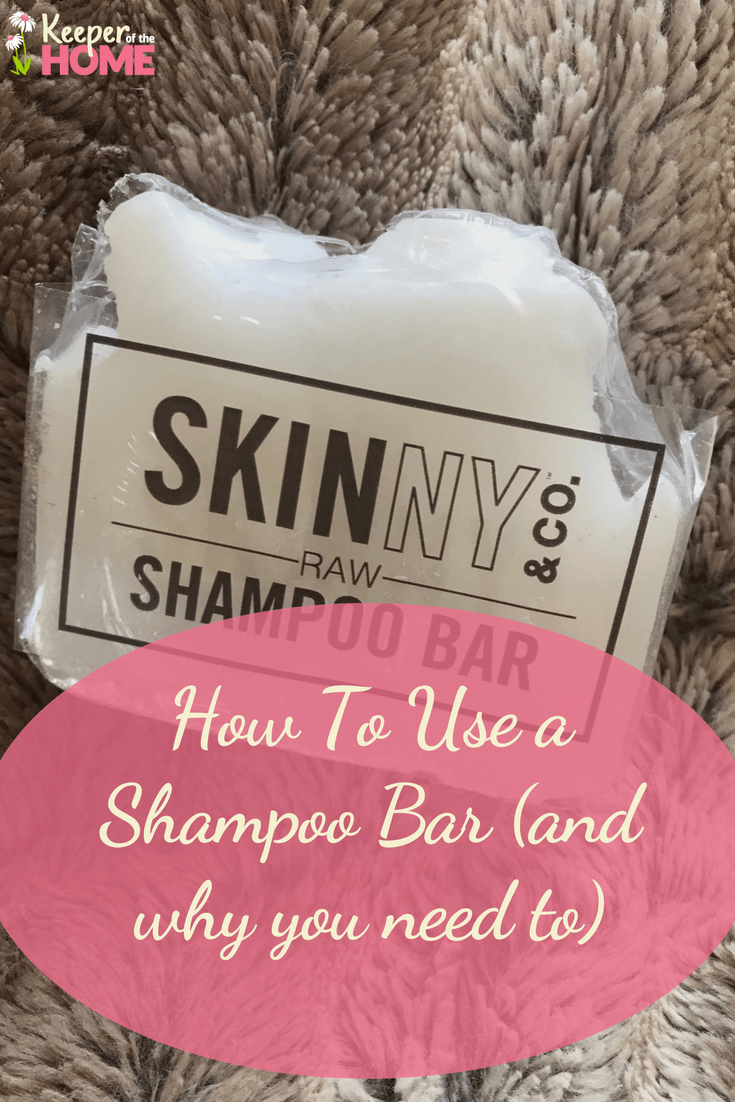 What are your favorite coconut oil products and tips for using them?
Disclosure: This post includes affiliate links. Thank you for supporting our work and mission!
Disclaimer: Although all Keeper of the Home contributors are passionate about nutrition, natural living, and alternative health issues, we are not certified nutritionists, medical doctors, or practitioners of any kind. We are not licensed to counsel anyone in medical matters, nor may we be held responsible for any course of action that you choose in regards to your own health or that of your family. Please remember that what we are sharing is the result of our own experiences and years of study, but may not necessarily be the right course of action for you. We are advocates of becoming informed, knowledgeable, and responsible for one's own health, but our desire is not to be an authority on any matters of health for you, nor would we presume to have sufficient knowledge to do so. Our hope is that what we share may encourage you and start you on the road to doing your own research and seeking the opinions of professionals or others that you trust.