DIY Children's Chore Chart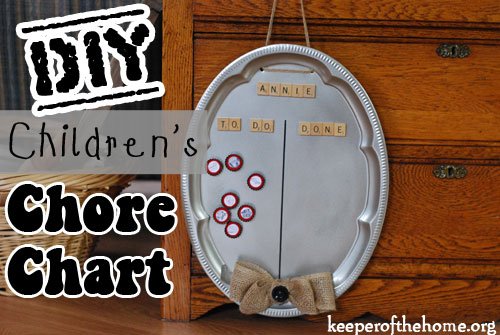 By Stacy Myers, Contributing Writer
I'm not sure about you, but I am very visually minded. You can TELL me how to do something and chances are I'll flub it up every time. But, SHOW me how to do it, and I will probably flub it up–but with style.
When it comes to housework and the like, I do better when I have a list. Wouldn't that likely hold true for my 3.5 year old? Tell a child to feed the dog and she probably won't hold much excitement. BUT, tell a child to feed the dog and let her know she then gets to move her very special magnet to "Done?" Well, that becomes a totally new barrel of monkeys right there.
So, today I'm going to show you how I made the homemade chore chart that we use for our 3.5 year old. It uses things I had around the house with the exception of 1 or 2 things. And the best part is you can customize this chart to use whatever you have laying around. Bingo.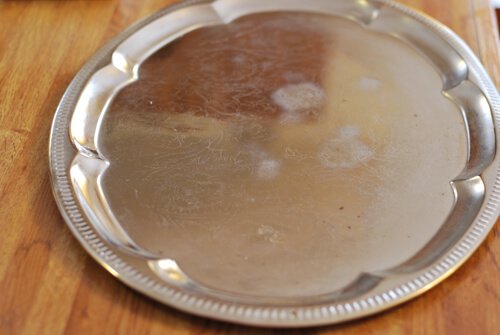 First, you need something magnetic. I had this old tray from a yard sale. I had been hanging on to it…mainly because I'm a recovering pack-rat. It was rusty in a few spots, but I knew that wasn't a big problem. I've seen trays like this at Dollar Tree, so you should be able to find something easily – even an old cookie sheet would work.
P.S. – Don't assume something is magnetic…or else you might feel dumb later. Ahem.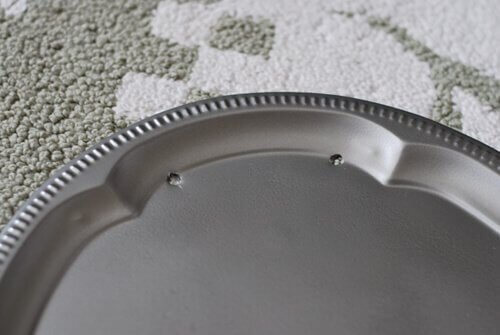 We (meaning my husband, Barry) painted the platter with some fancy spray paint. A few places didn't take well because of the rust – so if you're a perfectionist, you will want to prime your tray first. Then we (meaning my husband, Barry) drilled two holes in the top for hanging. I wanted to hang mine vertical, but horizontal would also work.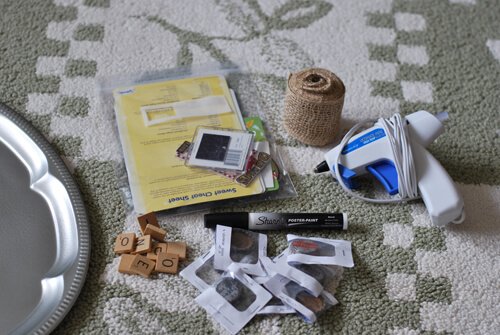 Here is a picture of part of the materials. Pretend they are all there and that I wasn't so lazy that I forgot to get everything together for one photo shoot. Magnets, poster paint pen (or Sharpie), Scrabble letters, ribbon, hot glue, and bottle caps…and some other stuff like jute, felt, etc.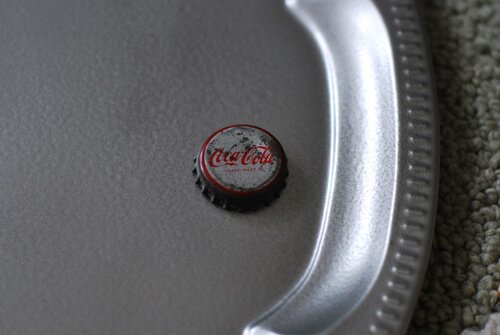 Our house has an antique look and feel, so I was going with that same theme for this board. I found these bottle caps at a local antique store and I snatched them up. I love bottle cap magnets…and since we don't drink soda, this is the only way I can get them. Bonus score for vintage caps.
Do you have to use bottle caps? Nope. Just use what you have. Be creative. Don't use chocolate though – the hot glue melts it. Ahem.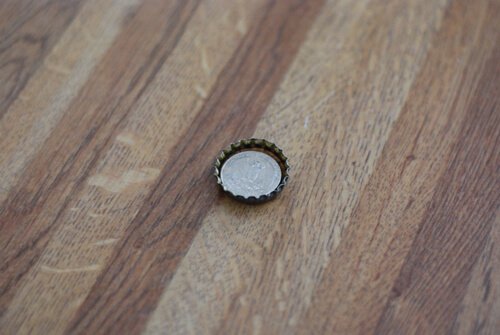 I found that a quarter fit exactly down in my bottle lid. I wanted to put a liner inside the lids so that if I want to change her chores out later, I can easily do that by removing the felt liner and replacing it instead of getting all new bottle caps. I'm a stinkin' genius.
I traced the quarter on red felt and cut out the little circles. Thick paper will also work if you don't have felt. Then I hot glued the felt circles inside the bottle caps. And I burned myself. Like four times. Warning: Hot glue is HOT.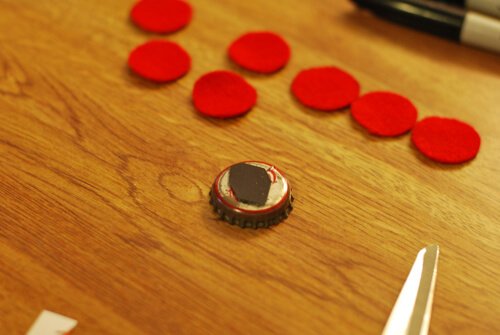 I hot glued magnets on the back of the bottle caps. Where did I get my magnets? Well, I have this habit of saving magnets I get in the mail. Who cares if it says Bubba DoWop's Used Car and Refrigerator Repair? I can use that puppy – and I did, cutting it to size.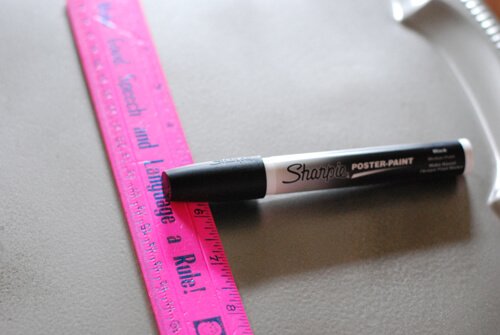 I'm the Queen of Crooked, so I had to use a ruler to draw my line down the center of the tray. You need to be able to have two sections on your chart: one for "To Do" and one for "Done." I used a Sharpie paint pen, but a regular Sharpie would work just fine.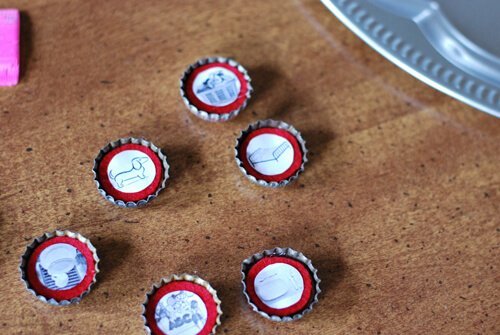 Our Annie cannot read yet…well except for "Annie" and "Chick-Fil-A." So, I decided to use pictures for her chores. We printed out little pictures to glue inside her bottle caps. If your child can read, you can just write the words. Or if you're artistic, you can draw it yourself. Everything I draw looks like a stick tree…no matter if I am trying to draw a dog.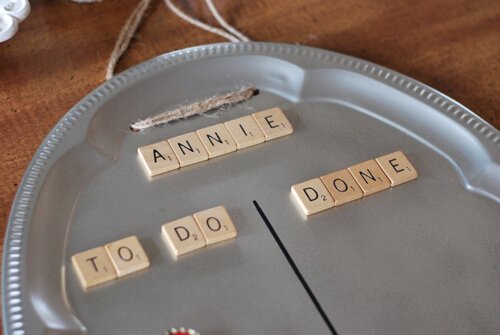 At the top of the tray I put Annie's name, then below I added "To Do" and "Done." I used Scrabble letters because I have a fascination with them, but you could paint the words if you like. Or use vinyl letters if you have a Silhouette…and if you have one, don't tell me or I might covet it.
Where can you find Scrabble letters? I always snatch up Scrabble games at yard sales and thrift stores. I don't care if all the letters are there because I use them for projects. You can also find Scrabble letters on eBay and on Save On Crafts.
I used jute to tie my cord at the top for hanging. Ribbon would work great too – but I have a jute fetish. So….the moral of the story is to make me happy you can bring me Scrabble tiles, jute, and buy me a Silhouette. Amen.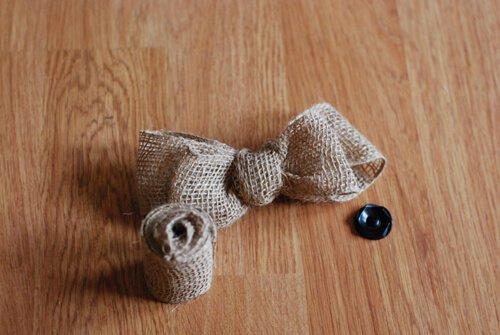 It didn't quite look Stacy enough to me, so I had to add a burlap bow…yes, another fetish. I used a bow tutorial from Decorating Ideas Made Easy. I put a vintage button in the center of the bow that happened to be out of my great-grandmother's button stash. I wish I had a button stash.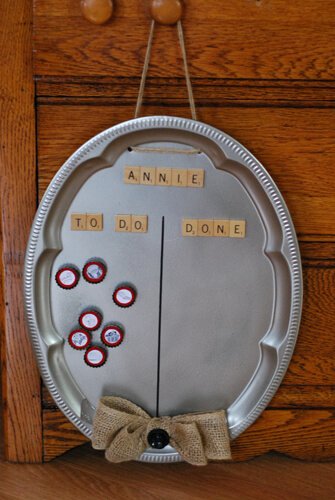 And there you have it! Easy peasy…and quite cute, if I have to toot my own horn.
At 3.5 years old, Annie's chores are:
feed the dog
pick up your toys before bed
put dirty dishes in sink
use the bathroom and brush your teeth
make your bed
put dirty clothes in the laundry hamper
set the table
That's it…when she's older, I will add more. But right now I'm happy she does these. And you'd be surprised how much these 7 chores help me out.
If you need some help deciding what are age-appropriate chores, you will find that Smockity Frocks is a great resource. Here are a few great posts:
One more thing. If you hate crafts and the idea of hot glue makes you want to cuss and lose your religion, then maybe an online chore chart system would be better for you…because I surely don't want THAT hanging over my head. The Simple Homemaker has a great post on a FREE online chore chart system.
So, do your children do chores?