Seven Strategies for Having More Productive Days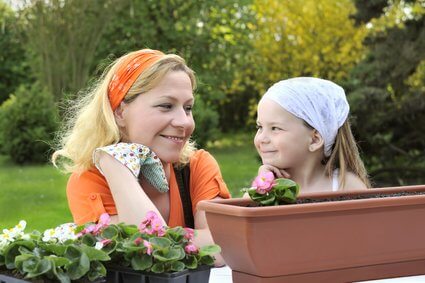 ;
Written by Natalie Klejwa, Contributing Writer
Ever wake up in the morning overwhelmed with all that needs to get done that day? You want to pull those covers over your head and pretend those loads of laundry, that dirty kitchen, and those hungry children aren't waiting for you. I've been there too many times to count.
Other mornings I've had the experience of waking up rested and peace-filled, to a quiet house, a clean kitchen, and a manageable routine awaiting my oversight. What makes the difference? That's what this post is all about!
1. Get a Good Start (Starting the Night Before!)
There are three keys to a great morning.
A good eight hours of sleep the night before
I'm pregnant with our ninth, so I've had many a sleepless night in the past 18 years. You won't always get to have #1 because it's not in your control! But there are other seasons of life when it is tempting to burn the midnight oil. I always regret those late nights the very next day.  It's so much better for our bodies, minds, and spirits to hit the sack by 10:00 at the latest. That sleep before midnight is the best, so grab it whenever you can. By 6:00 the next morning, you'll be feeling like a million bucks, and you'll be able to energetically and enthusiastically accomplish so much more. (And a cup of coffee doesn't hurt either!)
A picked-up house
Make a "Whole House Pick Up" part of your children's pre-bedtime routine each night. You can assign "jurisdictions" for each child, OR you can all sweep through the house together as one big team, picking  up everything in sight like the Cat in the Hat. It doesn't take long…and boy, does it make a difference in the morning to come out to your main living area and be able to see the floor. A good friend once shared this tip, "Your home can be dirty, but if your floor is clean and picked up…your home will LOOK clean and picked up."
Time at the feet of Jesus
This is critical. Women have told me, "That's so legalistic."  Is it legalistic to eat three meals a day? No. We do it because it keeps us alive and we crave it. It's part of life. Is it legalistic to regularly get together with your best friend and communicate your heart? Of course not. We do it because relationships are important to how God made us a human beings, and because we long for them.
If you are a Christian, your spirit needs to eat to thrive and stay healthy. We feed on the Word. Your spirit needs that relationship with its Creator. We pray to exercise our faith and to have the mind of Christ Himself as we pray His Word into the lives of those we love.
Your joy will be in direct proportion to the time you invest in feeding your spirit and enjoying the King. We don't "do it" because it's "the rule". We do it because it is the way to ultimate inner joy and satisfaction. It's Christian hedonism!
This doesn't mean that you will always be able to have chunks of uninterrupted time with the Lord. There are seasons when we will need to "grab" moments here and there throughout the day…Bible open on the counter top…maybe a prayer guide ready and available. I love those prayer guides especially when I'm post partum and my brain is mush from sleep deprivation. The point is, spend some time with your Savior. It is critical for a healthy life.
2. Eliminate Distractions
There are plenty of time wasters vying for your attention, just hoping to steal your precious time and drag you down.
Television
Internet surfing (the kind that lacks purpose)
Time on the telephone just "shooting the breeze" for no good reason
Shopping just for fun (this includes online browsing)
Absorbing "all the latest" trivialities on Facebook
Reading pablum (women's mags, novels, other purposeless entertainment)
Fill in the blank here…because we could go on all day with this list
Big Caveat Here: We've all done these things. We're human. And I'm not trying to be a kill joy…I'm just stating a fact. If you spend portions of the 24 hours allotted to you in your day on these activities, you will have less time to be productive. It's a trade off. It's a simple choice: I either want A. or I want B. Most of the time, I can't have both. Want more time to be productive? Avoid time wasters.
So, then, be careful how you live. Do not be unwise but wise, making the best use of your time because the days are evil. Ephesians 5:15-16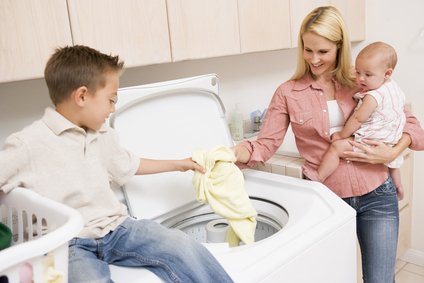 3. Plan to be Productive
Keep a running list of the things you want to accomplish. It can be as simple as a notebook with a list that you cross off, or it can be as "serious" as an official planner where you have the weeks and months mapped out with your priorities and goals.
I do both.
I keep a running list on a white board where I write down anything and everything that comes to mind while I'm about my business. (I'm 45…if I don't write it down, I'll never remember it again.)  Then I have a detailed planner where I organize that list into the days/weeks/months ahead.
I am currently home educating 5 of my 8 children, running a home business, and facilitating a ministry blog. It is necessary to plan ahead in order to accomplish the goals I have for those major responsibilities. The more you plan to accomplish, the more you will accomplish. No, you won't always get to everything, but you've heard the saying, "the person who aims at nothing is sure to hit it."
4. Make a Routine Work for You
A routine is your best friend. Everyone has their own unique groove. Find yours and stick with it as much as possible. I say "no" to a lot of "extra stuff" that other folks are doing. Summers are the exception, but during the school year, we don't do a lot of running around.
Not every day works out to be my "ideal", but I strive to go to bed at 10:00, get up at 6:00, get ready for the day, head down to the laundry room to throw a load in (this is my secret to staying on top of laundry…do a load a day), have my time in the Word and in prayer, make breakfast, greet the children, hit the school books, make lunch, put littles down for naps, fill orders and do some writing, make dinner, oversee evening chores, put children to bed, get organized for the following day and answer e-mails, and then it's back to bed at 10:00.
Fridays are special…my mom comes over to play with the children, and I take one of the kids with me to get groceries and eat out for lunch. Then I have some time alone at Barnes and Noble to write. (I'm there right now doing this post!)  Saturdays are chore/home project days. Sundays are days of rest. Sometimes we have a family from church over.
Simple, yet productive.
5. Little by Little
As homemakers, we find we are doing thousands of little things every day. But it's the little things that add up in the end!
If I'm going upstairs, I quick look around to see if there is anything that needs to be carried up there with me and put away. There always is. Same for traveling down stairs.
I never leave a room without doing one thing to make it look a little better. Straighten the curtain. Throw that underwear down the laundry chute, put the pillow back on the bed.
If I see a doo-dad on the floor, I pick it up. I have a basket to collect doo-dads. Do you? The kids have to go and organize them later.
All my best ideas, reminders, and plans occur to me when I'm in the shower, making the bed, or stirring a pot of boiling water. I write them down on the white board the first chance I get. Then I put them out of my mind. I hate a brain full of things swimming around taunting me, "You're going to forget me…you're going to forget me."
If I am forced to make a phone call…I put away the dishes, fold laundry, or stir a pot of boiling water while talking.
The point is…if you keep moving…you will keep accomplishing things. Remember Dorie in the hit Pixar movie, Finding Nemo? "Just keep swimming, swimming swimming…"  Little by little…you'll get there!
"Determine never to be idle. No person will have occasion to complain of the want of time who never loses any. It is wonderful how much can be done if we are always doing."    ~Thomas Jefferson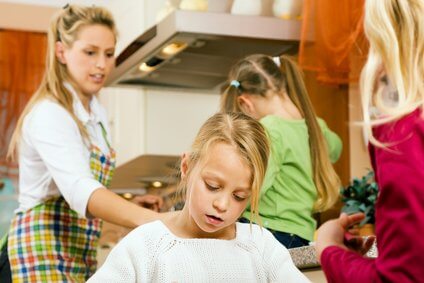 6. Recruit and Delegate
Hey, if you've got kids,  you've got a team! Get them excited about being part of the family "game plan". They should have their own routine that includes cleaning, picking up, laundry, and organizing…every single day. As they get older, they will be greater assets…and accustomed to these things as being a normal part of "life".
Our kids have daily duties, weekly duties, and monthly duties. Because we have so many of them at all different stages, I basically don't do any house cleaning anymore. This has freed me up to focus on other projects, thereby accomplishing even more! Start when they are little, and not only will you reap some wonderful benefits, but they will be ready for life on their own as disciplined, productive individuals.
7. Trouble-Shooting the "Bad Days"
There are seasons of life in which your "productivity" level will be sovereignly limited. I've spent almost 2 years of my life on bedrest. While I did not accomplish much by human standards, God used that time to teach me the value of contentment, quietness, and satisfaction in Him alone.
When you are pregnant or post-partum, you will not be able to achieve the same level of productivity. Rather than bemoaning your very normal fate, why not embrace it as God's perfect plan for your life right now? Surrender and be at peace. It's so much more pleasant that wallowing in despair. Don't use it as an excuse to watch more television. Use that time to sleep more, read more, sit with your children more, dream for the future more. It's a wonderful place to be! It all depends on your choice of perspective.
When illness or tragedy strikes your family, that's a time for hunkering down and doing the minimum. Healing needs to take place, and that takes time and emotional and spiritual energy that can be very draining. Whenever I am in a difficult place emotionally, and motivation to fulfill just the basic duties of life eludes me, I remember Elisabeth Elliot's wise advice: "Just do the next thing."
By God's grace and in His strength, I can do that.
What strategies help you to have more efficient and productive days?