Why You Need to Destress and Refresh for the Holidays
I was sitting here with my computer the other night (sipping a hot cocoa) reading through all of your comments on the Destress and Refresh Giveaway from last week and I was overcome by how many of you were stressed and needed to find a way or just a time to relax so you could get your focus back on the reason for the season.
I need you to know something really important here…
…you are not alone!
So many of you, myself included, want to do it all. Outside lights that dance to music, our homes decorated like a Martha Stewart catalogue with Pinterest decorations that we hand made on display with a platter of cookies that are both wholesome goodness and pretty enough for the cover of Southern Living or spot-lighted on Food Network…all while working our regular job and keeping our homes!
Am I right?
I struggle every year to check off all the boxes on my lengthy to-do list, this year is no exception. My Christmas cards for the last two years said Happy Holidays, not because I didn't want to 'offend' anyone but because I couldn't get them out before Christmas and I was hoping 'holidays' included New Years!
Too many times I have run myself ragged trying to pull everything off that not only do I miss the real reason we celebrate Christmas, but I miss the joy in celebrating with my family.
Here are 6 things to help you destress and get you focused on what's really important:
1. Ask God to help you navigate the busy season.
Let Him be your guide as to what is really important. Do I really need to put ALL the decorations up this year? I have been really stressed about getting the tree decorated and the one afternoon I had scheduled time for it one of my girls wanted to do a Hallmark movie marathon. We were the only two home and she wanted to spend time together.
Have you ever heard, "Mom you never do anything with me"? So we strung popcorn together while we watched a couple of movies.
The result? The only thing I had on my tree for two weeks was an angel and strings of popcorn! But we spent a few hours laughing and crying together and poking our fingers with needles. Just what my daughter needed, and, if I'm honest, ALSO what I needed. I'm glad I set my own wants aside.
2. Let the men in your life help.
I have learned over the years that it is OK to let my husband take the kids to do something fun while I stay home to either relax or get a few things done without distractions.
The kids love time with just Dad. Dad gets to unwind and do something fun with the kiddos AND he feels good knowing that he was helpful to Mom.
Instead of trudging through the woods, I decided to stay home while my husband took the boys to find a Christmas tree last week so I could get some housework done. I had to let go of picking the tree, which I have to admit was HARD, but my husband was so proud of the tree he picked.
Of course it was so big the top foot and a half was touching the ceiling but hey, my hubby was happy (and so were the boys…and so was I!), and that's what matters. 
3. Take a bath. YES you can!
It's all about time management. Let the tub fill while you clean the bathroom or put laundry away. Then hop in for a ten minute soak. Let all that stress melt off.
You will be amazed at how much it changes your day. I took TWO 10-minute baths last week and I never take baths, but oh how I needed them! (I used my new favorite Bend Soap Milk Bath in a Bag!)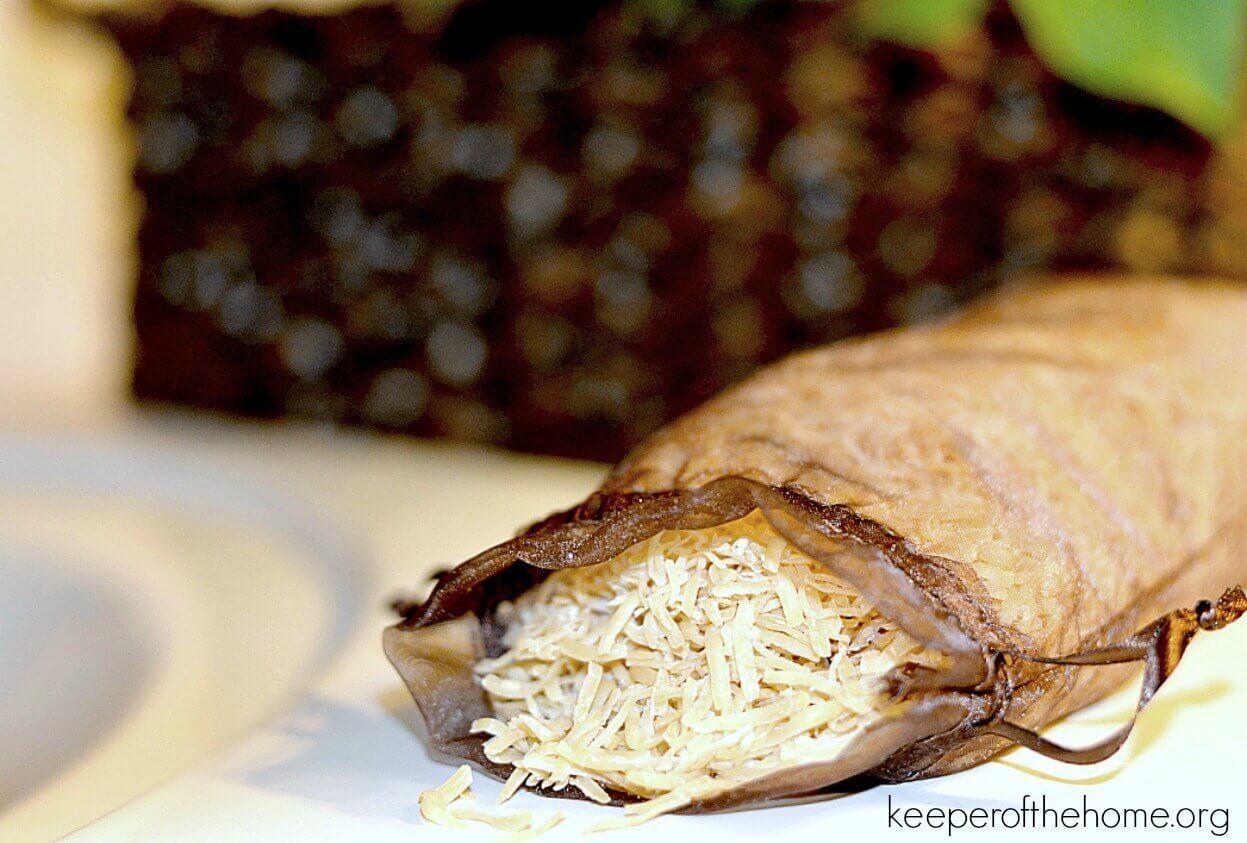 I smiled the rest of those two days just knowing that I had been able to sneak away for a few minutes of mom time. It resulted in more smiles for the kids and a more relaxed mom, I was able to handle the rest of the week with a little more calm.
4. Tap into the oils.
My other favorite go to for helping me relax is my diffuser necklace. It's pretty and practical, (check it out HERE).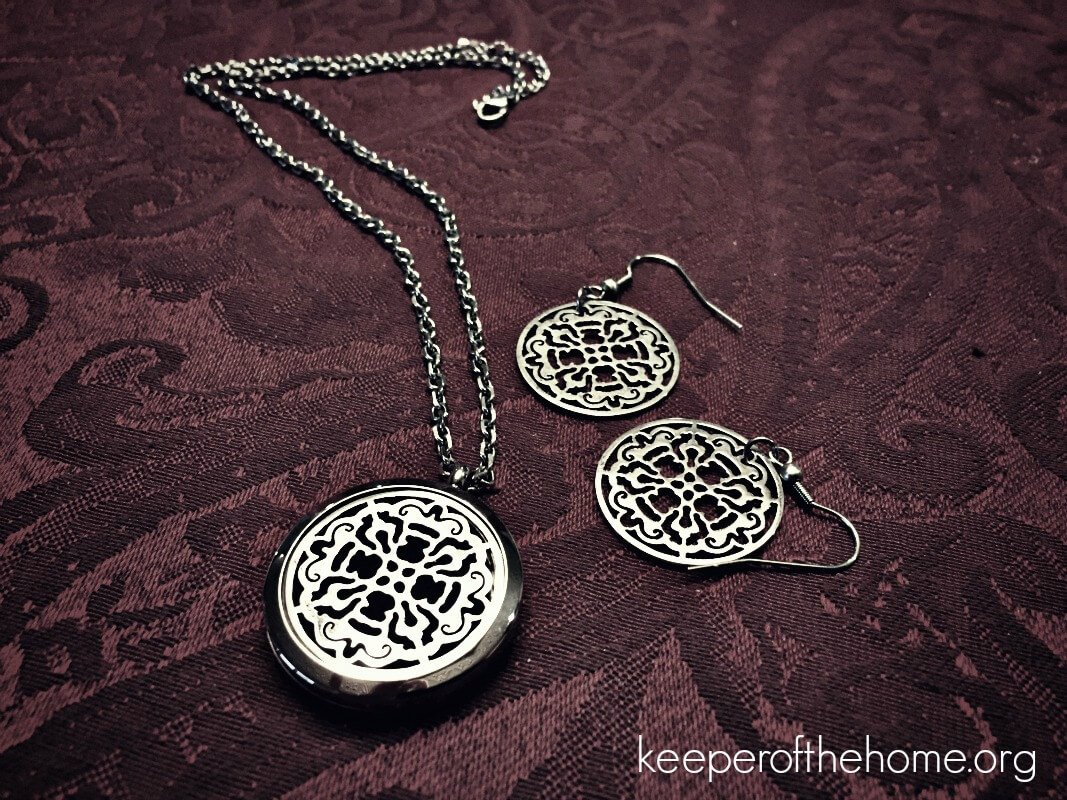 Wrap yourself in a scent that relaxes you during a busy day. Plant Therapy has an essential oil called Let it Go that I find myself using frequently alternating with a lavender essential oil that I have used for years to help my kiddos relax in the evenings if they have had a particularly stressful day.
5. Ask for help. Really, it's ok.
I know we think we should be able to do it all, but it's OK to have help. It's even OK to ASK for that help.
This month has been crazy busy between our different businesses and all of the kids' sports and academic competitions and finals. It's been a struggle for me to get dinner on the table, so my sister, who LOVES to cook, has been filling my freezer with wonderful soups and chilis and entrees like lasagna. YUM. It has been such a blessing to me and she feels so good about being able to help.
6. Don't feel like you have to do it all!
It's OK if you don't put up all of the decorations this year. In my house, I'm really the only one who cares. It's OK if you only give gifts to your immediate family and it doesn't have to be big or expensive. My favorite gift that I received last year was a small jar of homemade spices.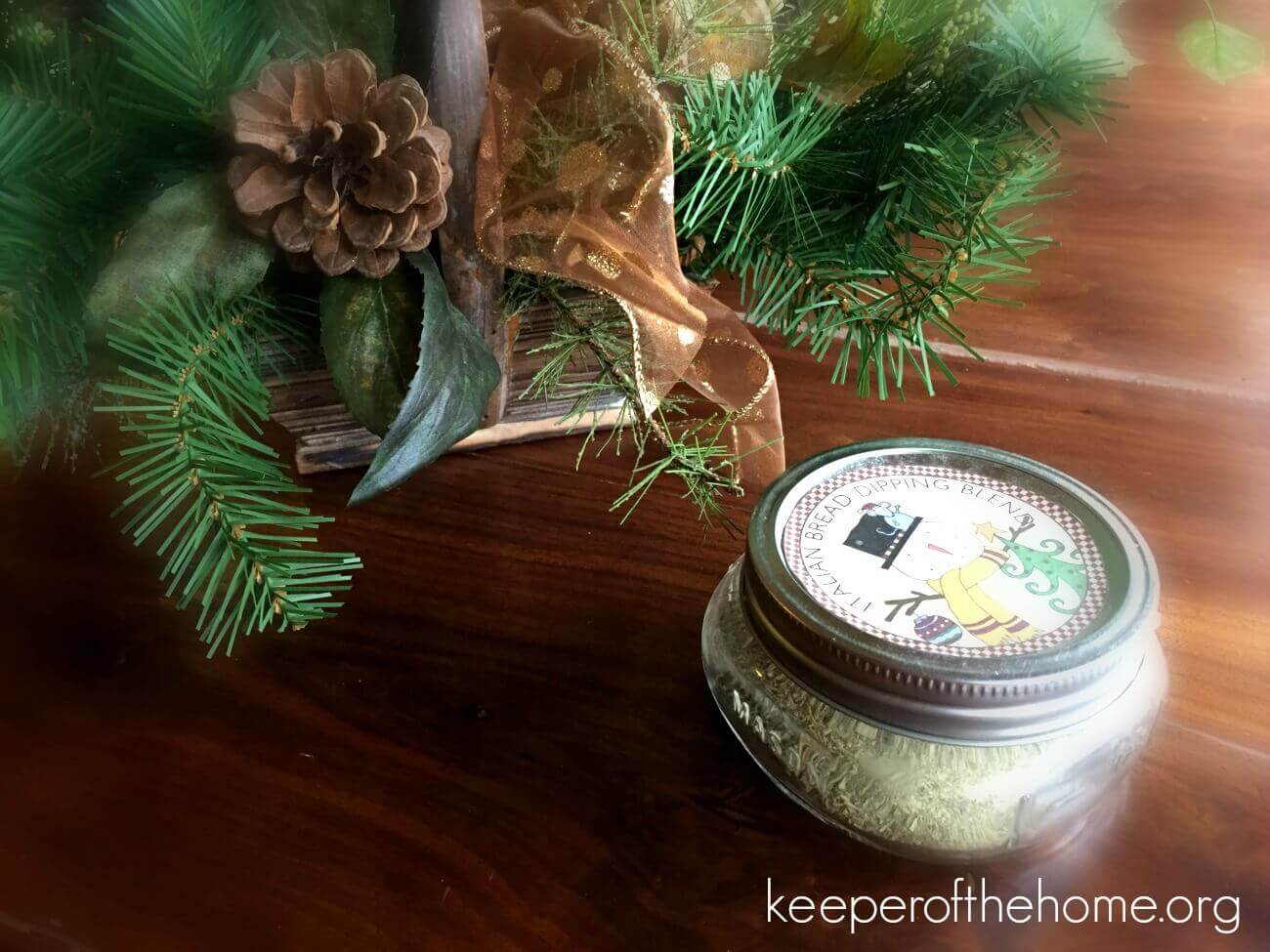 This year instead of shopping for a bunch of stuff, we are giving our kids an experience, something that we will do together as a family. No shopping or wrapping paper needed!
Pick 1 or 2 favorite things that your family loves to do at Christmas and FOCUS.
What activities do you look most forward to at Christmastime? You know, the things that really put you in the Christmas spirit?
Family? Food? Fun?
One of my favorite girl-time get-in-the-spirit activities is baking cookies together at Christmas. I like to cook tons of cookies to giveaway to neighbors and friends but this year we will pick one day and just cook enough for the immediate family to enjoy.
Is your favorite Christmas tradition a meal? Do you throw a big feast or put on a crock-pot to get the most out of your time together?
I toggle back and forth depending on how much time I have. This year we are home for all of Christmas instead of traveling or hopping around to grandparents houses so I'll be able to roast  a turkey breast and make my favorite cranberry recipe. Note: It's not that yucky, jelly stuff!
Here's my Holiday Cranberry Sauce recipe. I make it a day ahead.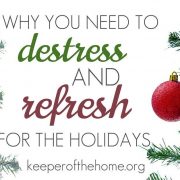 Print Recipe
Ann's Holiday Cranberry Sauce
Ingredients
4

Cups

fresh cranberries

1.5

Cups

orange juice 100%

5

whole cloves

5

whole allspice berries

3

cinnamon sticks

2

Cups

sugar

or use your favorite substitute here, mine is maple sugar and I cut it back to 1 C
Instructions
Heat the cranberries and OJ over medium heat. Put spices in spice bag and place in pan. (You don't have to have a spice bag, it just makes it easier to get them out at the end!)

Cook until cranberries begin to burst @10 minutes

Stir in sweetener and reduce heat to low, cooking until sugar is dissolved

Remove spices here

Cool overnight in the fridge

Note: serve warm or cold, whichever you prefer (I actually like it warm)
My focus and what REALLY gets me in the Christmas spirit
I get really caught up in the spirit of Christmas by singing carols and admiring streets and houses lined with glowing lights. (Try both in the car with travel mugs of hot chocolate!)
And oh, the very best moment for me is singing Silent Night on Christmas Eve during a candlelight service. It's the moment I feel most bathed in His holy everlasting love, when all is calm and all are focused on Him. It's when I feel that there IS a way to capture that very moment and cover myself with it so that it overflows into those around me. Ahhh, that would be His love, true and beautiful and perfect. I will never be that true, beautiful, perfect love, only He can give that, but I will continually strive for it, at Christmas and all year through.
Just remember, the most important thing you do this season is show the love of Christ to your family, friends, and loved ones. Share the story of Jesus birth and how he came to love us over and over with your kiddos.
If you are stressed, worrying over what you haven't been able to accomplish, then you are not focusing on the right One or giving them your best. Your best is a gift to them.
Slow down and let the reason for the season fill you until you overflow and spill it onto them. Thats what matters most and that's what they will remember.
How do you destress? What are some ideas for how you can destress TODAY?