Living Simply Saturday: Placing our Trust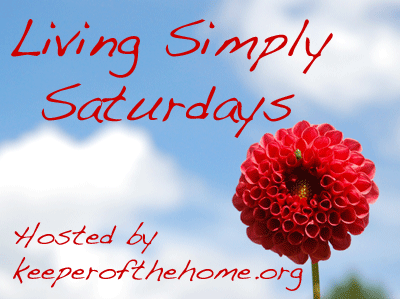 This week's chapter (Ch.6) in From Clutter to Clarity hits home with me (though they all do, for the most part). This quote got my attention quickly:

"Companies fold. Investments disappoint. Friendships end. The illusion of good health vanishes with one phone call from the doctor. In our ever-changing world, life fluctuates from minute to minute. Only God and his love for us remain the same. Trust is a limited commodity. Every bit that we place in other things leaves us with less to place in God and his unchangeable goodness and mercy."
Hmmm… companies folding. Investments in trouble. Sounds a bit too familiar, doesn't it? Maybe just a bit like the world we live in right now?
The next part, about good health vanishing in an instant, is so real and tangible to me it's like I can almost taste it. When my presumed-to-be-healthy 26 year old husband had a lump removed from his neck two years ago, we were told by the surgeon that it looked to be something minor (a clogged lymph node or saliva gland), and definitely not like cancer. Imagine our shock when a few weeks later we received a voice message from the doctor's office asking us to come in and telling us they had booked us an appointment at the local cancer center!
One of the things that I am most grateful about in that year of incredible uncertainty was that God had previously been working in my heart, teaching me to trust Him and His plans for my life, not my own. The previous year, we had struggled with infertility, and so many heart issues had come to the surface. One of the biggest ones was that I did not truly trust God with my life. I wanted to serve and love Him, so long as He could just jump on board and stick with the plan that I had already mapped out. I'm sure that the utter arrogance and folly of that line of thinking doesn't even need to be pointed out.
When I came to the end of myself during that year, and finally recognized that God could indeed be both sovereign and good, and not allow me to conceive, it was such an important step in my relationship with Him. Little did I know what was ahead, as I blissfully enjoyed my long-awaited pregnancy with my son.
Once the cancer was made known and we were in the thick of it, people often asked me how I felt about it and whether I was struggling with being angry at God. It was funny, but I suddenly had more faith and trust in God than I could ever remember having before. I began to look back on that year of struggling as a gift, in the sense that working through those heart issues had prepared me to walk through this new season of life, without fear, without anger, without charging God with letting me down or of being unfair.
I think that, as the quote says, having let go of some of the trust that I used to place in other things (my plans, my health, having the family I envisioned, etc.) freed me up to really trust in God during that time and in how He would carry us through.
"In the midst of trouble, you can be like a tree planted beside a raging river. You can be immovable, not because of your own inner strength or fortitude, but because your roots go deep- straight to the one who never lets you down."
Though I still often struggle with trusting God in various other areas of life (really, I really do- I do not have this area down at all!), I'm so thankful for the experiences of the past few years, as I can look back on them and remember just how trustworthy God was, to provide for us, to care for us, and even to heal my husband (I say "even to heal" because He still would have been trustworthy had he not healed my husband, though that's another topic entirely). The quote above made me think of two verses that were especially meaningful to me during that season:
 But now, this is what the LORD says— he who created you, O Jacob, he who formed you, O Israel: "Fear not, for I have redeemed you; I have summoned you by name; you are mine.
When you pass through the waters, I will be with you; and when you pass through the rivers, they will not sweep over you. When you walk through the fire, you will not be burned; the flames will not set you ablaze.

Isaiah 43:1,2 (oh, don't stop there- read this incredible chapter in it's entirety!)
And this one,
But he said to me, "My grace is sufficient for you, for my power is made perfect in weakness." For the sake of Christ, then, I am content with weaknesses, insults, hardships, persecutions, and calamities. For when I am weak, then I am strong. Therefore I will boast all the more gladly of my weaknesses, so that the power of Christ may rest upon me.
2 Corinthians 12: 9,10
Oh, to trust Him more. To be unwavering in my trust, not giving it out to things which could be here one day and gone the next, but to place it fully in the One who is sure. faithful. forever.
How does this (or the chapter itself, if you're following along) hit you? I imagine this topic could bring up so many different areas and thoughts for different people, and this is only how God used it in my heart today. What does the topic of trust bring up in your heart? What things get in the way of your ability to trust in God and his unchangeable goodness and mercy?