Seeing as we've just been talking about composting, I thought I might as well continue on with the topic!
Today I did my weekly maintenance of my worm composting bin, and was so impressed with how it's doing that I just felt like I had to show you all the contents of my box (alright, I know it's a bit yucky, but sometimes a picture is worth a thousand words, whether it's a lovely image or not):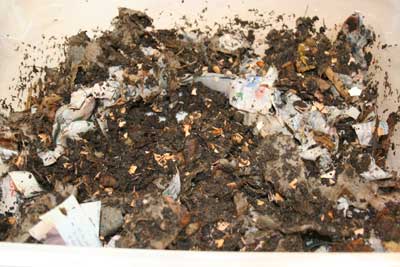 After only one month, you can see that my food and paper scraps are quickly being turned into genuine compost (at least, I hope you can tell that in the picture- if you can't, it's true and you'll just have to take my word for it)! Go, wormies, go!
I was briefly having some issues with fruit flies and smell, but quickly dealt with those by re-reading Rachel's helpful post on worm box maintenance.
My weekly routine has now developed as such: open up the box and give it a good stir, add the contents of my compost bucket from under the sink, spread a layer of recycled paper strips over the top, and replace the sheet of cardboard that rests on top of my pile. Takes about 3 minutes, and now there is no smell, many more worms than before, lovely compost developing and no annoying fruit flies.
Kind of makes a girl wish she had more worms (of the composting variety, that is). All this successful composting business has got me dreaming of having a system of multiple, large worm bins down in my garage… one day, my wormy friends. You'll fill a veritable mansion, and oh, the composting fun we will have.
(Did I mention that it's very late at night? And that I'm functioning on extreme lack of sleep due to having a newborn? I'm not quite sure where the sudden affection for any sort of creepy crawly creature has come from, but perhaps all this gardening and composting I've been doing these past few years is starting to go to my head. Tell me that there are others out there that speak to their worms! Or, at least tell me how your composting is working for you.)