Real Food Recipe Roundup: December
Welcome to my newest monthly feature, the Real Food Recipe Roundup!
Back when I did my readers survey, I learned that finding nourishing, whole food recipes is right up there among your favorite topics on this blog. I thought that it might serve you all if I shared some great recipes from around the web and blogosphere each month. I'm making a point of sharing recipes that are family friendly and simple, as well as nourishing, because I like to keep it simple in my own kitchen. I'm not a gourmet, but I do appreciate foods that taste wonderful, as well as nourish our bodies. To make the recipes even more useful to you, I've given some of my own feedback from trying the recipes (instead of just linking to them), which I hope you find helpful!
If you have any recipes that you'd like me to try out and review, send them to my email (stephanie (at) keeperofthehome (dot) org) and if they're something I think my family would eat, I'll make a point of trying them and including them in my roundup if we enjoyed it!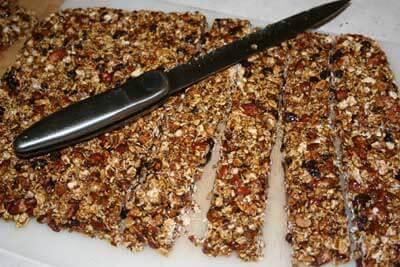 These granola bars received rave reviews in our home, and with some friends who tried them as well! They were the first granola bar recipe I've tried that really stayed together and didn't crumble, a must with little ones who need snacks on the go. My husband thought they were incredible and I've been asked to make them again and again. I used almonds instead of peanuts, because that's what I had on hand, but I'm sure they'd be great with peanuts as well (which I'm going to try next). I also had to use more Sucanat than honey, simply because I was running out of honey, and it still worked wonderfully. The only thing I don't like is that it's quite a process to make them: soak the oats/nuts/seeds, then dehydrate them all, then actually make the recipe. I think that I will soak and dehydrate large batches of the oats/nuts/seeds all at once, and then keep the extra ones stored away so that I can very quickly make a new batch when I want to.
Such a fast and easy cream of tomato soup recipe! I use homemade bone broth (either chicken or beef both taste good). After the tomatoes and broth have simmered together, I like to blend mine with a stick blender to make a smoother soup. It's lovely with fresh basil but almost as good with dried (about 1 Tbsp dried is good), and honey works well instead of the sugar. You can use whole milk or lighter cream if you don't have whipping cream, and it just won't be quite as thick/rich but will still be tasty. And I never use 1/2 cup of butter (too expensive!), but more like a 1/4 cup and it's just fine that way. Remember, they're good fats so don't be scared of the cream and butter! 🙂
Banana Blender Muffins (from Sue Gregg)
These are my most standard muffin recipe. They are so quick and simple to make, starting them in the blender before bed and finishing them up in the morning. I always make a double batch (though you need a pretty big blender to do so- I have a Vitamix). I like to add things like blueberries, raspberries, different kinds of nuts, etc. My recent favorite variation is to use frozen cranberries (which I bought on a smoking sale after Thanksgiving and just washed/froze for baking). The cranberries have a perfect tart flavor that complements the simple sweetness of the muffins. It's also really nice with just a little streusel (unrefined sugar/cinnamon) sprinkled on the top before baking.
This is my new standard granola recipe. It's delicious with either just raw milk or with yogurt and berries. Such a nice, quick breakfast for busy mornings! Even though it's a soaked recipe, it comes together really easily. It takes about 5 minutes to start it the first day, then another 10 to get it mixed up and onto trays for drying, then another 5-10 to mix it up with all the goodies and put it in bags/jars. I just use bits of time that I have in the kitchen in between other tasks and it feels like a cinch to make. I don't like using so much maple syrup (because of the cost) so I substitute some Sucanat in and then just add a bit of extra liquid. For nuts/seeds, we really like using chopped (lightly roasted) almonds, and this time I'm going to try cashews for a change. I always add sunflower and pumpkin seeds, as well as sesame and flax seeds. Raisins are a must, and I tried dried cranberries last time which were great as well (have never tried the figs). One little trick I discovered recently is that the easiest way to break it all up once it's dry and ready to be stored is to take chunks of it and process them for a few seconds in the food processor. It gets it to a perfect texture in no time at all, saving me from having to break it all up with my fingers.
Spinach Rice Casserole
Having trouble getting greens into your kids (or husband)? Try this casserole! It's easy to whip up, and very tasty. My family really enjoys it. It makes a great side dish served alongside fish, especially (or so I think). I've also tried using fresh kale instead of the spinach and it was good, just use a bit less kale because it has a stronger flavor. Frozen spinach works fine, too, and I've made this using the chopped spinach I froze from my garden this summer.
Note that you need to scroll down slightly and the recipe is just described under Thursday: Crock Pot Ragout, so it's not really obvious to see where it is. Made this just as the recipe said and we all enjoyed it. A good meal for a busy day. It's simple, nothing spectacular, but it satisfied hungry tummies and we definitely like it with ketchup. It's not super pretty looking, but I can get past that if it's quick and tasty! 🙂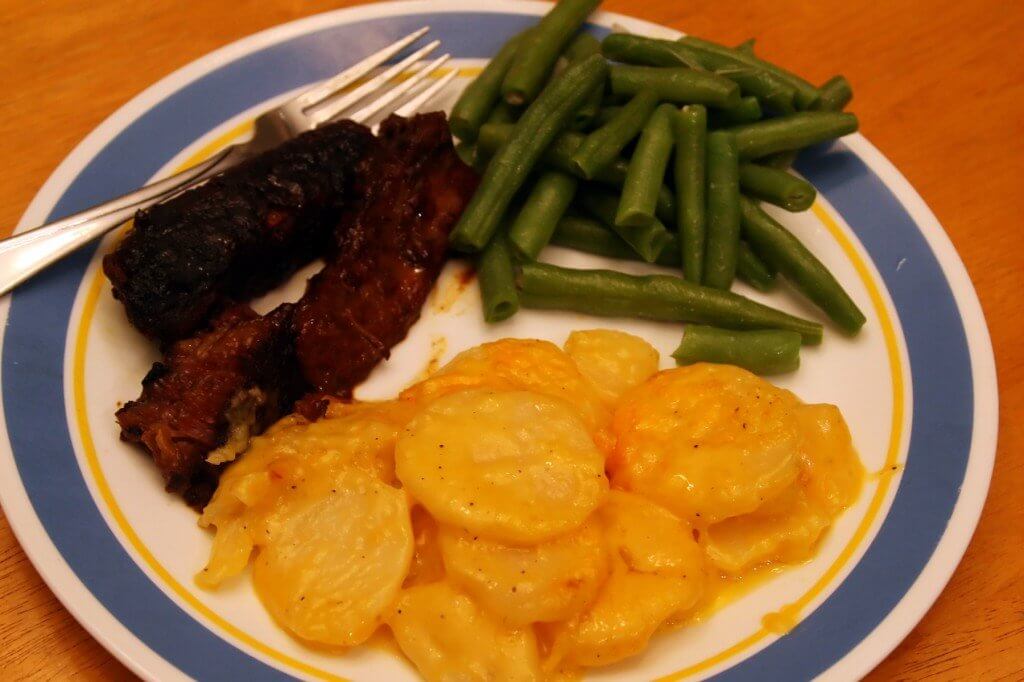 BBQ Crockpot Ribs (this is Donielle's pic, not mine)
What can I say but yum? The sauce turned out so nicely. Definitely do these on low temp, so they have time to simmer and really get tender (esp. if you're using grass fed ribs). These made for such an easy but special dinner!
Roasted Beets
My own simple recipe that has become a new favorite. Here's how to do it: Dice several large beets (or quite a few smaller ones) in one inch cubes (approx.), toss in a baking pan with a bit of extra virgin olive oil and sea salt. Bake at 350 for 45 min, stirring once. Amazing! If you've never been a beet fan before, you need to give this recipe a try because it has converted my entire family, myself included. Now, I buy beets almost every time I'm at the market! It's seasonal for winter and so very nutritious. Seriously, I know you think you don't like beets, but promise me you'll try, ok?
And a few want-to-try recipes…
Have you seen any of the $1 Healthy Menu recipes over at The Nourishing Gourmet? Gingered Sweet Potatoes, Turnip and Squash Gratin and more… has anyone tried any of them yet? They'll find a place in my January menus!
What recipes has your family been loving lately?