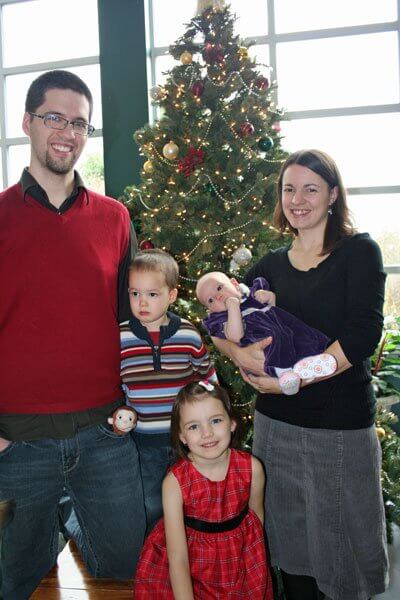 I'm not sure that I knew what I was getting myself into. It all seems so very long ago when I first began setting up Keeper of the Home over two years ago. I don't really remember what I thought blogging would be like… enjoyable, relatively simple, something I could do during the children's naps, a great way to share what I'm passionate about and get to know other like-minded women, and even a way to earn some money doing something I love from home.
And you know, it is most of those things (well, quick and simple not so much). I love blogging, I really do. I love the people, the things I've learned, the opportunities it has presented me, the ways that I've been challenged and have grown.
There's something I love so much more than blogging, though. My family. My precious children, 2 little ones back when I started and now we're up to 3 with the addition of Johanna this summer. My incredible husband, who has been such an encourager and supporter of me throughout these years of big bloggy dreams. I really, really love my family.
We had a talk the other night, my hubby and I. We agreed that I've been stressed to the max, trying to sustain a constantly growing blog with growing responsibilities, care for my family, do all that needs to be done around the home, and support my husband (often caring for the children by myself from morning til night) through a particularly busy and demanding season of starting a new business. I am really struggling to maintain a professional-quality blog and all that it entails, while still being faithful to my more important priorities. I don't want to continue to be so tired and burnt out, and he doesn't want that for me either.
What makes it especially hard is that there seem to be many women out there who are managing to run busy blogs as well as busy households, and do it all with grace. I have seasons where I feel that I can do it to a degree and other seasons where it feels utterly overwhelming. I am asked so often in comments and by email how on earth I do all that I do. The simple truth is that it's very, very hard and I am one tired woman.
You might be wondering if this is a good-bye post and I'll put your questions to rest right now… no, I'm not going anywhere. Not quite yet, anyways.
I am making a change of pace, though. In the past several months, I've developed a growing vision for my blog and in a sense, a lot of ambition. Many things have been driving me to pursue more and bigger things with my site and as a blogger in general. I see other women doing it and I feel the need to keep up, to grow alongside of them, to continue improving my site and learning to do what I do in a more professional way.
I realized that something in me was starting to say, "My roles are not enough. I want more. I want to be somebody, do something, make something of myself." I didn't see it as being ugly at first, but now I do. It crept up slowly, little thoughts, little desires. Somehow it grew into a burden to maintain this career (because let's face it, when blogging requires this much of you, it's more than just a hobby), even though I knew it was at a cost to my most important of careers, that of being a mother, wife and homemaker.
A few weeks ago we were doing school time and my daughter needed to draw a picture of her mother doing something. I had warm fuzzy thoughts of her drawing me cooking or baking, something in the kitchen, where I spend so much of my time (and often with her by my side). Do you know what she drew? Mama at her computer. It still brings me to tears when I think of it.
I want my children's childhood to be full of memories of a mama who was by their side, playing with them, laughing with them, reading to them, cooking with and for them. Not a mama with a face glued to a computer screen.
I'm tired of trying to be a pro-blogger. I just want to be a pro-mom.
I want all of my energy, creativity and passion to flow into my home and into my relationships with the most important people in my life, and not into some career that won't mean a thing one day when I'm old and wishing I had spent more time with my children during these incredibly precious years that I can never get back.
So yes, I'm still blogging, but not at quite the breakneck speed of the past year or so. I'm toning things down. My book is the last big project that I will be tackling. No more major site changes. No pressure to be some spectacular blogger, who knows how to work social media and commands an impressive audience. Just me. A real mom, talking about things that matter to me. My subject matter won't change, but perhaps the amount of time I put into some of my posts will. If I need to take a day off because my family just really needs me then I will, rather than force myself to burn the midnight oil because there just wasn't time to blog during the day.
I don't really know how it will affect my blog or my traffic. Truth be told, I'm not sure that I care anymore and there's a real freedom in that. One day soon (nope, I'm not sure when), I will put all of this aside and put 100% of my energies into this precious family that God has given me and I won't look back.
I'll leave you with a quote that was brought to mind the other day as I was thinking through all of this, and being renewed in my passion for the glorious task that God has given me to care for my family and home, to support my husband and to love and train my children:
[W]hen people begin to talk about this domestic duty as not merely difficult but trivial and dreary, I simply give up the question. For I cannot with the utmost energy of imagination conceive what they mean. When domesticity, for instance, is called drudgery, all the difficulty arises from a double meaning in the word. If drudgery only means dreadfully hard work, I admit the woman drudges in the home, as a man might drudge [at his work]. But if it means that the hard work is more heavy because it is trifling, colorless and of small import to the soul, then as I say, I give it up; I do not know what the words mean…. I can understand how this might exhaust the mind, but I cannot imagine how it could narrow it. How can it be a large career to tell other people's children [arithmetic], and a small career to tell one's own children about the universe? How can it be broad to be the same thing to everyone, and narrow to be everything to someone? No; a woman's function is laborious, but because it is gigantic, not because it is minute. I will pity Mrs. Jones for the hugeness of her task; I will never pity her for its smallness."
G.K. Chesterton (bold mine)