Chewy Gingersnaps (No Gluten, No Grains, No Dairy)
These cookies may be "free" of a lot of things (gluten, grains, dairy) but they do definitely have some things in abundance: ginger, protein, taste, yumminess.
Since we have two little munchkins who don't do gluten or dairy at all, I like to find treats to make that everyone can enjoy, rather than trying to make different things for different people. Brown rice is something that my kids get commonly (whether it's actual rice, or rice flour in baked goods) so I set out to find a unique alternative.
I wound up in the cookie section of Nourishing Traditions, checking out the options because I knew none of them included soaking. Surely there had to be some good gluten-free options in there!
It came down to two basic ingredients that would make my cookies work: ground almonds (nuts= good protein and fats) and arrowroot powder (a starch that has a calcium ash, helpful for acid/alkaline balance, and easy on the digestive system).
In the end, the cookies turned out just a little bit crumbly (common with gluten-free baking), but overall soft and chewy, with a nice balance of spicy and sweet flavor. The blackstrap molasses gives extra nutrients like iron, the cinnamon helps with blood sugar balance, the ginger with digestion, and there are plenty of good fats to boot.
Overall, not a bad choice for a nibbly holiday treat!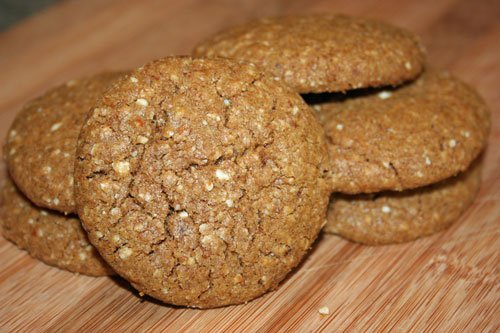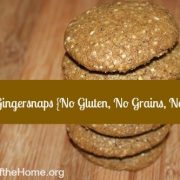 Print Recipe
Chewy Gingersnaps Recipe
Ingredients
3

cups

almonds

best if they are soaked/dehydrated first

1/2

cup

butter

pastured and 1/2 cup coconut oil (if you're completely dairy free, skip the butter and use all coconut oil)

1

cup

Sucanat or Rapadura

3

Tbsp

blackstrap molasses

look for one without sulphites- I like Wholesome Sweeteners

1

large egg

2

cups

arrowroot powder

1

Tbsp

ground ginger

2

tsp.

cinnamon

1/2

tsp

nutmeg

1/2

tsp

ground cloves

1

tsp

sea salt

1

tsp

baking soda
Instructions
Preheat oven to 300 F.

In a large mixing bowl, cream the butter, coconut oil and sugar together. Add molasses and egg until well mixed.

Add arrowroot powder and all spices, salt and baking soda. Keep mixing until everything is well incorporated, and the dough forms a thick but soft ball.

Grease your cookie sheets. Make small balls of dough about the size of a cherry tomato. Roll lightly in your hands, and place on cookie sheet, flattening them slightly with your hand (don't worry too much about this- they will mostly flatten themselves during baking).

Bake for 20 minutes at 300 F. Allow to rest on cookie sheets for 10-20 minutes before transferring to wire cooling trays.
This cookie recipe is a part of the Real Food Christmas Cookie Exchange, hosted by Domestic by Design.
Head on over there to find more wholesome cookie recipes to make for your holiday events! Maybe this year you can be the one who brings the healthy cookies that everyone raves about and likes even better than the regular ones. You don't even have to tell them… it can be our little secret.
Check out my favorite real food desserts eBooks–Treat Yourself: Real Food Desserts and Smart Sweets!
What Christmas cookies do you love to make each year? Any that bring back special memories for you?