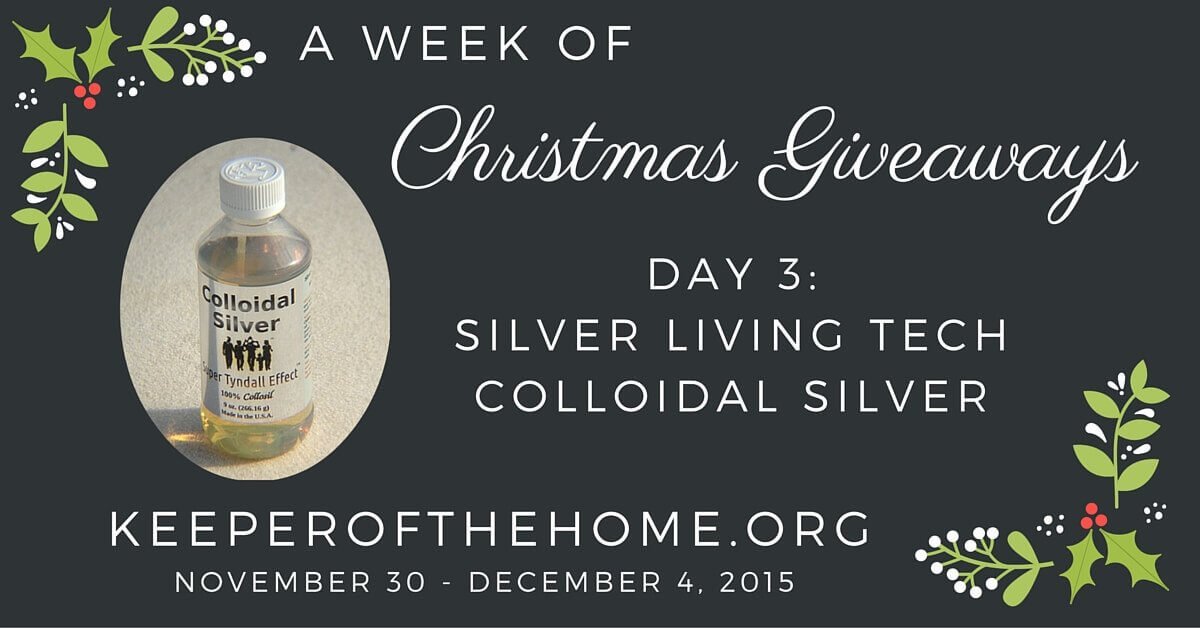 Colloidal silver: what is it? More importantly, why would you want to WIN it?
I'm sure not many people have ever heard of this before, but after receiving this product and reading up on it, I can see a lot of potential here for colloidal silver to be good for your health. In fact, I was seriously surprised to find that there are 95 documented reasons to use Colloidal Silver.
Silver Living Tech suggests using Colloidal Silver for:
Sore throats
Ear infections
Minor cuts and burns
Disinfecting vegetables
Colloidal silver has a history of medical uses dating back over thousands of years. It is said to be an immune system booster, fighting bacteria and viruses in the body. In ancient times it was used for treating wounds, ulcers, heart conditions, and even in water purification. Silver ions are still being added to water purification systems in some hospitals, community water systems, and pools today.
Many people feel that it will help with their sinus and cold symptoms this winter. I have friends that use it in their nose as a wash to prevent colds and they swear it works. I also know of friends who put drops in their kids ears to prevent ear infections.
How does it work?
I have a lot more research I want to do on this stuff, but what I have done suggests that the Colloidal Silver has charged nanoparticles of silver that helps kill bacteria and virus and according to some research may help promote cellular healing.
Advocates of colloidal silver claim it does things nothing else can, such as clearing up chronic sinus issues and curing a cold in just a few days. They also insist that it can boost the power of antibiotics.
So what exactly is colloidal silver? Simply put, colloidal silver is a mineral supplement, it is tiny silver particles suspended in a liquid. Silver Living Tech is on a mission to promote the research and development of colloidal silver and specifically colloidal silver with the Tyndall effect, which is believed to be the highest quality form:
"Thus, today, a normal test for determining whether a silver suspension has any colloidal characteristics is to shine a light through the suspension and determine whether the light is scattered. If the light is scattered at all, it exhibits the Tyndall effect and will be classified as a silver colloid. If the light is not scattered in any way, then it will not be considered a silver colloid. After identifying whether the suspension exhibits any Tyndall effect, the next step is to determine how strong the Tyndall effect is. A weak Tyndall effect suggests that only a small part of the silver suspension is colloidal. The stronger the Tyndall effect, the more the silver suspension is colloidal. Some colloids exhibit such a profound Tyndall effect, even normal room lighting is adequate to observe the effect described in the previous paragraph. In such cases the silver suspension is likely almost entirely colloidal. We call such suspensions, Super-Tyndall colloids. Such colloids are considered the highest quality."
Some medical websites have concerns over side effects, such as overdosing, causing problems from neurological issues to skin irritation. And there is even the risk of colloidal silver interfering with some prescription medications. However, the likelihood of overdosing is believed to be quite small and would take over 10 gallons a day and a long time to have any negative effects. You can read about safe dosing here.
This colloidal silver is manufactured by Silver Living Tech. Begun is Peru in 2011, the company is now based in Panama City, Florida. The company has researchers and manufacturers with 20 years combined experience in this field.
Their website, which is easy to use and full of good information, gives a great description about what colloidal silver is, what it does, and how it's made. It also includes information about why it's important to use high quality colloidal silver and what the dangers are of using inferior products.
The box I received  included a small spray bottle to use as a supplement by spraying it three times in the back of your mouth or on your face for acne, cleaning make-up and refreshing skin. Also included was a large spray bottle for using the Colloidal Silver as a disinfectant on vegetables and surfaces.
The company is also doing ongoing research into additional uses for colloidal silver: as a diagnostic aid, conductive applications, and optical uses, as well as how and why to use it on your pets.
Silver Living Tech's website is easy to navigate and easy to buy from. You can purchase directly from them or an independent distributor. On their website it is available for $15.95.
Special offers for KOTH readers:
Win a year's supply!
Enter here to win a whole year's supply so you can try it for yourself. Let us know what you think of colloidal silver and what you use it for.
Disclaimer: Although all Keeper of the Home contributors are passionate about nutrition, natural living and alternative health issues, we are not certified nutritionists, medical doctors, or practitioners of any kind. We are not licensed to counsel anyone in medical matters, nor may we be held responsible for any course of action that you choose in regards to your own health or that of your family. Please remember that what we are sharing is the result of our own experiences and years of study, but may not necessarily be the right course of action for you. We are advocates of becoming informed, knowledgeable and responsible for one's own health, but our desire is not to be an authority on any matters of health for you, nor would we presume to have sufficient knowledge to do so. Our hope is that what we share may encourage you and start you on the road to doing your own research, and seeking out the opinions of professionals or others that you trust.
This giveaway is sponsored by Silver Living Tech. Silver Living Tech provided me with the Colloidal Silver and both sprayers to use and review. The opinions above are completely my own.