Help me out: Grass-fed steaks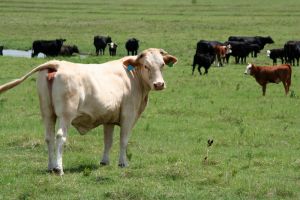 Here's a quick question that came up from our meal on Sunday afternoon… are we the only ones who are finding our grass-fed steaks to be incredibly tough and practically impossible to eat?
Up until recently, we just haven't really bought steak, and have stuck to more utilitarian (and cheaper) cuts like ground beef, roasts, stew meat, etc. A couple of months ago, we decided to purchase a 1/4 of a cow, and with that came a large amount of steaks (t-bone, chuck, sirloin, everything).
Now, I will openly confess that I am not a great steak cooker. In fact, any tips you have would be very welcome (by not only myself, but my husband as well!). However, it does not seem to matter what we do with these steaks. They are just not pleasant to eat!
I talked to my SIL about it today, as they buy their meat from the same place, and they have had the exact same experience. So I'm curious, are others of you out there buying portions of grass-fed cows and finding that the steaks are tender and enjoyable, or are they tough in general? We prefer to only buy the most naturally raised meat, but we want to enjoy it, too!