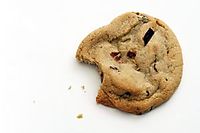 There's a lot of food in my house right now that is normally vetoed. Food like sugar cereals, ice tea powder, regular sandwich meats, white flour and sugar, cookies made of the white flour and sugar, and on and on it goes…
Having guests who eat these foods, such as our current homestay students, brings with it an intense struggle for me. I would have thought that struggle would be gone by now, but continue to be surprised by how often it comes right back.
I'm eating this junk simply because it's there.
Are you surprised? The one who teaches about health food and avoiding processed and sugary convenience foods is eating them just because they're in her house?
Yes, and I'll tell you why. It brings me back to the food that I ate as a child, teenager and young adult. I find it familiar, habitual and strangely comforting.
Even though I certainly do not desire to eat that way anymore and actually haven't (overall) for more than 5 years, it still shocks me how easily I fall prey to it once again.
It feels as though there's a level of addiction that still lingers in me. These foods only seem to create constant craving in me, yet never satisfy me (isn't that the truth?). They lure me back in. Perhaps they create more addiction than I ever realized before.
The head knowledge is primarily what keeps me away from it, as I know why it's not good for me and why I ought to eat better. BUT, when it's right there in front of me, even head knowledge and good intentions are not necessarily enough. And so I grab another handful of Honey Nut Cheerios and finish off the day with one (or two) of those chocolate chip cookies.
The moral of my story is this: If I put myself in temptation's way, I am bound to be struggle.
For me, this means I don't bring it in my house. Usually, I don't have a problem with this, and that is how I actually hold fast to the style of eating that I believe in. It's not because I am nutrition wonder-woman, or because I am highly self-disciplined. It's not because I have incredible self-control or because I don't think that stuff tastes good anymore (trust me, I grew up eating it- I know darn well that it tastes good, although I am so blessed to see how my taste buds have changed over the years to the point where most nourishing foods now taste far better than all of the other garbage).
Quite simply, if I don't want to eat it, I shouldn't allow it to be around in the first place. Maybe many of you would find the same to be true for yourselves. If you just stopped buying the chocolate milk powder and the potato chips and the Oreos and the case of pop (and all of the other things that may end up in our carts, just for an "occasional treat"), maybe you would find that you wouldn't eat them. You'd make do without. And you would feel satisfied doing it. I'm just saying…
I eagerly (eagerly!) anticipate clearing out the shelves of my pantry and fridge in two weeks when our guests return home, to return to our simple, whole foods diet. I also eagerly anticipate the 3 week sugar fast and nutrient-dense diet that I will be putting our entire family on. All is not lost. If I slip up today, I can pick up where I left off tomorrow.
For now, I'm considering walking around wearing horse blinders, and am praying for a mighty big helping of self control! No, I will not have a glass of iced tea… no, I will not have (another) handful of chocolate chips… no, I will not eat a spoonful of Jiffy peanut butter… sigh.
Do others out there struggle with reverting back to old habits of eating? What triggers it for you (stress, grief, depression, or simply being near it like me)? How do you deal with those old cravings? Am I the only one that needs to strictly ban things from entering the house?