Cheerful Tips for Brightening Gray Mornings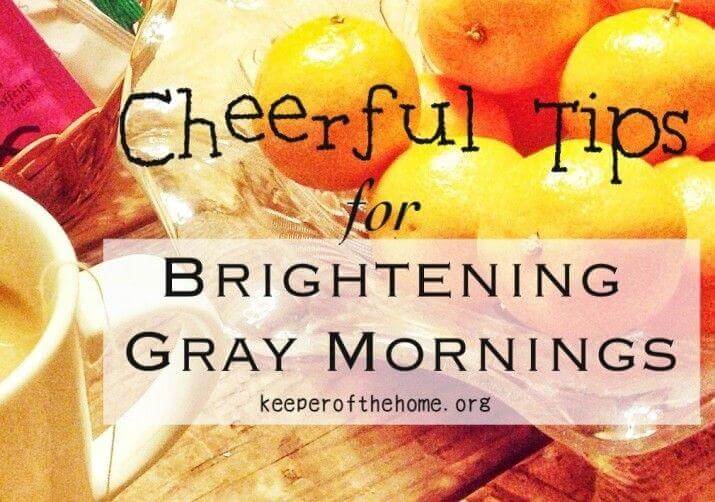 By Michele, Contributing Writer 
If you're in the midst of the "bleak midwinter," with cold, dark mornings and gray days, it can be challenging to get the day moving in the right direction.
Whether you're struggling with grumpy children or tackling the day's projects, a few simple sensory additions might brighten your day.
I've spent my entire life residing in the Pacific Northwest (including several years in Alaska), so I've had my share of gloomy mornings, when curling back into the cozy quilts wasn't an option.
I believe in living seasonally, and try to live in a rhythm that allows for more rest during the winter.
A restful atmosphere may include more read-aloud books for my children in our lesson plans, baking special breakfasts, or an extra pot of tea in the afternoons.
However, schoolwork, chores, jobs, and other tasks need to be completed as we care for our families. Here are a few of my favorite tools for transitioning smoothly into the day, and greeting the winter.
Lighting
In a few of the places we've lived, the bedrooms didn't get good morning light, so we added a string of little white Christmas lights around the room, that could be plugged in next to the bed. The soft lighting gave a nice glow to dreary mornings (or evenings), and smoothed the transition to daytime. The bright ceiling lights just seemed more harsh than cheery on dark mornings.
We have also found a "Happy Light" helpful in our homeschooling/office space (which is also our dining room). It has helped us stay alert and focused on our morning tasks.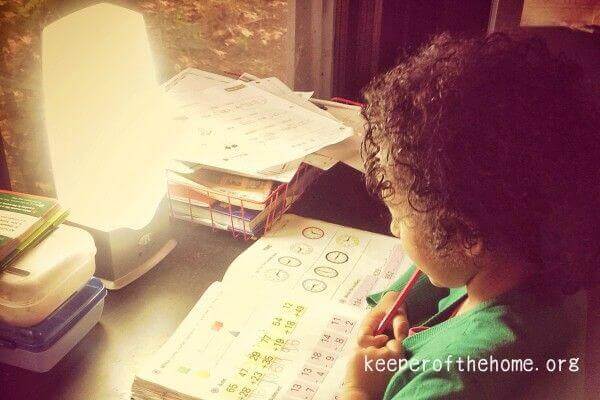 Music
Music can have an incredible affect upon our mood.
Whether you choose soft, instrumental music to wake up gradually, rousing worship songs to keep a positive attitude, classical Bach to keep your brain focused, or children's favorites for silly giggles, music helps brighten the home environment.
Find some tunes that suit the morning you want to have!
Scents
I love using the natural scents and aromatherapy benefits of real essential oils in our home. I usually use a diffuser, but candles or just simmering some fragrances on the stove can bring a pleasant ambiance to your home.
During the winter, one of my favorite combinations in a diffuser is a few drops each of cinnamon oil, clove oil, orange oil, and lemon oil. This spiced citrus blend encourages us to stay alert and cheerful!
If you want something edible, a slow cooker is a great way to have a fragrant breakfast waiting for you (by preparing it the night before). Oatmeal with cinnamon and raisins or a tea/cider beverage smell delightful on a cold winter morning.
Flavors
Winter is the season for citrus, avocados and cranberries. Add these delicious flavors to wake up your morning meals, such as with a spicy breakfast burrito or omelet and guacamole, a cranberry-orange smoothie, or just a cheerful bowl of clementines alongside the schoolbooks.
Are winter mornings a struggle for your family? How do you bring some cheer to a gray day?
If you're looking for more ways to brighten these days after Christmas, check out my eBook, A Natural Noel. In this eBook, I give you activities to help your family savor the 12 Days of Christmas!

(The 12 Days of Christmas starts with Christmas Day, and goes through Epiphany in January, so lots of fun activities for winter break from school.)

 The eBook is on sale for just $.99 through TODAY only! Use code NOEL99! Get the book here. 
;
;
;
;
;
Disclosure: I have included affiliate links in this post.