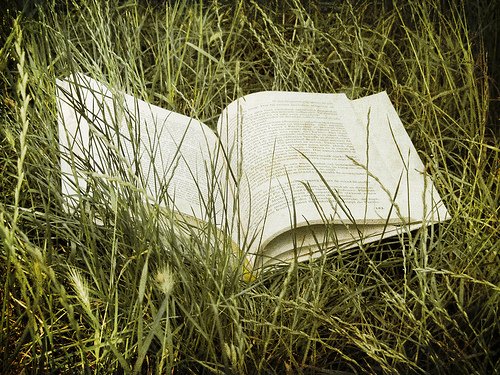 In our recent decluttering and purging, I realized that I have a huge stack of books that I already own, but haven't yet read.
Being a book lover, it's easy for me to be constantly buying new books or adding to my wish list, but with so many interesting choices already on my shelves, I chose instead to make a list of books I already have to read in the New Year.
I also find that I can consume books, but not really put into practice what I've read. That makes even reading the most amazing books an exercise in futility, so I added to my reading list with some oldies but goodies that I'd like to take another read through.
Books I Would Like to Read in 2012
(in no particular order)
What Jesus Demands From the World by John Piper. This book is thick and a bit daunting, but the concept intrigues me (what does Jesus really expect of his followers?) and I greatly respect John Piper.
Grace for the Good Girl- Letting Go of the Try-Hard Life by Emily P. Freeman. Emily is one of my dear friends from my trip to the Philippines– I've just begun this book and am already loving it.
What Women Fear: Walking in Faith that Transforms by Angie Smith. Because we all have our own fears, and I would love to learn more about how to address mine and give them up to the Lord.
Rich Christians in an Age of Hunger: Moving From Affluence to Generosity by Ronald J. Side. I stumbled upon this in a clearance section at a Christian bookstore on vacation this summer. It's an older book, first published in 1978 and recently updated. I'm curious to read his perspective and to be challenged in this area.
The 4 Hour Work Week by Timothy Ferriss. I read this a couple years ago and want to re-read it, as he has many excellent ideas (and also some that I don't agree with) about running businesses, streamlining processes, automation and elimination of tasks, and more that I find extremely interesting and helpful as my husband and I are both entrepreneurs, balancing several businesses. I don't actually like how this book is marketed, because I think it's viewed as being about how you can escape from work to go have a permanent vacation, but I find it much more about learning to minimize "working for work's sake" (wasting time unnecessarily), and instead putting time and energy towards the things in life that are most important to you.
The Love Dare by Stephen Kendrick. This is the book that was written to go along with the movie Fireproof. My husband bought a copy for each of us this past year and I really want to work through it entirely.
Ministry of Motherhood by Sally Clarkson. After meeting Sally twice in the past year or so, and also reading her books Mission of Motherhood and Seasons of a Mother's Heart (both excellent!), I am eager to dig into this book, which focuses more on how we actively disciple our children.
Grace-Based Parenting by Tim Kimmel. I'm not sure what to expect of this one, but I got it for free at a conference and it looks like a worthwhile read.
The Money Saving Mom's Budget: Slash Your Spending, Pay Down Your Debt, Streamline Your Life and Save Thousands a Year by Crystal Paine. I'm excited to be reviewing this book in January, which was written by my dear friend Crystal (and I'll be giving several books away as well). Although we don't have debt and we do have a good grasp on how we manage our finances, there is always more to learn and I'm sure that this will be an excellent book to recommend to those struggling financially.
Shepherding a Child's Heart by Tedd Tripp. A book that I read many years ago, and have re-read in part since. I feel like I need to read it again every couple of years, to help me keep a proper focus and perspective on how we discipline, train and raise our children. I highly recommend this book!
Don't Make Me Count to Three by Ginger Plowman. If Shepherding a Child's Heart offers the meaty theory and concepts, then this book gives the utensils that help you to actually cut it up and digest it, making it applicable to your daily life and parenting decisions. So practical and as a bonus, hilarious. Another re-read for me that I'm looking forward to.
Nourishing Traditions by Sally Fallon. I first bought this book almost five years ago. When I go to look for a recipe, I almost inevitably spend 20 minutes reading interesting excerpts from the sides of each page. This year I want to go back and re-read through all of the nutrition chapters in the beginning as a good refresher. For those wanting to understand more about real food and traditional nutrition, this book is the best I know of.
A Few Excellent Books I Read in 2011
I'm sure there are others that I just can't remember. And where are all the usual nutrition/healthy living books I like to read? Strange, I know. Both lists are practically devoid of them. I guess I needed a little break!
What have you been reading in 2011 and what's on your list for 2012?
Disclosure: The links to these books are my Amazon affiliate links, which means that I do earn a small commission if you purchase something through my link. Thank you for your support of this site!