How to Make Healthy Ice Pops & Frozen Treats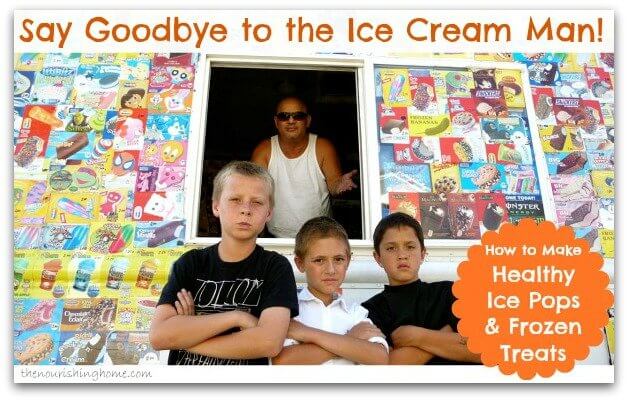 By Kelly, Contributing Writer
Growing up, there were few things more exciting during summer than hearing that little ditty playing that meant only one thing … the Ice Cream Man is coming!
Soon he'd be rounding the corner of our street, and so my little brother and I would make a mad dash inside the house to plead for some cash – and quick – so we could make it back outside in time to get our hot little hands on a cool, refreshing ice cream treat.
Fast forward to today … not much has changed. Precious little faces still light up each time they hear the familiar tune that promises sweet treats in colorful wrappers. Sadly, we now that know these nostalgic treats are chock-full of unhealthy preservatives and harmful additives.
So what's a real food lovin' momma to do? Why not say goodbye to the ice cream man and hello to the "Ice Cream MOM!"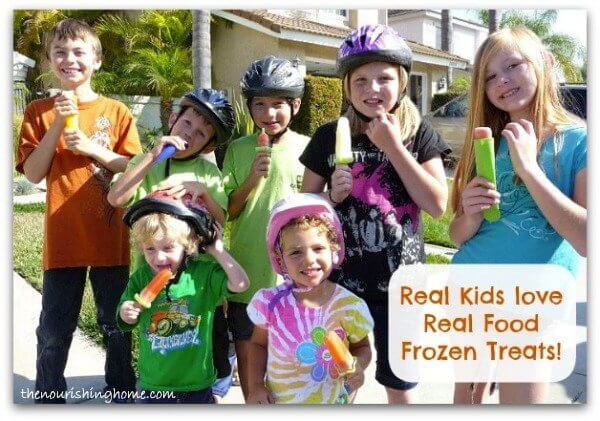 Seriously, making homemade frozen treats with your kiddos is not only easy and fun, it's delicious and nutritious, too! Trust me, real kids love real food frozen treats!
In fact, by stocking your freezer with these fabulous frozen treats, you could very well become the most popular mom on the block this summer!
Then, each time that ice cream man comes by with his tantalizing tune a-playing, you'll be delighted to see your children running inside – not to ask for money – but to instead ask for one of YOUR healthy homemade treats!
On a mission to help you become The Ultimate Ice Cream Mom, we've provided 15 all-time favorite frozen treats that are certain to bring a smile to your kiddos' faces, while keeping the ice cream man at bay! With these recipes in hand, you'll learn how to make healthy ice pops in no time!
I also encourage you to pop over and check out my Top 10 Tips for Making Healthy Homemade Frozen Treats and FREE Healthy Ice Pops & Frozen Treats eBook.
Fabulous All-Fruit Pops
Banana Split Pops
Favorite All-Fruit Pops
Fruit Juice Pops
Limeade Popsicles
Watermelon Whole Fruit Popsicles
Creamy Pops & Bars
Fruit & Cream Bars(DF Option)
Fudge Pudding Pops(DF)
Kefir Fruitsicles
Lemon-Lime Frozen Yogurt Pops
Mango-Strawberry Cream Pops
Tropical Creamy Popsicles
Irresistible Ice Cream Sandwiches
Cheesecake Graham Cracker Cookie Sandwiches(GF)
Ice Cream Cookie Sandwiches(GF Option)
Lemon-Vanilla Cream Sandwiches(GF)
Old Fashioned Ice Cream Sandwiches
What are your family's favorite healthy, homemade frozen treats?
;
This post is sponsored by Plan To Eat. Plan To Eat was born from our desire to eat real food — great food — prepared at home, together as a family. Plan to Eat is an online menu planner that uses your recipes, scheduled for the days you want them, automatically generating your grocery list, organized the way you like to shop. Eat well. Eat together.