Real Food Bloggers Face-Off
I'm home from Blissdom… completely exhausted (but it was worth it), brain absolutely buzzing with ideas and inspiration for my blog, and absolutely thrilled to be back together with my family whom I adore. I promise that just as soon as I'm able to pull it together, I will give you the rundown off my trip and the conference!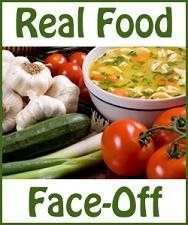 I don't have a post for y'all today, but instead I want to direct you on over to Kitchen Stewardship. For the past month or so, Katie has been putting out an absolutely stellar series called the Real Food Face-Off. She has compiled answers from over 20 bloggers, I believe, all of whom would consider themselves to be Real Food/Nourishing Food bloggers. If you have ever wanted to know a bit more about what makes us "real foodies" tick, more about how we eat, why we eat the way we do, what we struggle with, etc. then I think you will love this series! If you're looking for more real food resources and blogs to follow, you've never seen a better grouping of these fantastic women whom I am honored to work alongside in our little niche of the blogosphere.
Today, Katie is featuring yours truly along with Carrie from Organic and Thrifty. Come on over and read our Real Food Face-Off!:
Real Food Face-Off: Keeper of the Home vs. Organic and Thrifty
While you're over there, why don't you take a look around and get to know Katie and her blog a bit? She's been blogging for a year and I am continually amazed to see how much she has poured into her site in that short time, making it a truly wonderful resource. She's fun, spunky, loves her family, is a bit of a mad scientist, works well in her petite kitchen, and has become a sweet friend. When you visit, leave her a comment introducing herself and tell her I said hi!