Menu Plan Monday- June 23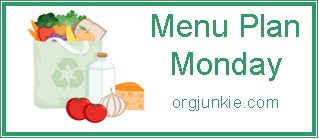 Does anyone else find it hard to even think of cooking when you're sweating glowing away in a roasting hot house?
About the only thing sounding good to me right now is an ice cold fruit smoothie! And I suppose, I can't really make that for dinner for the next 7 nights in a row (or can I)?
Since we should probably have a bit of vegetables, meat and grain mixed in between our smoothies, I suppose this is what I'll serve for dinner:
Monday: Chicken Divan over quinoa, with steamed broccoli and cauliflower (I prefer to steam mine separately and add it at the end- it has a nicer texture to it that way, in my opinion)
Tuesday: Bean and rice burritos, with fresh salsa (the recipe is a little ways down on the page)
Wednesday: Taco Salad (using fresh greens from my garden!)
Thursday: Fish Coconut Curry over rice, with garden salad
Friday: We'll be in Seattle, picking up a van that we'll be borrowing while we host two Taiwanese students for the next three weeks
Saturday: Baked potatoes with broccoli cheese sauce (simple and easy, since we'll just arrive home from Seattle around dinner time)
Sunday: Homemade Pizza (with peppers, feta, herbs, tomatoes, chicken, etc.)
I didn't take the time this week to properly plan my breakfasts, but we'll be eating an assortment of:
oatmeal
smoothies
toast
hashbrowns and eggs (but not for me- I'm avoiding eggs to try to improve my eczema- so sad!)
waffles (I'm going to make a big batch while I'm at it and freeze some for busy mornings)
For those new to meal planning, I'll be talking about some meal planning techniques in my Baby Steps post this Wednesday. If you're looking for more menu planning info and resources, be sure to check out Organizing Junkie, who weekly hosts Menu Plan Mondays!