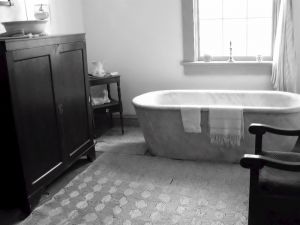 Just in time for my massive house cleaning day tomorrow (before I go on vacation, I always like to try to leave my house spic and span, because it's just so much more restful to come home to!), the perfect Green Guide newsletter dropped into my inbox.
Their article on Furry Foes offered a natural solution for cleaning mold and mildew, which I find to be one of the more challenging aspects of green cleaning. I've found that baking soda isn't too bad, and my Bac-Out enzyme cleaner is somewhat better, but neither do the job as well as I would like. While I use white vinegar for many of my other cleaning needs, I've never tried it full strength on mold, but I am eager to give it a shot tomorrow. I also liked their suggestion to add tea tree oil for really tough jobs. Has anyone tried this? Did it work?
On a similar note, I have a question for you all:
What do you use to get rid of stains on clothing, without resorting to toxic or conventional products?
Since ditching Shout almost two years ago, I have been hard pressed to find any alternatives that I am truly satisfied with. Kids food stains (and art stains, etc.) are so challenging, and I have lost a few of Abbie's really nice shirts due to stains that set in and just never came out, no matter how hard I tried. It just kills me to throw out clothes that were otherwise in great shape, especially if they're her (or my) favorites.
So please, share all of your natural mold and stain removal wisdom with me! I'm all ears!