Living with PCOS: Taking a step back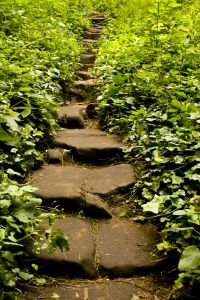 Allow me to back up a little for those who are unfamiliar with PCOS, and give just a bit of information on this condition and my journey with it, before I delve into how I use nutrition and natural medicine to treat it.
I have mentioned several times now that I have PCOS, but have never
delved into the topic to any degree. I've decided it's time to bring up
the subject and explore with you more of my diagnosis, what it means to me, how
I've dealt with and am dealing with it, etc.
Just what is PCOS? To me, it is many things.
In a very real way, it is a gift from God and a testimony of His grace in my life, as He uses this trial to build in me character, faith, patience and most of all, trust in His sovereignty and goodness. At many times it is also a significant struggle and challenge that I must work through, with it's accompanying emotions, physical effects, etc. To a large degree, it has also become just a part of life. We all have elements of life that, while not ideal or what we would have chosen, we have become accustomed to.
For those unfamiliar with the term, PCOS stands for Polycystic Ovarian Syndrome. It is a hormonal disorder that can look a bit different in each woman, but generally it involves sporadic or non-existent ovulation, higher than usual male hormones, and sometimes actual ovarian cysts. For most women, it means that their entire hormonal balance and menstrual cycle is completely out of whack. Here's a link to the long definition, and a shorter one- you pick!
If you are wondering whether you might have the symptoms of PCOS, here is a short quiz to give you an idea of how your symptoms line up with a possible diagnosis. If you are truly concerned, I would recommend that you see your doctor as soon as you can, explain your concerns, and ask that they would do the necessary testing for you.
I do not have what might be considered a standard case of PCOS to many doctors (though my blood tests and erratic cycles still equal a diagnosis), because I do not deal with one of the most commons issues: weight struggles. For many others, the struggle to keep their weight down is a constant battle, and it unfortunately creates more of a vicious cycle for them, as blood sugar and insulin levels that are off (as they often are in those who are overweight) only exacerbate the symptoms. In fact, many doctors believe that insulin issues may be a part of the cause in the first place.
I believe that my insulin levels are still greatly affected, despite the fact that I do not struggle with my weight. After my diagnosis, I lost a great deal of weight as I began to eat healthier and become more active, and I still experience very tangible blood sugar imbalances, when I don't eat often enough, when I eat too many sugary and high carb foods (particularly white sugar and flour), as well as during my last pregnancy when practically any sugar at all (even good sugars) made me feel quite ill.
For me, having PCOS looks like a very irregular cycle, frequent annovultion (not ovulating) and very wildly fluctuating hormones (I think this also affects the severe eczema I have on my hands, as it gets better or worse with major hormone shifts).
It also adds a greatly increased difficulty in conceiving. This is likely the most difficult part of the struggle for me, as it is for many women. Infertility is extremely common, and often very difficult to overcome.
I believe that my daughter's conception was an absolute miracle, and God's sheer kindness to me. We had not been planning to try to conceive, and when God suddenly changed our minds, it was during the first two months of "regular" cycles that I had had in years.
I have alluded to the fact before that there was some difficulty in conceiving my son. It took us one year, during which I only ovulated about 5 or 6 times and had quite confusing cycles. In the end, we saw a fertility specialist. I will talk more later about the things I did during that year, and why we made the decision we made to seek help.
I am an incredibly blessed woman. Despite this disorder, God has allowed me to conceive and carry two children to term, and to enjoy the rich blessings of being their mother. I no longer take for granted the idea of being able to have children, or hold any misconceptions about my right or ability to plan when or if they will come, and how many we will have.
Some days I struggle to want to try to take back that control (as if it was ever mine to have), and God gently pries it out of my hands, reminding me that I am not in control and that no matter what my family size looks like, He is still good. So very good.
I still plan to share about the natural ways to deal with PCOS, and look forward to that discussion!
Thoughts from those with PCOS? From others who live with a serious disorder or have experienced infertility? (Or anyone else for that matter!)
As well, are there any specific questions re: natural treatment or nutrition for PCOS that anyone would like me to attempt to answer? Please leave a comment with them, or email if you'd prefer, at keeperofthehome(at)canada(dot)com.Thanks!