The Couponing Saga Continues
Nope, I didn't forget about the whole topic of coupons. I was just momentarily sidetracked for two months. 🙂
I had said back in early December that I was hoping to give couponing another shot (see my first attempt) while I was down in Seattle for Christmas. Unfortunately, the sickness hit really hard during the holidays, and I couldn't muster up the energy to try to pull together another big couponing attempt.
The truth is, I wasn't all that excited to try it down in the USA again, for the simple reason that although it was fun to find deals and good practice for me in learning to find and use coupons, it's simply not practical nor ideal for me as a Canadian. My real desire is to see if I can't find some ways to make use of coupons in my regular shopping at my regular stores, to try to lower the cost on some items to free up some budget space for more wonderful, whole foods and to help with the continually rising cost of food.
My Recent Inspiration


A few weeks back, I noticed a little coupon book titled "Natural Savings" in the Natural Foods aisle of my local Superstore (Loblaws for those out East, and maybe Extra Foods for some others of you). I quickly grabbed 4 of them (if I had looked at the expiry dates, I might have grabbed a few more- they're good until September). Though not all of the coupons are useful to me, there were a few that I will find useful.
For example:
$2 off Traditional Medicinal teas (I love their Ginger for digestion, Breathe Easy for head colds, and Pregnancy Raspberry Leaf Tea)
$0.75 off San-J Tamari or Shoyu sauce (I am moving us away from Bragg's Amino Acids, due to the fact that the soy is not fermented)
$0.50 off Simple Natural (pasta sauces, salad dressings, etc. but what I will most likely use it for is organic stone ground mustard, which I love!)
$1.00 off any 2 Knudsen juices (I don't usually buy juice, but it's nice for an occasional treat, and let's just say that prune juice is sometimes helpful in pregnancy- enough said)
Another type of organic tea, kids Kiss my Face products (need to double check ingredients in these first) and a few supplement coupons that I may or may not use
What sort of got me excited and thinking about all of this again was a deal that I ran across the other day while doing my grocery shopping… Nature's Gate toothpaste, on sale 2 for $6. To my American readers, this probably sounds expensive, but my fellow Canadians may realize that $3 for a natural, fluoride free toothpaste is a pretty decent price. What really excited me was that I realized I had 4 coupons at home for $1 off any Nature's Gate product. So, last night I dropped by with my coupons in hand, and picked up 4 tubes for $8! It's not my absolute ideal, favorite toothpaste, but my husband and daughter adore it (the anise flavor) and $2 CAN sure beats paying at least $3 US per tube or more like $4 CAN!


Another resource that I've been looking at www.save.ca. Though it is based on conventional products, it sometimes has a couple of items that I would consider buying if they were a good deal. For example, the last batch I had sent to me included:
$2 off Sun-Rype fruit (or fruit and veggie) bars. Though I prefer to make my own fruit leather for my kids, these could be convenient for times like now, when I'm really lacking in energy, or for right after baby comes.
$1 off any 2 Catelli Healthy Harvest pasta. We usually eat brown rice pasta, but occasionally I will just buy whole wheat pasta for guests or when I'm doing a meal for someone.
$2 off Kraft LiveActive Cheese. Again, I usually buy raw, natural cheese from Azure coop, but sometimes I run out between orders and need to just buy something from the regular store. This cheese still isn't my ideal, but having the probiotics in it makes it a slightly better chocie than some of the other cheaper cheeses available.
$1 off Royale toilet paper, any size package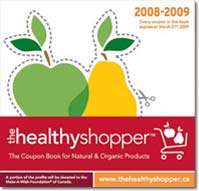 Lastly, I made a new discovery this afternoon that shows a bit of potential. I stumbled upon a website called The Healthy Shopper, which is a Canadian site promoting a coupon book for natural and organic products. Turns out they have a large coupon book available at a local vitamin store (you can find out where to get your own on the website), which I am going to go and pick up tonight. They also have a fairly extensive selection of online printable coupons on their site, which you can access by forming an account with them.
So the Americans out there don't feel left out (because realistically, you darling ladies are 90% of my readership!), here are a couple more natural coupon resources I know of:
Organic Grocery Deals
Mambo Sprouts
My thoughts on couponing within a whole foods diet is still this: The bulk of my food will not be bought with coupons. It will come direct from farmers and produce markets and grocery coops where I can buy bulk organic grains, beans, seeds and nuts, etc. Coupons might come into play with a few of my store-bought dairy items  (some cheese, cream cheese, etc.) or other natural grocery items (spices, soy sauce, mustard, pastas, etc.) and definitely for my toiletry and cleaning supplies, as well as toilet paper, the odd box of ziploc bags, etc.
I'm honestly not sure how far I will pursue this. There may be other ways to continue to look at stretching our grocery budget as things tighten up and prices raise, but I feel that to some extent, I have exhausted a lot of other possibilities (see this and this post for a detailed list of all the frugal techniques I use), so I'm game for something new. I'll definitely keep you all updated on my continued thoughts on the subject!
How about the rest of you? Is anyone using coupons to supplement their whole foods grocery budget? Any Canadians? 🙂 Please share your resources and thoughts with us all!