Couponing- Was it really worth it?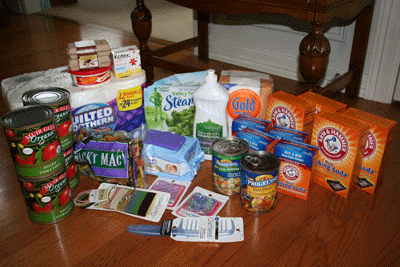 I would say the jury is still out on the benefits of couponing within a whole foods diet. Here's how my savings went on Saturday:
QFC:
Seventh Generation Dish Soap– $3.89 (with advantage card)
$1.00 off coupon here
Total- $2.89
Darigold 8 oz Sour Cream– $1.59
$0.40 off coupon (in-store dispenser)
Total- $1.19
Total before coupons- $5.97
Total after coupons- $4.43
Saved: $1.54
Sadly, that was all that I bought there. There was supposed to be Organic Valley Butter on sale for $3.99, which I also had coupons for and really wanted to buy several of. The particular store that I went to didn't have any, and didn't even seem like they carried it at all! I also contemplated buying the XXL Ziploc storage bags (I use them for storing my children's too-small clothes), which were on sale and I had a coupon for, but wondered if they were cheaper at Walmart (they weren't). Nothing else was a great deal, so I gathered coupons from the dispensers in the aisles, and moved on to Walmart.
Walmart:
Gold Medal Whole Wheat Flour (5 lbs)- $2.88 (I use this for baking for others, as we have wheat sensitivities)
$1/1 coupon here
$1.88 after coupon
Wacky Mac Pasta (for Christmas hamper)- $1.26
$0.50 off coupon here
$0.76 after coupon
Progresso Canned Soup (for Christmas hamper)
Regular $2.50 each. In-store sale 2/$3, plus $1 off 2 coupon here (actually, this coupon is slightly better than what I used)
$1.00 each
Green Giant Frozen Broccoli (we rarely buy frozen, but it might come in handy in the winter- what I really wanted was the Cascadian Farm Organic Frozen Veggies, but this Walmart didn't seem to carry them, so I settled for Green Giant instead)
On sale for $1.00 each, minus coupon for $0.50 off (slightly different coupon here)
$0.50 each
Arm and Hammer Baking Soda– 2 lb box- $1.14
$1 off 2 boxes here
$0.57 per box
Arm and Hammer Baking Soda– 1 lb box- $0.54
$1 off 2 boxes here
$0.04 per box
Muir Glen Organic Canned Tomatoes– 28 oz can- $1.83
$1/1 coupon here and here
$0.83 each
Goody Ouchless Hair Products– $2.12- $3.18 each (the ones I bought, anyways)
$2/1 coupon here
$0.12 or $1.18 each
Kotex Thin Pantiliners (small box)- $1.00 (I'm transitioning to cloth pads, but these are still good to have on hand)
$0.75 off coupon here
$0.25 a box
Pure and Natural Soap Bars– $3.37 for a 2 pack
$1 off coupon (per bar) here
$1.37 for 2 bars
Quilted Northern Toilet Paper (12 double rolls)- $6.00
$1.00 off coupon here
$5.00
Sensitive Baby Wipes (small package)- $1.97 (not on sale, I just needed them being away from home!)
Total before coupons: $47.18
Total after coupons: $28.09
Saved: $19.09
(I should also mention that I should have actually spent $2 less, but the cashier rang up some coupons wrong. The lineup was already slow, and I had been shopping for a long time, so I let it go. Oh well.)
I was fairly happy with my Walmart Shop. I think I've got enough baking soda to last a couple of years! I was pleased to get the soap bars, as I needed more soap for the kids and also to get the Goody hair stuff, since I'm running out of hair elastics and really needed a new comb, plus I got two packages of nice ponytail holders for Abbie's stocking. The Muir Glen tomatoes were a great deal, and though I still have plenty from my own canning that I did this fall, they won't last me all year and it's always worth it to stock up my pantry. The pastas, soups and flour are nice to have for giving to others, or doing baking for those who might not appreciate spelt or barley flour! It was also great to get the 7th Generation dish soap, for about 1/2 what I'd pay for it in Canada!
So was it really worth it?
I'm not sure. Preparing to do this took me a lot of time. A. lot. of. time. Wow. It's hard to say whether it's worth it to put so much time and effort into something that saves me only a very small portion of my grocery budget, compared to all the bulk grains, fresh produce, local meat, eggs and dairy, etc. that I buy.
Now, I'm sure that it gets easier and faster all the time. I'm sure that I would develop systems for finding and printing my coupons, for organizing and storing them, for choosing which stores to shop at and figuring out what the deals were, and then working my way through the store. All of those things were new and a bit too long-winded for my tastes, although it was a bit of a fun diversion for awhile.
I did definitely save money- around $20 off of just under $55 worth of stuff. Not bad for a first time!
The things that I bought were mostly things that I would buy anyways, though a few weren't. I loved the idea that others shared about using deals they find on products they wouldn't normally buy, in order to have more to give to others, and I did pick up a few things to give away. I also spent a bit of money on things that I wouldn't have bought right now except for this experiment, though I was happy to get them for a deal (Goody's products, Kotex, frozen broccoli, soooo much baking soda!).
One thing I noticed that I didn't like: When you're buying with coupons, it often makes sense to buy the smallest package available. This is simply because you are more likely to get it for free or for mere pennies, than when just taking $1 off of a larger sized product. So, you find lots of coupons and stock up on more of the smaller packages. This bothers me in the sense of wastefulness and buying so much packaging.
Also, it's just not always a good deal, even if it seems cheap. For instance, I considered buying olive oil, which I need right now. To make the oil a decent price, I was looking at the smaller bottles. But even with coupons, they added up to much more than what I pay when I buy it in large tins (3 L). In fact, even the mid-sized bottles, cheaper per ounce than the small bottles plus the coupon I had, were still more expensive than my large, regular-priced tin (when you look at cost per ounce or litre). In the end, I decided that some things are definitely going to be worth it to buy in bulk, almost no matter what.
Lastly, I really, really disliked having to spend so much paper and ink printing up the online coupons. If I lived there, I would work hard to find printed coupons in the newspaper, etc. rather than printing them up myself (though there are definitely good deals to be had on the web).
Some final thoughts
I will try this once more, now an ever-so-slightly more seasoned couponer! We'll be back down for a week at Christmas, and I will spend some time preparing before we go down, and then spend a morning shopping once I get there.
I signed up for a QFC card, and am excited to use my card number to download online coupons, not only store coupons but also from coupon inserts, like the P&G Saver. I may also give CellFire a try, if I can use it with my hubby's cell. I'm definitely into the idea of digital coupons, for ease of use and less coupon printing.
I'm so grateful to Money Saving Mom, for sooo many of the coupon alerts, links and tips I found there! For those who live in the US, it really is a fantastic site for finding deals, so thanks Crystal!
My next step… see if any of this might work on my side of the border (Canada)! I was pleased to see how I could shave a few bucks off of the items that I do actually buy at the regular store, and would like to see how that could transfer over to my local stores, though there are definitely a few kinks to work out first. More to come, for sure!