Who needs a menu plan when you're searching for cloth training pants?
Apparently not me.
Menu planning and writing up a blog post was supposed to be among my plans for the evening, since getting my kiddies into bed (my husband left for a week long business trip in New Orleans this morning, so I'm all by myself. 🙁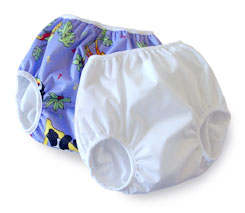 I decided to "just quickly" check Craigslist for any new postings, and suddenly I found myself researching (yet again) where I could find the best deal on cloth training pants for my son, and oops! Nearly two hours had flown by! How did that happen?
I'm feeling desperate, ladies. Here are the various methods I have been searching out to grab myself a good deal:
Craigslist (both my local one, and even Washington area ones, thinking that I could always pay to have the training pants shipped for a reasonable cost, but sadly I've found nothing)
Ebay (hoping to find used, but only found a bunch of expensive new ones)
MyUsedDiaper.com (nothing in the area of training pants that was useful)
Every online Canadian cloth diaper seller (I found some, but I just don't want to pay that much)
Walmart online- both .com and .ca (for Kushies brand, but the price wasn't better than in-store locally, and I'm not totally sold on the Kushies ones anyways)
Every American online cloth diaper company that sells in package or bulk deals (only found deals on Imse Vimse, which look amazing but are even pricier than the Bummis I've been eyeing)
Wool Soaker Covers- I thought that these might work as an alternative, until I found out how much they go for! Yikes!
Etsy- I wish I had thought to look here earlier. There are some more affordable options for wool soakers and cloth waterproof training pants that are worth considering (all WAHM, of course).
I've scoured for online coupons to different sites, looked up the advertising discounts on DiaperPin.com, etc. I am just coming up with nothing short of paying full price plus shipping. I wish I could just hold off for longer, but I really feel that Caden is moving into a stage of readiness, and I want to catch that stage before it goes away (I didn't take advantage of it the first time my daughter showed readiness and I regretted it afterwards). Plus, I am motivated by the fact that I have less than 5 months and counting until baby makes it's appearance, and I don't adore the idea of cloth diapering two children at once.
At the moment, I am leaning towards either just ordering the fewest amount that I can get away with of a decent brand (probably Bummis), from a Canadian site, and dealing with the price, or trying out a few from Etsy to see what I think before ordering more. I might also consider my current little baby stash and see if I could add in some supplies for the new baby to try to get free shipping or a discount.
Ahhh… the ramblings of a frugal mama when she should already be in bed and didn't write her meal plan. 🙂
Does anyone have any other suggestions for me? Brands that you used and liked? Places to buy used or discounted that I haven't thought of? All suggestions are appreciated!