Something I've been waiting anxiously to tell you about…
So, I've been plotting and thinking of how to announce this little bit of news for weeks, and now that my chance is here, my creativity seems to be much more lacking than it is when I am lying awake at 3am with insomnia.
I wonder if it would help to go and get some sort of a snack. You know, a little bit of munchie inspiration. Come to think of it, nothing really sounds good right now. Kinda turns my stomach.
It would be really fun to gather y'all in my living room or around my kitchen table to tell you all about it. Then again, things aren't so clean around here right now. Not sure what kind of food I would have to offer you. Seems like my house is in a bit of a state these days. Maybe I'll pass on that idea.
Or we could have a girls night… yeah, that sounds good! We'll sit around and eat ice cream, and do each others nails and watch Little Women until the wee hours of the night (er, morning). Except I'm a bit worn out. I might fall asleep on you gals. Would that bother you too much?
Well, it's a bit boring and standard, I suppose, but maybe I should just stop trying to come up with some silly creative idea and just tell you what it is that I'm so darn grateful about right now!
Baby #3 is on the way!!!!!!!!!!!!!!!!!!!!!!
Did I surprise you?
How many of you have been putting two and two together for the past month and a half, and starting to wonder if maybe, just maybe, there's something that Stephanie isn't telling us? Maybe you're like Donielle, who guessed it the other day after a comment I left on Biblical Womanhood, mentioning how I had a "legitimate reason" for being exhausted? 
Let me tell you, I may not have surprised all of you, but this sweet little blessing sure did come as a surprise to our family! Though we are always 100% open to having more children whenever God chooses to give them, based on my PCOS and where my cycle was at, I assumed it would be many months still before it was even possible.
In fact, the morning I tested, I had just nursed Caden one last, bittersweet time and was preparing to begin a detox/cleanse that afternoon. I had this weird feeling that I just needed to do the test, just in case, and was I ever glad I did (and stunned to see those two lines appear!). I can't remember the last time I've been caught so off guard, though happily so, of course. (Lucky Caden got another month of nursing out of the deal, though my milk supply was just too low and with so many demands on my body, I just couldn't get my supply back up, so I recently and sadly weaned him at 19 mths).
Since it was such a surprise to me and since Ryan had no clue, I decided to have a little fun with telling him, since the other times he's always been there when I did the test. Here's how I told him when he came home that day for lunch: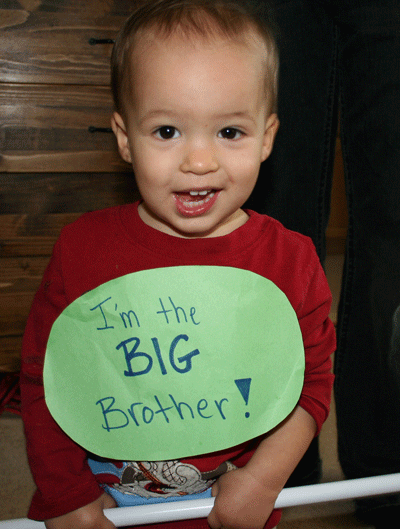 I got Caden to give Ry a little gift box, with the positive test inside, and a little note that said "Congrats Daddy! Baby makes 5! (3 down, only 9 to go)". He loved it, and was completely, positively as shocked as I was that morning!
For those who want details, here are a few:
Due Date: August 5 or whenever baby feels like arriving 🙂
How far along I am: 12 weeks tomorrow (second trimester, here I come!)
Are you sick? Tired? Yes and yes, though the sickness has been gradually starting to subside this past week, and will hopefully be totally gone in the next couple of weeks. I expect the fatigue to start improving in a month or so, as it usually does for me around 16 weeks.
Did anyone happen to think my Christmas blogging break was particularly long (those were some of my worst weeks)? Or wonder why I was having guest posters? Fortunately, I am not one who gets violently ill, only frequently nauseous and quite tired, along with major bouts of indigestion and painful heartburn. Did I mention it's almost over and I get a sweet baby at the end of it? 🙂
I'm sorry it took me so long to tell you! I've been dying to tell you all since the very beginning, but with each pregnancy, I've chosen to hug my secret knowledge to myself for just a little bit longer. Loss does happen, and it's harder when everyone knows already, though we would have had the support of close friends and family whom we had already told. I also needed to be sure that I had told everyone face-to-face who deserved to be told that way, before I gushed my news all over the web. I'm sure you understand!
Thanks for letting me share our joy with you! We're just so grateful to God for this added blessing to our family (because each and every child is an absolutely precious gift from God!), and humbled that He would allow us to raise another child for His glory. Our kids are thrilled (well, Caden's starting to understand just a little and Abbie is delighted and insists that it's a girl), and we couldn't be more grateful for God's perfect timing or His goodness to us.
So there's my little piece for Gratituesday over at Heavenly Homemakers!