Learn to Bake Healthier with Everyday Grain-Free Baking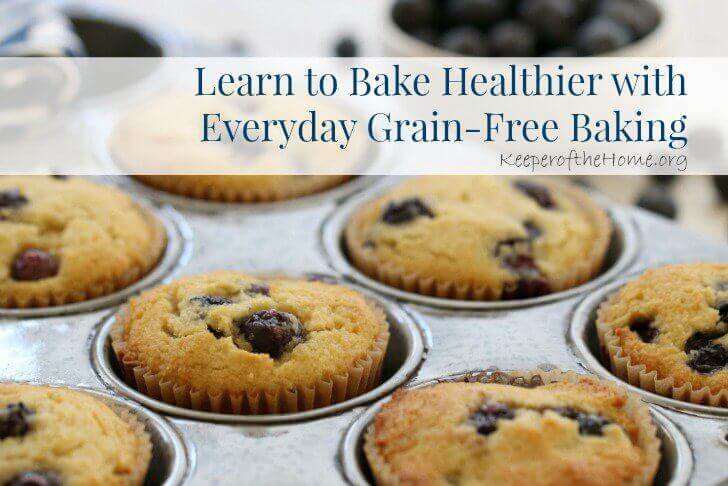 By Kelly Smith, Contributing Writer
The start of a new year often rekindles our desire to eat healthier! And for many of us that means saying goodbye to all of those empty-calorie carbs and refined sugars that always seem to creep in during the holidays.
But rather than take drastic measures and completely nix baked goods altogether, what if I told you there's a way to enjoy traditional baked good favorites without all of the unwanted carbs, refined sugars and gluten?
It's true! [Tweet "Grain-free baking isn't just for those who are living a gluten-free, grain-free lifestyle."] it's truly a wonderful and tasty way for everyone to enjoy healthy and delicious baked goods without compromising good nutrition.
That's why I'm so excited to announce my first published cookbook, Everyday Grain-Free Baking! And share a delicious, easy-to-make recipe from the book – Favorite Fruit Muffins.
This delightful recipe is just one of more than 100 irresistible gluten-free, dairy-free recipes in Everyday Grain-Free Baking. From breads, biscuits and muffins to savory snacks and decadent treats, you'll find step-by-step instructions, beautiful color photographs and helpful tips & tidbits to make all of your low carb, gluten-free baking adventures a delicious success!
My heart in creating Everyday Grain-Free Baking
 was to transform the everyday comfort foods we hold dear into delightfully flavorful and satisfying GF versions that are so remarkably similar to traditional gluten-based foods that everyone will enjoy these recipes, whether or not they're living a GF lifestyle.
In fact, I've made it my mission to develop recipes that really do taste like the real deal, because I know SO MANY of us struggle with the same challenge – trying to make tasty healthy foods that the whole family can enjoy without having to become a short-order cook!
Discovering recipes that will work for everyone – that actually taste AMAZING – is what Everyday Grain-Free Baking

 is all about!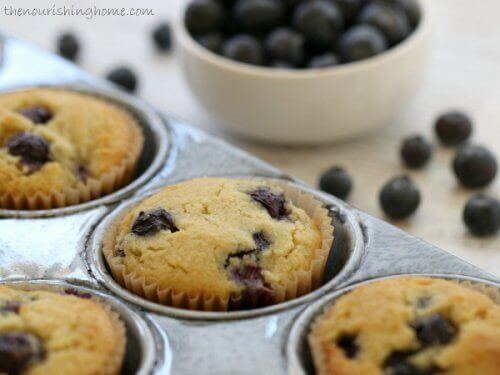 See for yourself how delicious gluten-free, grain-free baking can be … this simply scrumptious recipe is one of my family's favorites and I hope it will soon become one of yours too. Enjoy!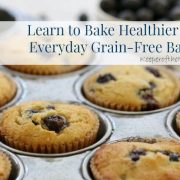 Print Recipe
Grain-Free Favorite Fruit Muffins
Ingredients
2 1/4

cups

blanched almond flour

2

tsp

coconut flour

1/2

tsp

baking soda

1/4

tsp

sea salt

2

large eggs

1/3

cup

plain whole milk

or coconut milk yogurt

2

tbsp

honey

1

tbsp

lemon juice

1

tsp

pure vanilla extract

3/4

cup

fresh blueberries
Instructions
Preheat oven to 315°F. Place 8 paper liners in a 12-cup muffin tin; set aside.

In a small bowl, combine the blanched almond flour, coconut flour, baking soda and salt.

In a large bowl, whisk together the eggs, yogurt, honey, lemon juice and vanilla until well blended.

Using a spoon, slowly stir in the almond flour mixture into the wet ingredients and mix until well incorporated. Then fold in the blueberries and evenly distribute the batter among the 8 muffin cups.

Bake for approximately 22–25 minutes, until edges begin to turn a golden brown and a toothpick placed in the center comes out clean. Allow to cool in the tin for 5 minutes, then transfer to a wire rack to finish cooling. Enjoy!

What are your favorite baked good classics that you'd like to transform into healthy and delicious GF versions?
Disclosure: This post contains affiliate links. When you buy through our links, we earn a small commission, which helps to keep this site going so that we can continue to offer free and useful content, so thanks!