4 Tips for Eating Real Food While Traveling Abroad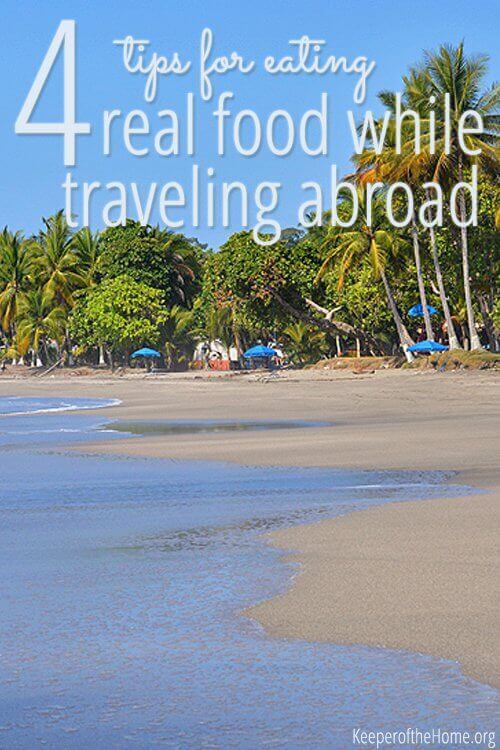 By Tiffany Crumbs, Contributing Writer
For six years, my husband and I scrimped, saved and pinched every penny we could for one big purpose: a family trip to Costa Rica. We worked hard for YEARS to get out of debt, so being able to take this big of a trip – without going back into debt to do so – was important to us.
My type-A, list-making foodie self worked in our favor when we were in extreme savings mode. When we saw the potential of savings if we kept a meager grocery budget, I started making monthly meal plans. When combined with all the little ways you can save money in the kitchen, our far-fetched savings goal for Costa Rica soon became a reality!
Naturally, when it came to preparing for our first trip abroad as a family, I wrote lots of lists to ensure I had the bases covered. Packing lists, shopping lists and even a list of healthy airport snacks.
I felt completely prepared… until I realized that once we touched ground in Costa Rica, everything food-related eating would be on the fly.
There was no plan because I didn't know what types of food we'd eat. There would be little making from scratch because I didn't know what tools I'd have, or if we could find the ingredients. I still had to figure out which store was the grocery store and how to get there in the first place!
I was completely out of my comfort zone on every front I could imagine. I couldn't speak (or read) the language, understand the currency and I didn't have access to any recipes. Of course it all worked out in the end, but I learned some pretty valuable tips that we'll be using the next time we're traveling abroad, no matter where that might be!

4 Tips for Real Food While Traveling Abroad
#1 – Keep it simple.
My natural inclination at home is to cook the best meal I can using cheaper cuts of beef, whole chickens that I cut up myself, lots of homemade spices and an array of fresh produce. This just wasn't feasible in Costa Rica.
Meat in general is very expensive. Buying large quantities of several spices to make my own mixes would end up being a waste for our short two-week stay. Fresh produce was abundant, but the selection is limited to what's available in the area that day rather than the luxury of choosing whatever fruits and vegetables we wanted. It was the epitome of eating local!
We learned that for the trip, our meals needed to be very, very simple. Protein + starch + produce. It didn't matter what type of meat we cooked and whether or not it went well with leftover rice or homemade tortillas. Mangoes, pineapples, carrots and green beans all held equal status at the table. We reminded ourselves that food is meant to nourish our bodies.
Whether it was chicken at breakfast or oatmeal for dinner, so long as it was real food, what it looks like on a plate didn't matter.
#2 – Eat what the locals eat.
Locals know what's in season, what tastes good and what's affordable. Take a cue from them when shopping for food and ordering meals.
Remember that the imported/exported situation might be different. Bananas, mangoes, avocados, tomatoes and pineapple are local and abundant in Costa Rica, so they're very affordable and very good! But apples are not local and the price showed. Four very small apples at a market were priced at over $5, and they were imported from the States!
Locals sold ceviche on the beach, but we rarely (if ever) saw people eat beef because of the poor quality and high cost.

#3 – Don't expect (and in some cases, even try) to find what you're used to.
What's normal for the U.S. isn't normal in Costa Rica. Going in with the expectation that you'll find what you're used to finding is merely setting yourself up for disappointment. Plus, there's a good chance it'll be very expensive.
We kept our expectations pretty low at the grocery store, but what we found on store shelves was still very different from the options we were used to. There was only one brand of olive oil (that wasn't extra virgin), two options for oats (plain rolled or flavored instant) and one brand of butter. There was however, a section of ready-to-make sugary drinks and an entire aisle dedicated to rice and beans!
#4 – Plan ahead when, or if, you can.
If you're traveling abroad, there's a good chance you'll end up doing typical tourist stuff. Planning ahead for these trips – and for coming home – can really help save your sanity in the long run. Think of items you can pack that don't require a cooler, like nuts, dried fruit and rice bowls with chicken and vegetables, and take them with you.
Or consider prepping dinner before you leave the house. Having a pan full of chopped onions and potatoes ready to be thrown in the oven as soon as you get back from the pool or excursion will be a huge time saver. Even more so when everyone's hungry when they first walk through the door!

So what did a normal day's menu look like in Costa Rica?
Before we went shopping, we made a rough sketch of how many meals we wanted to plan for in accordance with what we'd be doing. Here's what our shopping list looked like:
whole chicken, butter, flour, rice, salt, pepper, balsamic vinegar, olive oil, coffee, oats, eggs
We supplemented this list with what we found at the fruit stands and ended up bringing home:
onions, potatoes, carrots, green beans, bananas, mangoes, LOTS of pineapple, cilantro, tomatoes, jalapenos, lettuce
We took these items and did our best to make the following from memory:
Oatmeal or scrambled eggs, served with fruit
Grilled chicken
Grilled or roasted potato/onion/carrots
Simple Spanish rice (but added sliced carrots)
Homemade tortillas or rice
Pico de gallo or mango salsa for garnish
Lettuce salads with vinegar and oil dressing
Aside from these tips, the biggest lesson I learned was that eating real food while traveling abroad is only as difficult as we make it out to be. Real food truly is simple, so keeping it that way made for a fun, stress-free trip without any sacrifices in deliciousness!
Have you ever traveled out of the country? Did you have difficulty finding or eating real food when traveling abroad? I'd love to hear what the average meal was for you!