3 Methods to Make Herbal Iced Tea (And a Few Recipes I Love)
Before Mark and I discovered Bulletproof Coffee a while back, I didn't drink coffee. I was exclusively a tea girl.
Tea has always been the hot beverage of choice in my home. There is a red teapot that lives on top of our stove always ready to blow its whistle. My youngest daughter affectionately calls it the whistle pig!
All the kids know that if they come to me with an ailment, I start them with water and then we move along to tea.
With so many flavors and health benefits, tea has a prominent place in our home. And when you combine the wonders of herbs…well, I'd call it a perfect drink!
With the summer heat coming up soon, here are three ways you can enjoy your herbal iced tea cold, along with a few recipes to inspire you along the way. 🙂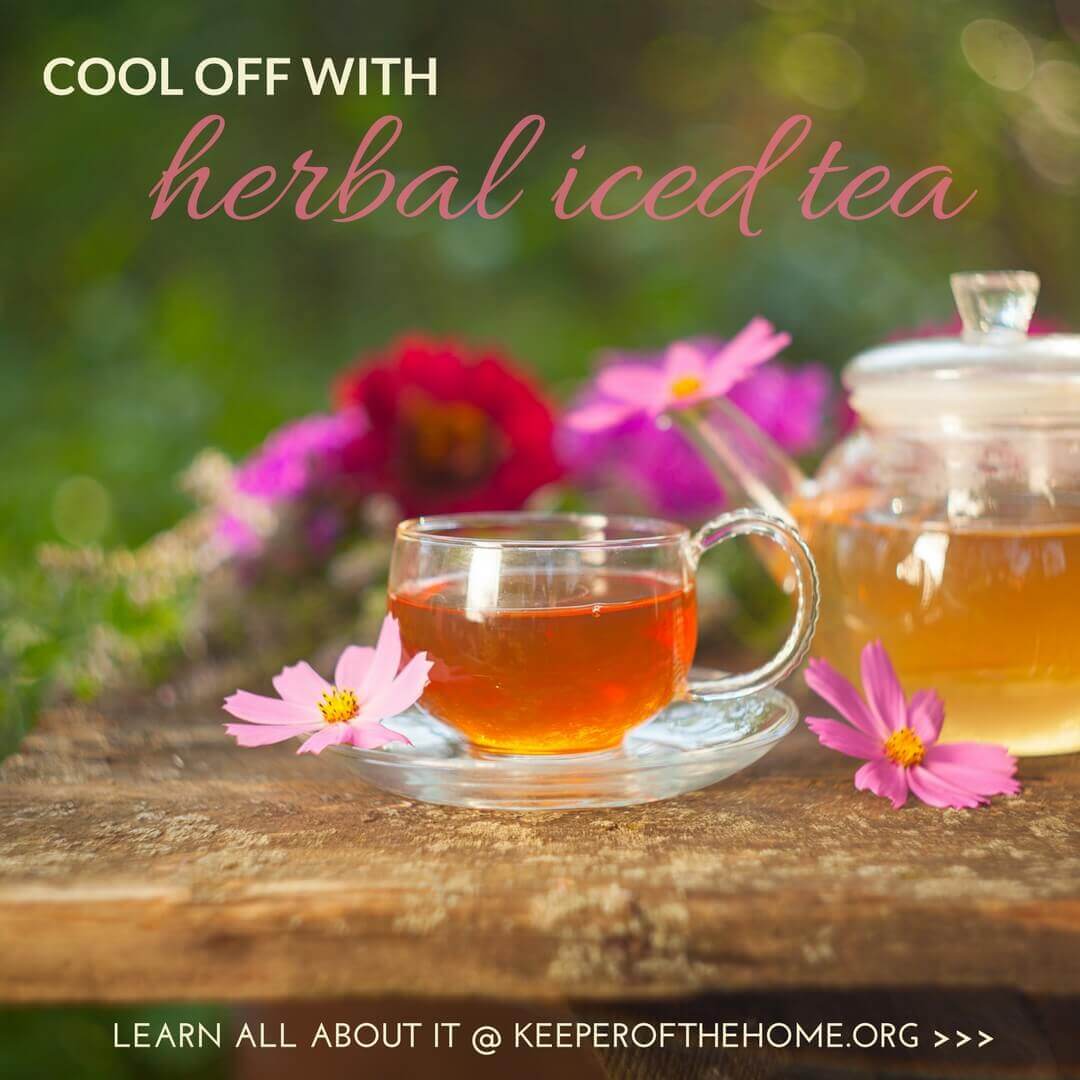 How to Make Herbal Iced Tea
Method #1: Making Herbal Iced Tea by the Glass (for Loose or Bagged Teas)
This method works for both loose teas and bagged teas. If you just want a quick cup of iced tea, or only one serving to try out a flavor, this is the method to use.
Here's how to do it:
Boil a small amount of water.
Add either your tea bag or loose tea of choice (in a tea ball or some other sort of single-serving loose tea steeping device) to a mug and fill it up with hot water.
Allow the tea to steep so that the brew is on the strong side, and then remove tea bag or herbs.
If you want to sweeten your tea, now is the time to do it, while you are still working with a hot liquid; if you wait until you have cooled it, the sweetener won't mix in properly.
Note: if you are using something like green tea, you will need to add extra tea to make it stronger, rather than allowing it more time to steep, which will only make it taste bitter.
Fill a large glass 3/4 full (or even totally full) of ice. I like mine around 3/4 full, because it's still enough to get the tea to a cool temperature, without watering it down too much.
Pour the hot, sweetened tea on top of the ice and give it a quick stir. Within a minute or two, much of the ice will have melted, leaving you with a glass of iced tea.
If you're looking for an easy contraption to use to steep loose tea, a Tuffy Tea Steeper is fantabulous. Our founder, Stephanie, swears by hers. She's mentioned that she loves how it folds down small to fit in a drawer, but opens up wide to hold a lot of tea.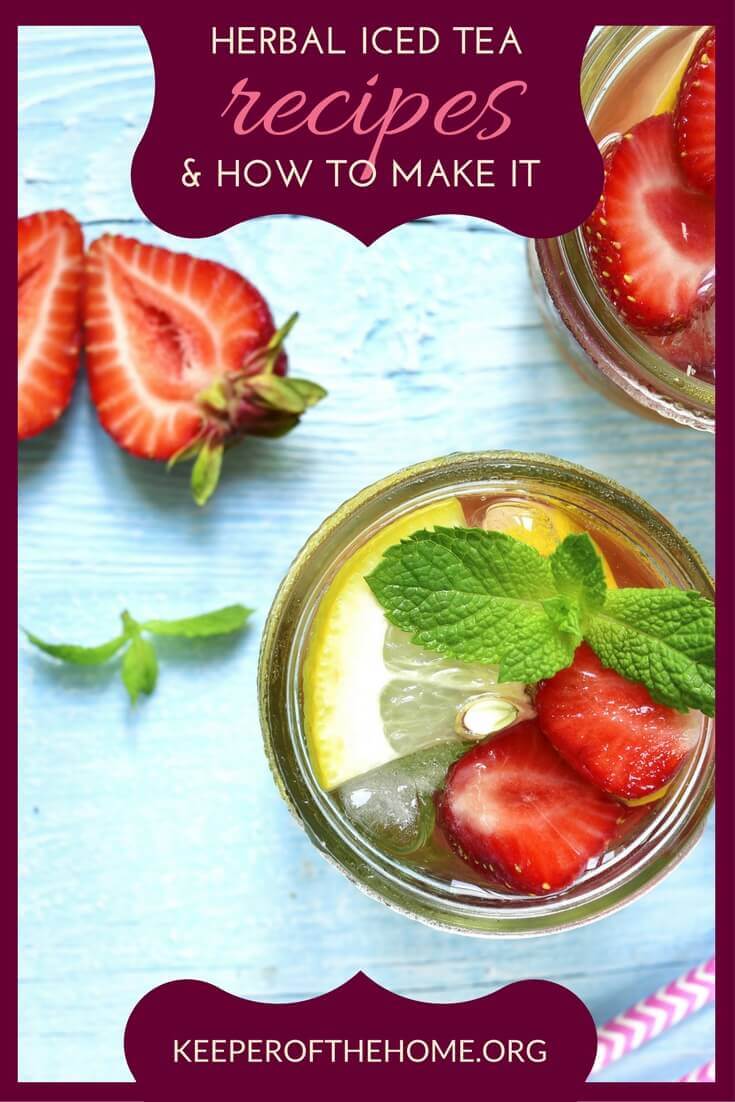 Method #2: Making Herbal Iced Tea using a French Press (for Loose Teas)
A French press can be the perfect way to make iced tea, because it allows you to easily make a very strong brew, strain out all of the tea in a snap, pour yourself a glass over ice, and then stick the remaining tea to cool in the fridge for instant iced tea later on.
I usually make the brew extra strong (using double the amount of loose tea that I would usually use) since I will be pouring it over ice that will dilute it.
Add your loose tea, pour the hot water, and allow for an appropriate steeping time.
I will usually let it go 5-20 minutes for most teas (and sometimes because I forget about it), but again, keep it at 4-5 maximum for green teas in particular. Also, some herbs will have a bitter taste if steeped too long, like the nettle I include in my pregnancy nutrient tea.
The best way to sweeten is with liquid stevia after you've cooled the tea, because it goes into cool beverages just fine.
If you prefer to use something other than liquid stevia, you may want to pour some of the hot tea into another mug to sweeten first, before adding to a glass of ice.
You can also add the sweetener at the same time as the loose tea, before pouring in the hot water. This doesn't work very well with granulated sugar because you can't stir it properly, but it does work pretty well with honey.
If you want to learn more about herbs (and essential oils, too!), be sure to check out the Herbs and Essential Oils Super Bundle, which includes 16 eBooks and printables and 10 eCourses, valued at almost $800. For a few days only, it's available to all of us for under $30! Check it out! >>>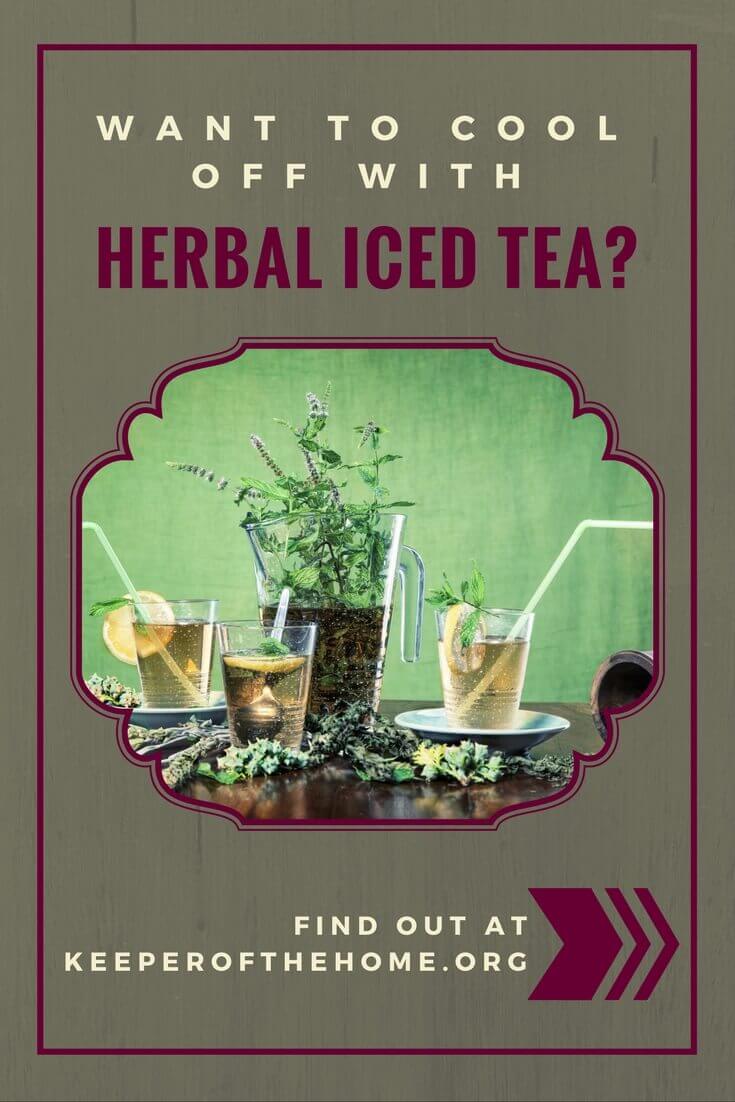 Method #3: Making Herbal Iced Tea using a Pitcher or Glass Jar (for Bagged Teas)
Using bagged teas is a super easy way to make a pitcher to keep in the fridge.
Use 3 tea bags, fill your pitcher with hot water, and allow a good, long steeping time (10-20 minutes).
I often just stick it into a large pitcher with extra water in the fridge and lazily don't even bother to take out the tea bags. With most teas, you can get away with doing this.
Once the tea is well steeped, sweeten if in the pitcher or jar, then pour over a glass of ice for instant iced tea. You can also add the tea to the larger pitcher, diluting it in half with filtered water, and stick it in the fridge overnight or for later in the day.
Herbal Iced Tea Recipes to Try
I love Kami's Well Belly Fennel Tea. It settles my stomach and tastes amazing, whether hot or cold.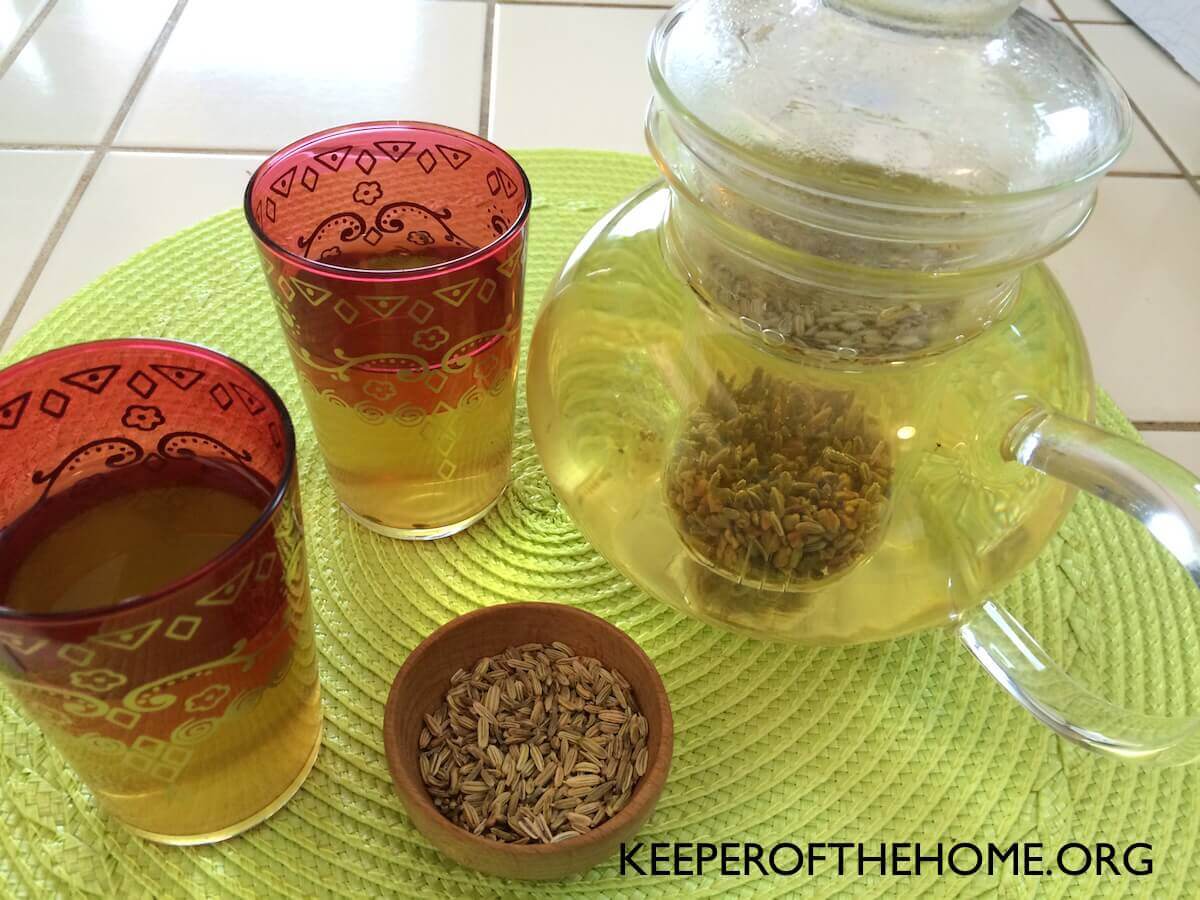 Ingredients:
Instructions:
Bruise fennel seed with a mortar and pestle
Put fennel and water in a pot with the lid on
Bring to a boil
Turn off the heat
Let sit for ½ hour with the lid on
Strain fennel from tea
Reheat and enjoy
Use: 1 to 3 cups a day for an upset stomach
Shelf Life: Tea is good for 2 days kept in the refrigerator
Don't miss all that Kami has to say about the Well Belly Fennel Tea in her post.
Lemon Pineapple Refresher Herbal Iced Tea
This herbal iced tea is incredibly mild and very tasty, which makes it great for children! You can easily eliminate the black tea, if you prefer to cut out the caffeine.
3 parts lemon balm: Lemon balm is easy to grow yourself, and it's full of nutritional benefits.
1 part pineapple sage: Pineapple sage brings a tropical touch to this tea mix.
2 tablespoons black tea: Black tea adds a little more flavor and zing.
1 whole lemon, sliced (optional): If you have a lemon on hand, adding it will make this an alkalizing power drink!
Cooling Peppermint Herbal Iced Tea
Peppermint tea soothes the digestive tract and cools the body naturally. Peppermint tea is a great alternative to coffee, and can be enjoyed hot or cold.
This cooling peppermint tea is a also hit with kids.
Fill 1/3 of a half gallon jar with fresh peppermint leaves. If using dried peppermint, you'll cut the amount in half.
Substitute chocolate mint for peppermint for a sweet treat!
Lemon-Lime Ginger Herbal Iced Tea
Brace yourself for a dose of refreshing! Add:
3 parts lemon balm: Lemon balm can be paired with so many other herbs.
Thumb length slice of ginger root: Ginger root gives this tea a spicy zing with the added benefit of aiding digestion and lowering inflammation in the body.
4 tea bags of green tea: Green tea is a powerful antioxidant and a great addition to any herbal tea.
1 whole lime, sliced (optional, but highly recommended): The lime really gives this tea a nice, refreshing kick, and limes are a rich source of vitamin C.
1 part cilantro: The surprise ingredient in this herbal tea is cilantro. Cilantro has the ability to help transport toxins out of the body, and you may find yourself loving the extra flavor it adds.
What are your favorite herbal iced tea recipes and methods?
Disclosure: This post includes affiliate links. Thank you for supporting our work and mission!