Last harvest of the season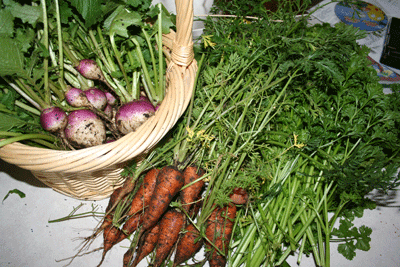 Goodbye, my beloved garden.
We've had some good times, you and I. You were so patient with me while I fumbled around, making mistakes, ruining perfectly good seeds, weathering the poor weather, letting you get mildew. You never took it out on me, but just kept letting me learn at my own speed, surprising me with all of the things that grew so well. I learned so much from you!
You gave me such an enjoyable reason to go outside all summer, get my hands dirty and work up a sweat. You fed my children snacks so freely- they thank you for all the fresh peas, strawberries, lettuce and green onions they nibbled on (come to think of it, so do the bugs and the birds!). You nourished us and put a bounty of food on our table- salads, tomatoes, zucchini, radishes, carrots, turnips, onions, cucumbers, herbs, squash, pumpkins.
Sadly, I've had to till your soil, pull the last veggies and weeds, and cover you over with leaves. It was so fun while it lasted, but it's time for you to take a well-deserved rest, as will I this winter.
Spring will be here before we know it, though, and believe you me, I've got big plans for next year!
Until then,
your faithful gardener,
Stephanie