8 Tips for Spending Less and Giving More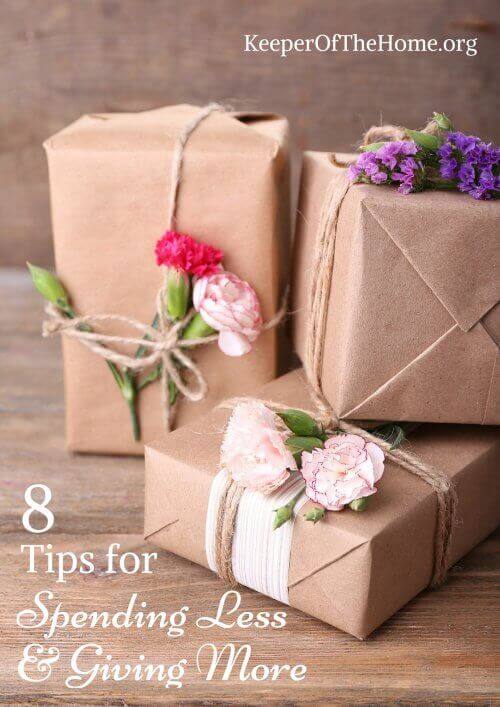 By Nina Nelson, Contributing Writer
A few years ago, our pastor showed a video at church that completely changed my approach to Christmas giving.
The video was by a wonderful group known as Advent Conspiracy. They create thought-provoking videos to inspire change and a shift in mindset when it comes to Christmas.
They have four main tenets:
Worship Fully
Spend Less
Give More
Love All
Before learning about Advent Conspiracy, I had taken a "more is better" approach to giving.
I would make long lists of presents I needed to buy for loved ones and stress about the money spent. The aim was to get a gift for everyone, no matter what it was. Surely Christmas day would be worth it, though, and the stress would melt away as soon as the presents were open.
Not so much. There was still stress. Plus heaps of wrapping paper and disappointment. I'd tell myself that next year would be better, but often, it wasn't and I'd be left with an ache for something more.
Thank goodness for that video.
I'll admit that I was most excited about the spending less idea at first. For a long time, Christmas meant debt and I couldn't handle the anxiety that caused. Thankfully, I discovered that gift-giving can be done simply without spending a bunch of money. [Tweet "It's possible to give even more meaningful gifts without spending much."]
If you want to spend less while giving more at Christmas, read on for some of my best simple giving tips.
1. Think about the recipient.
This should be a given, right? But how many gifts have you received over the years that were truly meaningful? Often, we're in such a mad dash to cross names off of our lists, that we'll just buy anything, even if it's not something they want or need.
Instead, put some thought (and even some prayer) into the gifts you give. What would be most meaningful/helpful to the recipient? It doesn't hurt to ask. (If I can't think of anything and/or they don't know, I default to practical gifts that they can use up.)
One Christmas, after we'd shared this idea with our extended family, my mother-in-law got us a very simple, yet meaningful gift. It was a large wash basin
, a bath mat
, two towels 
and some lotion (see, it's been years and I remember everything in it). It was meant for my husband and I to wash each other's feet (a ritual that's very important to us) and I'm still touched by the thoughtfulness of this simple gift.
2. Give your presence.
Perhaps what your loved ones want most of all is time with you.
The year after we saw the Advent Conspiracy video, my pastor invited me to challenge our congregation to give more intentionally and to share the stories with us.
One of my favorite stories came from a woman in our church who decided to give her mom a simple wooden box filled with 12 index cards, one for each month of the year. And each card had an activity for them to do together (including their husbands). Most of the activities were free, but they each carried the potential to deepen their relationship and provide lasting memories.
She and her mom thought it was the best gift ever.
3. Share your expertise.
Is there something you know how to do that people tell you they wish they knew? Maybe you've mastered the art of the chocolate chip cookie. Or perhaps you make jam better than most. Perhaps you have a beautiful garden each year. Can you teach someone your skill?
Say, for instance, you make soap, which your sister loves and she's expressed interest in learning how to make it herself. Could you give her a handmade "coupon" for a free lesson? And then let her keep the soap?
Sometimes the best gifts just require a little thought and creativity.
4. Shorten your list.
You don't have to give gifts to everyone you know. No, seriously. Even family.
As our extended (and immediate) family has grown, we've had to figure out ways to give creatively so we don't take on debt buying presents. Our solution has been drawing kids' names. Each child draws the name of one cousin (on each side of the family) and makes or buys that person a gift. We've also set a spending limit that all parents agreed on.
Now, our kids give gifts to their cousins and we give a small gift to our brothers and sisters.
5. DIY gifts.
Those gifts for the brothers and sisters? Mostly homemade. I like to pick a few days sometime before Christmas and make gifts (here's a list of the favorites) all at once.
DIY gifts don't need to be limited to personal care products, either. There are all sorts of things you can make and give.
6. Don't forget edibles.
Don't underestimate the awesomeness of a jar of homemade caramel sauce with a basket of apples. Or a plate of cookies.
My sister-in-law is an excellent baker and my brother has culinary training. So, come the week before Christmas, they get in the kitchen and whip up some seriously tasty treats. Their cost is minimal, but we appreciate them and look forward to their gift baskets all year long.
7. Maximize your time with batches.
If you're making gifts, whether they're edible or not, make them in batches whenever possible. (Oh, how I wish I could crochet in batches.) Doing so makes it way easier to get all your gifts done quickly so you have more time for other important things.
And finally …
8. Make a plan.
The best way to do this? With a plan. Figure out in advance who you're giving gifts to and what would be meaningful to them. Then, decide what you'll make (if anything) and schedule days on your calendar to make it happen. Don't forget to schedule in shopping time (for DIY and other gifts) and wrapping.
And just know that you don't have to get it perfect this year. Or the next. Or the year after that. Just set the goal to be a more intentional giver who blesses their loved ones. You'll get it.
How have you learned to spend less while giving more at Christmas?
Disclosure: This post contains affiliate links. When you buy through our links, we earn a small commission, which helps to keep this site going so that we can continue to offer free and useful content, so thanks!