Desires of My Heart Devotional Book and Scripture Necklace Giveaway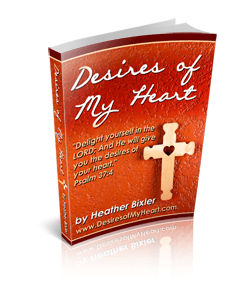 One thing that really stands out to me about women (and maybe just people in general, but I notice it strongly in myself and my own gender) is that we crave control.
We want things to go our way. In our time. According to our desires.
"Delight yourself in the Lord, and He shall give you the desires of your heart." Psalm 37:4
When I was younger, I used to naively think that this meant we could get the things that we wanted if we just did our best to serve and love God. The right husband, the perfect children and family, stable finances, a lovely home, a peaceful life.
The older I get and the more life experiences I walk through, I realize that the point of this verse is far more about delighting in the Lord and having our wills conformed to His, rather than having our every whim fulfilled. In fact, I can pretty much guarantee you that life will not go the way that you or I desire. There will be pain, loss, frustration, disappointment, confusion, difficulty, trials, heartache- the results of living in a sin-saturated, broken world as broken people.
What does it mean to truly delight in the Lord and submit our wills and desires to Him fully?
This is a question that Heather Bixler struggled with herself, and as she walked her own journey of learning to pry her fingers open from the things that she desired, and allow the Lord to show her what it meant to delight herself in Him alone, she realized that she needed to share it with others.
The fruit of her journey has been the 47-page ebook devotional, Desires of My Heart, based on Psalm 37:4. It's not as much a Bible study as it is an exploration of these issues (control, pride, humility, fear, faith, brokenness, intimacy with God), how they affect of us, testimonies of faith from other women, and encouragement to examine your own heart and learn to say "yes" to what the Lord has for you, as you drink deep of the peace and joy that comes from delighting solely in Him.
Get Your Own Copy for $0.99!
To keep it affordable and accessible to anyone, Heather has generously kept the price at a mere $0.99 (regular $2.99)! At that price, anyone can pick up a copy of this to use for their morning or evening devotions, or simply something that you read slowly as you allow God to work in your heart.
It is available in PDF ebook, Kindle and Nook formats. You can purchase it here.
*And just a note that if you happen to win the book, you'll receive a refund for your purchase of the book, so don't let that stop you from getting it if you're interested!*
Enter to Win a Copy Plus a Hand-Stamped Necklace!
She is also giving away two copies of  the Desires of My Heart ebook for my readers, and each copy will include a beautiful hand-stamped necklace with a cross and the words Psalm 37:4 (value $30).
Here's how to get entered (remember to leave a separate comment for each entry):
1. Tell me why you'd like to win this ebook, or if you're willing to get a bit more personal, an area where you struggle with really trusting in the Lord and giving up control.
2. Follow Desires of My Heart on Facebook or Twitter.
3. Subscribe to Keeper of the Home by RSS feed or by email (and be entered to win our monthly email subscriber-only giveaways!).
4. Share about this giveaway through your blog or favorite social media (find us on Facebook and Twitter here).
Giveaway has now ended.
Disclaimer: I received a copy of this book to review. This post was generously sponsored by Heather Bixler and the book Desires of my Heart.