Giveaway: Learn How to Crochet DVD
For those who are a bit domestically challenged in the areas of handicrafts (sewing, crocheting, knitting, etc.- you know, like me!), have you ever wished that you could just have another woman sit down and patiently show you how to do something, step by step?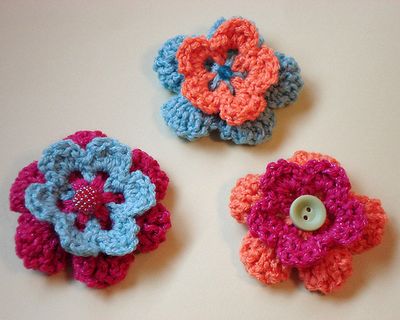 Image by Fern R
Personally, I've always wanted to learn to crochet and have tried to teach myself. In the process I've created some, er, interesting projects on my own. Who knew blankets were supposed to turn out even on the sides? 🙂 It's the type of skill that is just so much easier to learn when you can really watch someone else, have them explain what they're doing, showing you what different stitches look like and how they're done.
For a newbie like me, the Basic Crochet DVD did just that! There's nothing flashy or showy about it, which is part of it's charm. It's simply one woman patiently teaching another woman how to learn this beautiful, useful skill. And one of the best parts? If you missed something the first time, just pop the DVD back in and watch it again!
I mentioned a while back that I was wanting to teach my daughter how to crochet, and I realized in the process that I really needed to be taught properly first, before I could teach someone else. Abbie and I watched Basic Crochet together, and although we haven't done any projects together yet (I feel that she's still a little young for the finger coordination), she was excited and inspired by watching and I felt so encouraged that I could really pick up the skills to begin making some of the things I'd love to make, and one day teach my daughter to do the same. 
There are so many reasons that I'm eager to learn this skill, but I am especially eager to be able to create special gifts for others, to make items for my children like winter hats or wool soakers, and even to learn how to repurpose old items (like unwanted sweaters) into new and useful items- another way to be both frugal and green!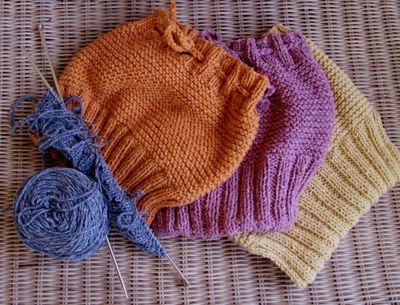 Image by Squirrel Cottage (I know it's knitting, but you can crochet them, too! 🙂
The 70 minute Basic Crochet DVD includes instruction in:
Choosing yarns and hooks
All of the common stitches found in patterns
How to read a pattern (as she shows you how to do each stitch, the pattern for what is being done is up on the screen so you can easily begin to read patterns and visually understand what they mean)
Making several projects: a dishcloth, granny square and scarf
How to switch yarn colors
Would you like to win a copy of this DVD and finally learn how to crochet for yourself? 
1) Leave a comment, letting me know why you'd like to learn to crochet or what types of projects you're interested in trying!
2) If you'd like to be entered a second time, post about the giveaway on your blog and leave a second comment with the post url.
3) Contest ends next Wednesday, June 17 at 4pm PST.
As well, Kathy (the lovely woman who wants to teach you to crochet!) has offered a discount for my readers from now until June 21. DVD's are regularly $21.97 but are being offered to Keeper of the Home readers for only $18.97!
Edit: I apologize for the initial typo saying the offer was until July 21. It is not July, but rather JUNE 21!!! So sorry!

When you visit the site, Teaching Good Things, make sure that you sign up for their 7 part mini-course, Encouraging Eager Hands, on teaching children good character through working with their hands!
**This giveaway is now over and the comments have been closed. I'll announce the winner soon!**