Do you ever find yourself bored as a mom? Here's some help and encouragement…things you can actually put into place to support yourself!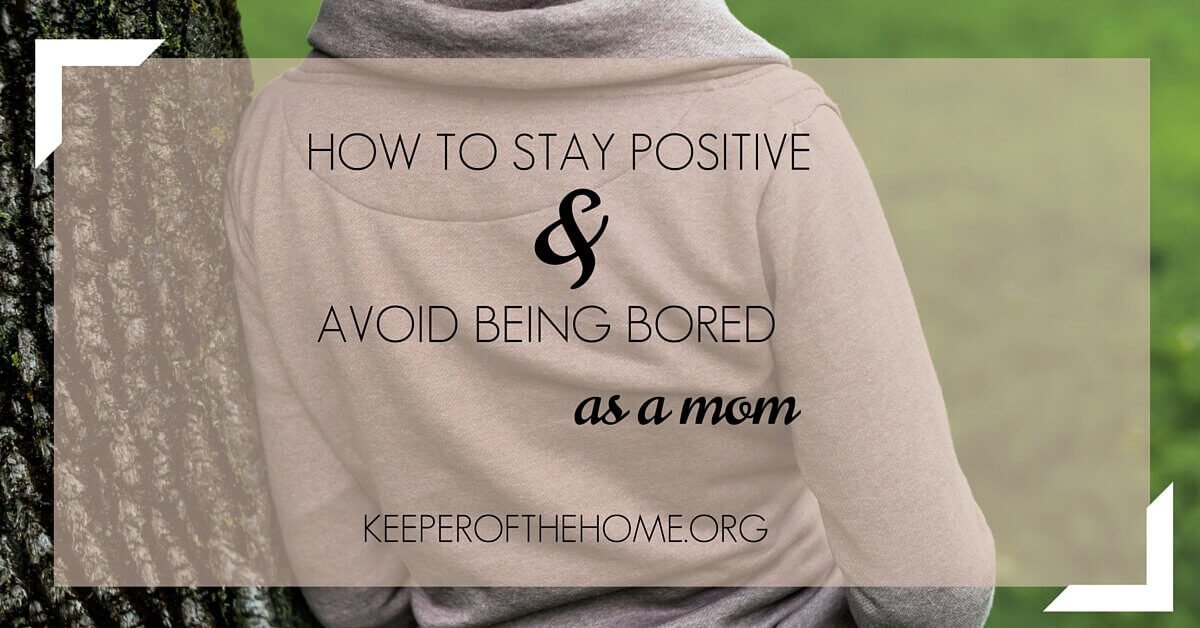 Motherhood is not easy. I know I'm not alone when I admit that there have been (and are) days that challenge me beyond what I ever expected.
There are times I hide in the bathroom. And there are times I long for a free night with my husband or a quiet evening alone at home.
Cheering on the kids at sporting events, along with all of the laughing and giggling and hugs and kisses and bedtime, remind me of the enormous blessing that I have in motherhood.
But…sometimes it's…just…hard. Physically. Mentally. And emotionally.
And when it comes to those menial tasks, it becomes monotonous and mundane. Boring.
You may be longing for a full night's sleep or a long hot bath instead of being the taxi driver, washing and folding the laundry that never seems to be caught up, or it may just be that you're tired of the same old, same old thing.
Here are 4 tips to help.
1. Clean less (and be less perfect).
Seriously. I know this may seem odd, counter-intuitive, and un-productive, but it is possible. Our level of messiness is totally optional, though sometimes we may not want to admit it.
I frequently catch myself saying say I "have to" do what's on my list, but all those to-dos represent choices I have made.
No, perfectionism is NOT a virtue. Often, we strive to be 'perfect' or do things 'perfectly', but that perfection doesn't serve the people we love. Tear down the idol of the 'perfect' home and discover more time for the things—and the people—you love.
2. Focus on what you do best (and minimize the rest).
Whether you are a stay-at-home mom, a work-from-home mom, or a work-outside-the-home mom, focus your time on what you do best. Then minimize the rest. Take charge of your schedule as much as you can.
Figure out what feels draining and what energizes or excites you.
Identify those things that draw the energy out of you and exhaust you, those things that frustrate you or simply annoy you and are challenging to get done.
Identify the things that excite and motivate you, those give you energy and are rewarding.
It isn't selfish to focus on the things that keep you fueled, excited, motivated. Figure out a schedule that allows you to do one tiring task a day so that it's not all at once or get together with your spouse and divide duties with him in a way that allows both of you to be motivated and energized.
Investing in yourself will help you feel better and be more patient and loving to your family.
3. Dream (and inspire).
Motherhood is sacrificial: we give up ourselves, our dreams, and our goals. This can be good for a time, but not long-term.
When we model dreaming and planning and goal-setting, we become an inspiration for our children.  Start putting these dreams , no matter how silly, into action. Brainstorm and be specific. Write them down and share them. Then start doing them.
4. Guard your thoughts (and find joy).
What goes in, comes out. If you're not careful and you allow negative thinking to enter your mind,  you will find yourself feeling resentment and frustration and it will spill over into your family through harsh words and criticism.
Guard your thoughts and conversation and find joy in motherhood with like minded moms, uplifting music or encouraging books.
Oh, you'll still have bad days, but make them fewer and farther between. Let your challenges serve as lessons, making you a woman of strength, kindness, loyalty, and patience. Practice mothering with a purpose.
Bonus tip: have confidence in yourself.
Whether you've been a mom for two months or two decades, you know the feeling of things piling up and spiraling out of control. You know the look you give yourself in the mirror, wishing you could wish, feeling like a failure, knowing something's not right.
When you're tempted to think you're a failure, I want you to remember: YOU ARE NOT.
How do you battle the boredom and mundane aspects of motherhood? What do you do to stay positive?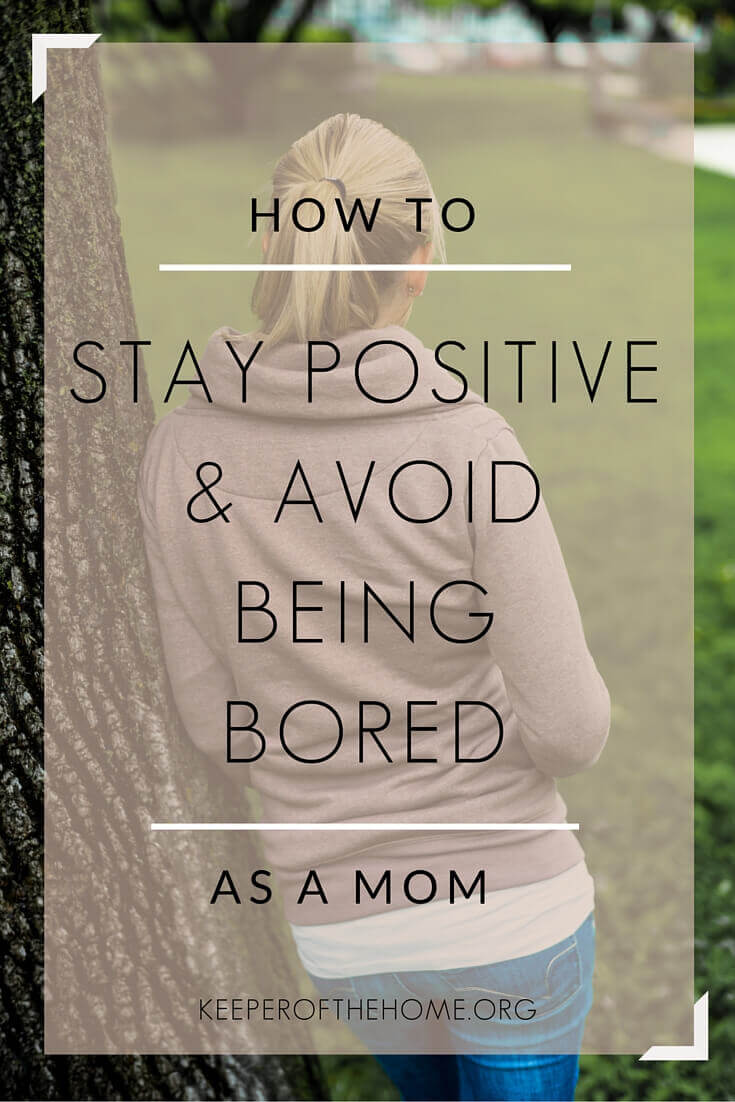 Disclosure: This post contains affiliate links. When you buy through our links, we earn a small commission, which helps to keep this site going so that we can continue to offer free and useful content, so thanks!