How to Begin and Maintain a Consistent Exercise Routine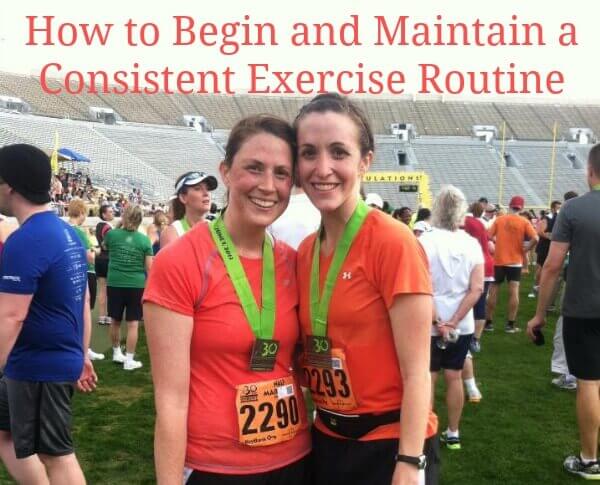 By Emily McClements, Contributing Writer
At the beginning of this year, I signed up to run a half marathon on June 1 with my sister.
I was six months post-partum after my third baby, still at least 20+ lbs above my pre-pregnancy goal weight, and besides a brief stint with the Insanity DVD program, I hadn't done much in the way of consistent exercise, especially running, since the birth of my daughter.
But, I committed to the race, and to the training it would take to build up to running 13.1 miles. Also, did I mention that it was January? Not a great time of year to start a running program here in the Midwest!
Over the past six months, I worked hard to run on a consistent basis, beginning with only being able to run about a mile and half with breaks for walking, to running and finishing a half marathon the first weekend of June!
I was so proud of my accomplishment, and I'm so glad that I decided to take on the challenge!
I learned a lot of lessons along the way about hard work, consistency, and working toward a goal, and I wanted to share a few of those with you today!
5 Ways to Start and Maintain a Consistent Exercise Routine
Make it a priority.
If you don't make your exercise time a priority, the reality is that it won't happen. Am I right?!
Set a goal for your exercise or training time and then do everything you can to make that time a priority! In the midst of completely full and busy days of raising kids, managing a home, working from home, and more, there is no "extra" time for exercise. So if I waited until I "had time" then running would have never happened.
Instead, my runs often took priority over work time and other household chores. Sometimes my husband would come home for lunch and tell me to go running, and I would pretty much drop whatever I was doing and go. My training had to be a priority; otherwise, I would have never been ready for the race.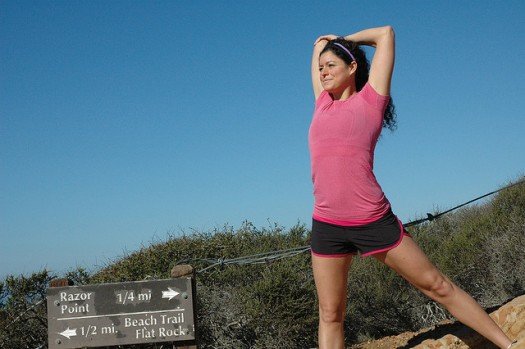 Get your husband involved.
One of the ways that you can help to make exercise a priority is by getting your husband on board with your exercise goals. If he sees and knows how committed you are, he will likely be willing to help you to find the time that you need to exercise or train.
During my training for the half-marathon, my long runs on the weekend began to take up a pretty significant chunk of time, usually around 2 hours, and my runs during the week were also longer than a typical workout session, around an hour each. If I hadn't had the support and help of my husband to watch the kids, make dinner and help with chores around the house, there's no way that I could have found the time I needed to train on my own.
But he didn't see it as a burden. He knows that running is good for me, he was proud of my commitment and hard work, and he recognized the benefits of running, both for me and for our family.
So talk to your husband about how important your exercise time is, and ask him to help you make it a priority in your life. He will reap many of the benefits you exercising, too! 
Start as small as you need to, and work up from there.
When I first started running back in January I could barely run a mile and a half, and I had to take a walking break halfway through. Now, I've completed a half-marathon, 13.1 miles, and I can easily run 6 miles without stopping, except for a quick water break.
There were times during my training that I didn't think I would ever be able to run and finish the race, times when I struggled just to run 5 or 6 miles and I had no idea how I could run double that distance. But slowly, I worked on increasing my distance, and I worked on running farther by adding just one mile to my long runs each weekend.
So even if you've set a challenging goal for yourself, you can meet it by starting small and working up from there, at your own pace!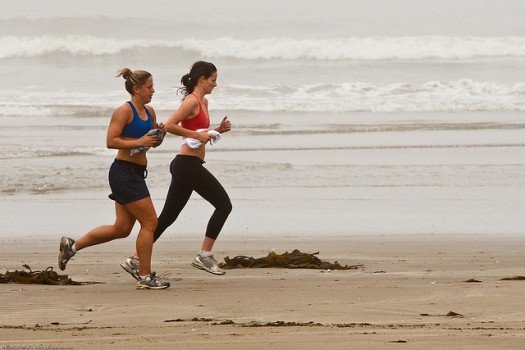 Make the time meaningful.
One of the biggest benefits of running, for me, is the quiet alone time that I get, away from the craziness of my home and my kids. Of course, I love my kids, but sometimes, I just need a break from the constant noise and neediness that comes with having three small children at home.
So I use my running time as me time, quiet time to think about whatever I want to think about. And in that way, it's almost like I'm multi-tasking because I'm running and praying, or running and going over my goals or writing a blog post in my head.
You might choose to listen to your favorite podcast while you exercise, or maybe listen to the audiobook version of that book you've been meaning to read. Or maybe you exercise with a friend, and you use that time for meaningful connection and encouragement.
If you make your exercise time meaningful in another way besides just exercising, you will be even more compelled to make sure you get your workout in!
Let go of expectations and just stay committed!
I experienced many bumps along the way during my six months of training – bad weather, sickness, busy seasons – that knocked me off of my ideal training schedule. There were times during my training where I worried that I wasn't doing enough, that I wasn't going to be ready to run the race. That I wouldn't be able to finish.
Do I wish that I had trained a little more consistently? Sure. During my training I could have clung to my unrealistic expectations that I would run four days a week and finish the race at an under 10-minute-mile pace, but I would have disappointed myself.
Instead, I stayed committed to what I had set out to do: run and finish the 13.1-mile race. I accomplished my goal of running and finishing the race, and that is what I am most proud of!
I know for me, the accomplishment I felt when I crossed the finish line, and the benefits I have enjoyed from regular and consistent exercise, have impacted my life in such a positive way.
If you've been considering getting started with regular exercise, I want to encourage you that you can do it! Set a challenging goal, make it a priority, and you will be on your way to a consistent and beneficial exercise routine!
What helps you the most to maintain a regular exercise routine? Or what is your biggest obstacle? How can you set a goal that will help you overcome that obstacle today?