In a Rut? Take the Kids For a Morning Nature Walk!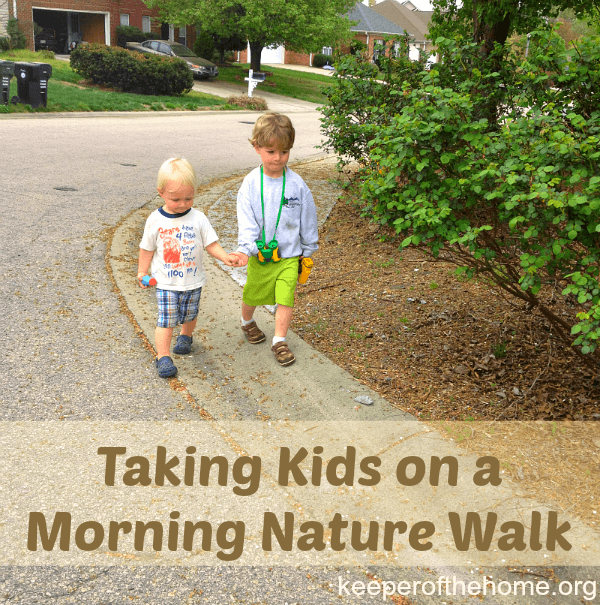 Guest Post by Jessica of Smartter Each Day
Recently, I lamented to my mom how stressful our mornings had been. We'd finish breakfast, and somehow that would cue the grumpiness and bored whining.
When my mom suggested a morning nature walk, I was doubtful that would solve all our problems. But of course, moms usually know best! Our morning walks are fun, educational, create memories…and, somehow, they put us all in a brighter mood!
Here's what we do:
Eat breakfast. Clean up. Then go!
The longer you wait after breakfast, the more likely you'll skip it. So go soon! But if you're like me, coming home to a messy house is a recipe for one grumpy mama. I try to do a quick cleanup after breakfast, while the kids play with their simple, frugal activity bins at the table. Then we're out the door!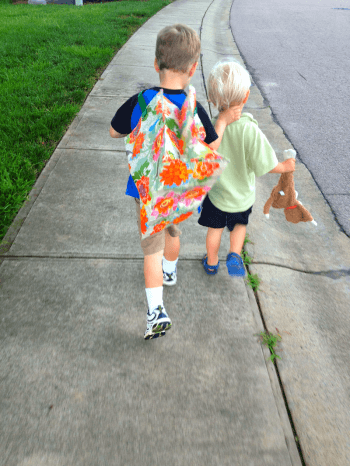 If your little one can walk, let him walk.
Oh, I hear those objections. (I had them, too.) He'll get tired! He'll never stay on the sidewalk! He likes the stroller! Turns out, my strong-willed two year old did just fine with a little freedom. We have our moments, but it's worth it for how happy he is to explore and move.
Keep the phone at home.
Especially if you are like me, and you're addicted to technology, leave that phone at home. Lock it up! I worried at first: What if so-and-so calls? What if the boys do something adorable, and there is no record of it on film? I've found I'm grateful for the free and unhindered time with my kids.
Enjoy nature…and other things.
I always like to have a plan, so on our first walk, I was set to classify leaves, identify bird calls, and collect flower petals…But alas, the boys spent half of the time absorbed in the sewage drains. At first it felt like a failure of a nature walk, but now I roll with it. I point out the natural things I notice, but I also enjoy my kids when I can.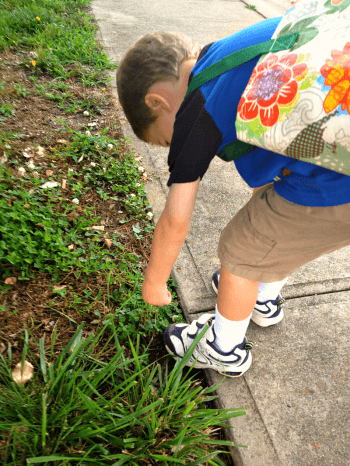 Go slowly, and use all the senses.
This will probably come easily…for them. For me, I have realized how needlessly I rush my little ones, and how apt I am to miss out on small treasures. I find I must try very hard to go at their pace, and not rush ahead. But what a blessing when I relax and enjoy!
We do not live in a "rural area" by any means, but you wouldn't believe how many amazing things we've noticed on our walks! Slithering snails, snake skins, hooting owls, fuzzy caterpillars, brilliant butterflies, ant colonies, robins' eggs, crusty cocoons…God's world is just fascinating if you slow down enough to notice it!
Keep it a positive time.
The point of this time isn't to fix character issues or have long discussions about someone's behavior. This time is for enjoyment, and to be learners together. I try to ignore as many behavioral issues as I can (while keeping everyone alive).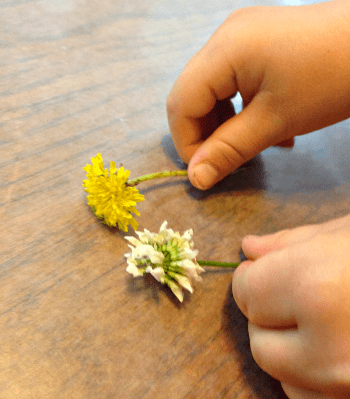 Collect treasures, and keep them for a project at home.
While on the walk, we collect things in a vinyl bag, but a bucket, tray, net – almost anything will work. Unfortunately, we haven't mastered the art of getting everything home without breaking someone's favorite stick or smashing some of the flowers.
Once home, though, there are many projects you can do with your nature collections. (See my Pinterest board on Outdoor Fun for ideas.) Don't feel you have to do the most complicated projects. We love simply gluing the day's treasures to some paper and labeling them!
When you're home, take a break and eat a snack.
My boys love a refreshing smoothie after the walk (ours is dairy-free). I've found that I can't rush my kids into another activity right away, as they've been stimulated and exercised, so we take a little break.
Have you ever tried a morning nature walk with your kids? What do you do during or after to make it a special time?