Everything you need, one HUGE, awesome package (The Ultimate Homemaking Bundle is BACK!)
THIS SALE HAS NOW ENDED. Hopefully we'll be doing another one next year!
By popular demand, 100+ homemaking bloggers are bringing back The Ultimate Homemaking Bundle!
Our team has spent months pouring over the details of this, our 4th eBook bundle, to make sure that it was our best ever.
I really believe it is.
Not only is this a completely fresh collection of ebooks and other resources (unique from any other bundle we've offered before), BUT it also includes our biggest and most exciting line up of bonus freebies. Woohoo!
Now is your chance to grab the ultimate ebook collection on homemaking at a once-in-a-lifetime price.
As an organizer of this sale (together with Erin of The Humbled Homemaker and our husbands), I'm sold on its value.
Our goal is to make our bundles such top-notch, incredibly useful, smokin' good deals that you'll rub your eyes in disbelief that $30 will get you all of the goodness it includes.
;
Personally, I am a huge ebook fan. I've owned a Kindle for a couple of years now, and whenever I go to buy a new book, I look for the Kindle option first (and spoiler alert… we're offering KINDLE versions this year– more below!).
Ebooks are the best thing since sliced bread. You can own a truckload of them, and keep them all on this teeny tiny device. Be still, my heart.
What I love about having such a massive collection of ebooks for such a small price (seriously– the total ebook value is about $700, but the bundle cost is less than $30), is that even if you won't read every single book, and realistically most of you won't, it's still worth it.
Bundles aren't for everyone, but I do tend to think there's something for anyone in our bundles. We make them that way on purpose.

(I mean, seriously, how could there not be something you'd love in here? LOL! When our designer, Joy, first sent me this image I had to laugh at the sheer scale of it. It's awesome, right? All it needs it a little whipped cream and a cherry on top.)
For example, some of my personal favorites this time around are:
Sewing School 101
Taming the Laundry Monster
Bliss Balls for Beginners
No-Cook Freezer Meals
Discipleship & Discipline eCourse (from Sally Clarkson & Sarah Mae)
How to Manage Your Mouth: A 30 Day Wholesome Talk Challenge
Healing with God's Earthly Gifts: Natural and Herbal Remedies
101 Independent Activities for Toddlers & Preschoolers
The Charlotte Mason Way Explained
Monkey See, Monkey Do: A Tutorial to Using PicMonkey with Professional Results.
(By the way, if you bought just these 10 resources out of the 84 included, but the whole bundle is only $29.97! See what I mean about the value?)
For that matter… my own book Real Food on a Real Budget: How to Eat Healthy for Less is in the package. It goes for $18.97 alone (but I guarantee, it will save you oodles more than that in grocery costs).
I've posted the entire list of all 84 ebooks and digital resources here for you to peruse. I've bolded all of the ones I like best.
A few more really great things you should know:
We're now offering Kindle editions for super-easy reading. That's been a popular request and we're thrilled to be able to make it available to you. For just $10 extra dollars, you get the bonus Kindle editions PLUS all the usual PDFs, so it's really the best of both worlds.
The popular 2-for1 deal is also back! When you buy one bundle, you get the option of adding TWO more bundles to your cart for the price of ONE.
This means you can give two bundles away to friends or family for a mere $15 each. Or, you can get together with two savvy friends and pick up 3 bundles for the price of 2 and share the savings.

We've also included $200 of freebies from our 10 awesome partners!
I have never been so excited about redeeming bonus offers as I am this bundle!
I'm putting my $15 credit towards a custom apron made with gorgeous fabric for my oldest daughter from Marie-Madeline Studio, I've already picked out my 3 free mineral eyeshadows, I just redeemed my free month's membership at Once a Month Meals to help make our current grain-and-sugar free diet a little easier, and will totally use my free eco-friendly laundry detergent from Dizolve.
And that's just 4 out of the 10!
These are the BEST bonus freebies we have ever had. Check it out:
These deals are worth $200, over six times the price of the Ultimate Homemaking Bundle. So you're up on the deal right away!
And if you like these bonuses, you have my hubby Ryan to thank for it. He's pretty much a rock star in my books. I can't believe what a great selection we have this time!
Learn more details about the bonus offers here.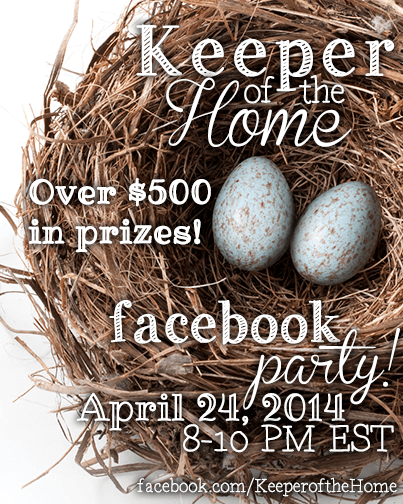 This Thursday, let's party on Facebook
Tomorrow night, Thursday April 24th, I'll be hosting a special Facebook party on our page.
"Like" our page here to attend.
We've got well over $500 in goodies to give away (awesome stuff, for real), including a KINDLE for one lucky attendee, that we'll give away towards the end of the evening.
The festivities begin at 8pm EST (5pm PST) and will last for 2 hours. Even if you just pop in and out or arrive late, it'll still be fantastic and we'd love to see you there! The one we had last fall was so. much. fun and I thoroughly enjoyed getting to talk with so many of you.
We'll be chatting about topics like balance, taking care of ourselves, and finding joy in imperfect homemaking. Some very real subjects, which certainly apply to my own life, and I hope you'll join the conversation!
Just remember, the bundle will only be available for six days. So grab yours before it's gone!
Here's are the details you need to know:
When? 8 a.m. EST Wednesday, April 23 until 11:59 p.m. EST Monday, April 28
What? 78 eBooks, 2 eCourses, 2 audio files, and 2 printable packs PLUS over $200 worth of bonus products you'll really use!
Where? Purchase the bundle here.
How much? Well now, that's the best part. The entire package is worth nearly $900, and it's selling for less than $30. Sweet deal, right?
I know how busy your weeks can be, and 6 days flies by pretty quickly, so I'll remind you a few times before the end of the sale, just to make sure you don't miss it. I always have a few readers email me after each bundle sale ends, upset that they've missed it, and I would hate for that to be you!
It has been such a joy to pull together another homemaking bundle to share with you all! I hope you love it! 🙂
Want to learn more? Read more about what this amazing bundle offers—or just buy it now!
;
Remember, this bundle is available for 6 days only, from 8 a.m. (EST) on Wednesday, April 23 to 11:59 p.m. (EST) on Monday, April 28th.
Disclosure: I have included affiliate links in this post. As an author, I make a portion of sales through my site, so thank you for supporting Keeper of the Home! Read the fine print about this bundle and read the answers to frequently asked questions about the bundle.